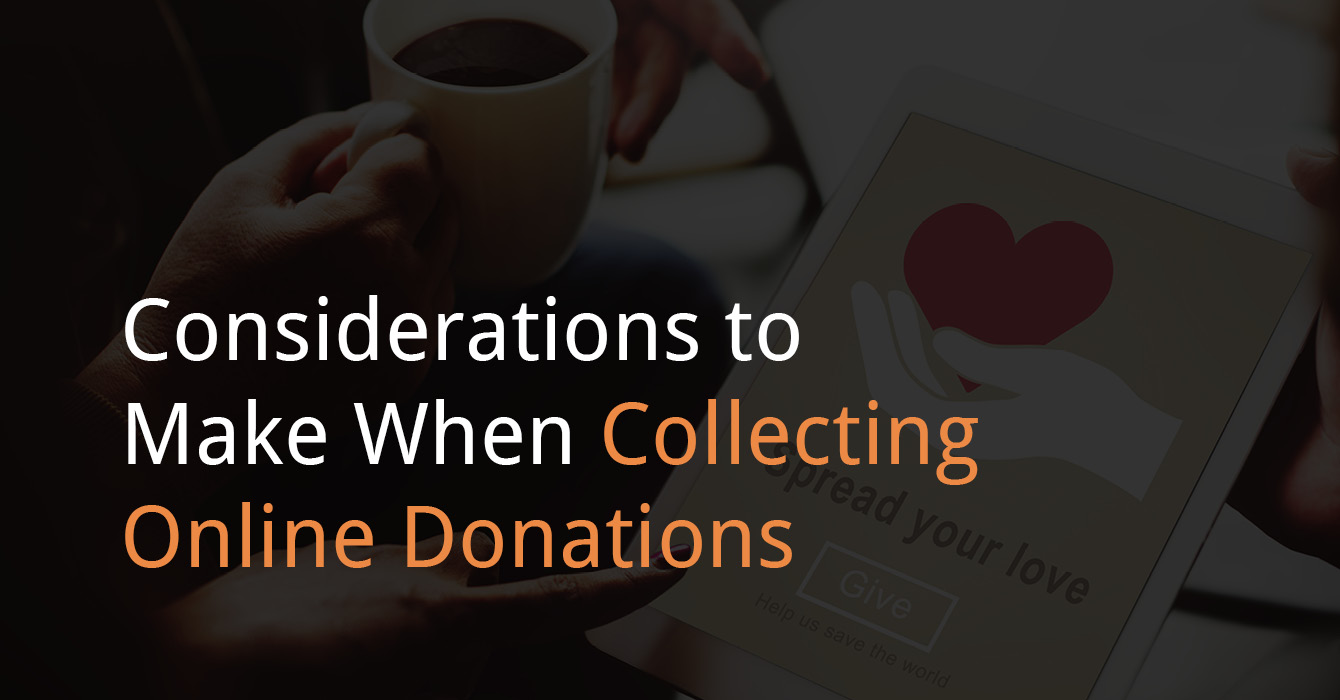 Online donations have become a staple of modern fundraising for most nonprofits. Most likely, your organization has already employed some form of fundraising software in order to collect donations through your website as well as other channels.
Even if you're a pro at using online fundraising tools to accept donations, there are some considerations to keep in mind in order to truly maximize your online fundraising potential.
Here, we'll walk through some questions you should ask yourself, whether you're just starting out with software, are looking to make a switch, or are just interested in learning more about the tools you already have.
We'll answer the following questions:
If you're ready to learn, read on!

1. What features does my online donation software include?
Depending on your provider, your online giving platform might include a variety of capabilities. However, your donation software should include a handful of basic features, such as: 
Online donation forms
Mobile-optimized donation pages
Customization and branding options
CRM integration
Support and training options, if needed
Because many online giving tools are built into CRMs, your donation software might be part of a suite of fundraising software solutions. Alternatively, you can purchase standalone online donation tools to use on their own or integrate with other products (such as donor databases). While standalone options can be a good choice for small organizations, this is not the most manageable long-term solution.
If you're considering purchasing new software, ask yourself what tools your organization needs to make your fundraising efforts more efficient and productive. For instance, if you're seeking to generate more revenue through corporate matching gifts, prioritize solutions that allow you to embed a matching gift search tool on your donation page so that donors can easily determine whether their employer offers this type of program.
Also, consider where your organization will be in the future. Picking an online donation tool with limited features means you'll have to restart your search for new software once your nonprofit grows or evolves. Instead, pick a solution that can scale with your organization.
Questions to Ask When Researching Online Donation Tools
While there are several fantastic online donation solutions available, each platform will come with its own set of strengths and limitations. Since different products have different functionalities, do some research to find out what tools you really need and which you won't touch.
As you begin your search, ask yourself the following questions:
Will it fit in our budget?
How do we manage and collect data?
Does the software integrate with our current fundraising tools?
Will we have support or software training?
Since many vendors offer several product packages with different levels of included features, you may also need to do some research on what other offerings your current software provider may have on the market. If you've been using a basic or middle-tier package but find you want additional, more advanced features (or support), consider upgrading or purchasing add-ons from the provider you're already using.
A benefit to staying within the same software family is that you won't have to worry about an intensive data transfer or integration process since that provider's tools should all work seamlessly with one another.
Using tools that don't communicate with one another can be inefficient and error-ridden, so it's best to find comprehensive software that provides you with all the tools you might need, rather than using a handful of disparate solutions.
Additionally, it's important to consider your nonprofit's budget when choosing fundraising software. No matter what size your organization is, you can find tools that fit within your budget. In fact, there are plenty of donation tools that offer free basic plans so that you can get started with their software right away.
Use these free plans as a starting point to see if you like the software and its basic capabilities. That way, you can determine if you want to purchase a higher tier with more features.
The bottom line: Be aware of what fundraising tools your organization needs to most effectively collect online donations. If possible, choose one all-inclusive fundraising solution that can meet your needs in a variety of areas.

2. How are donors' payments processed?
To accept online donations, you'll need to make sure your organization is properly registered to solicit donations online. Once you've met this critical step, you're ready to enlist the help of a payment processing tool. The fundraising software you choose will already have these tools built in.
However, you can also purchase dedicated payment processing services directly and use the processor's tools for your fundraising needs.
If you do choose to work with a dedicated payment processor, look to find one that:
Specializes in nonprofits or is at least familiar with your organization's specific set of needs.
Is PCI-compliant, which means it adheres to a set of standards put in place to protect you (and your donors) from online fraud.
Accepts the four major credit cards (Visa, American Express, Discover, and MasterCard).
Also accepts ACH payments (also known as eChecks), to maximize your fundraising potential.
According to the Nonprofit Tech for Good Report, only 45% of surveyed nonprofits accept ACH payments. Not only does accepting ACH payments give your donors more options, but it also makes it possible to automate recurring gifts. When you include an automated recurring donation option on your donation form, you take away the inconvenience of giving on a regular basis. No longer do your donors have to remember to send a check each month!
As a starting point, talk to your software provider about any payment processors that specialize in nonprofits or fundraising.
The bottom line: Your online giving provider will employ a payment processor to take your donors' gifts from Point A to Point B. Make sure you're working with a secure, reliable processor who understands your needs as a nonprofit and can maximize your fundraising potential.

3. How will I manage my donor information?
Your online donation software is also responsible for collecting the donor information that comes with each payment. Think of it this way: when your donor inputs their details into an online donation form—such as name, email address, or phone number—that data has to go somewhere. Most likely, it's going to be filed in your donor database (also known as your CRM).
If you use fundraising software with built-in online giving tools, you won't have to worry about creating a profile for a new donor and manually logging each donation in that profile.
Even if you aren't using your fundraising software's built-in online giving tools, you can still collect donor data. Many CRMs integrate with other donation tools so that your donor information is automatically updated. 
Check with your donation software and your CRM to see what software providers they integrate with or look at this list of top CRMs. In the rare case that your CRM doesn't integrate with your donation form, you can always input the information manually.
Additionally, your software should be able to automate other data management features by giving you the ability to:
Generate reports and analytics
Examine donor giving history
Send donor acknowledgements and gift receipts
Track donor involvement in other areas, such as volunteerism
View donor relationships
When your fundraising tools all work together to streamline many facets of your organization in a holistic way, you'll be able to spend less time managing data and more time engaging donors!
The bottom line: The most powerful fundraising tools will automate many aspects of your fundraising, making your efforts more streamlined overall.

4. Are my online donation tools mobile-friendly?
In today's world, people use their phones for just about everything, so why should donating to a worthy cause be an exception? While your donation pages and other fundraising platforms should all work on laptop and desktop screens, they should work just as well on smartphone and tablet screens. After all, according to DataReportal, mobile phones now account for 57% of the time spent by internet users online.
The simplest way to collect mobile donations is to create mobile-optimized donation pages. Most providers automatically create pages that can fit any screen, but it doesn't hurt to check for yourself.
If you're customizing your donation form, it's a good idea to de-clutter your online donation page. Simplicity is especially important for mobile devices, since their screens are much smaller than desktops. Make sure that you're using large fonts and buttons, writing in short paragraphs, and using a vertical layout to keep your page as straightforward as possible.
Mobile donation pages are a great start, but if you want to truly make the most of mobile donation software, you might want to look into more specialized fundraising tools. For example, if you're an organization that loves the excitement of a silent auction, consider adding a mobile component to your next event. Mobile bidding is a fun (and very profitable) way to infuse tech into your classic auction.
Not only do donors love the convenience of browsing and bidding on auction items directly through their smartphones, but you'll also appreciate the super-streamlined checkout process and easy engagement features.
If you know your donors would respond well to the convenience of mobile giving, consider checking out other options too, including:
Text-to-give
Mobile giving kiosks
Email donations
Peer-to-peer pages
Crowdfunding pages
Depending on your provider, you may have access to all kinds of mobile giving options!
The bottom line: If you're only able to accept online gifts on laptops and desktops, you might miss out on a huge number of online donations. Find a platform that can help make your fundraising approach mobile-ready.

5. Can my fundraising software grow with my organization?
If you anticipate that your organization will see some growth in the near future, make sure your software can support you throughout any changes you experience. (And, make sure your provider can support your long-term campaigns!)
Check the different packages your current provider may have on the market, since many vendors vary their offerings by organization size and expansiveness of the feature set. They may have a package that lines up better with how your organization has expanded. In many cases, it's much easier to upgrade while staying within the same product family, since you won't have to learn a new system or transfer all your data.
If your vendor doesn't offer the upgrades you desire, it may be time to shop for new software. When it's time to look for new online fundraising software, consider:
Cost. Usually, fundraising websites will charge a platform or set-up fee in addition to payment processing fees. The fee could be a monthly, yearly, or one-time expense, so get all the details before you make a decision. Compare the features and costs of multiple fundraising sites to determine what addition provides the most potential at the best price.
Support. As you add upgrades and new tools to accommodate your growing needs, make sure that your provider offers the right level of support. For instance, some vendors offer educational workshops and personalized training sessions, though often at an additional fee.
Software training. New features can take time to learn, so consider finding a consultant who specializes in software and technology to assist your staff if necessary.
While you may be able to manage additional fundraising needs by purchasing standalone tools to integrate with your current software, that's likely not the most sustainable solution. Instead, consider moving to a comprehensive solution with built-in fundraising tools that take away the need for integration across multiple (potentially incompatible) platforms.
The bottom line: Growth should always play some part in your organizational plan, and it's important that your online donation tools can move with you as you find new donors and hire additional staff. Know the limits of your software so you can know when it's time to upgrade.
---
By accepting online donations, you're opening up a world of donation opportunities for your donors. Convenient, secure, and engaging, online donations make giving easy for on-the-go donors.
With the right online donation tools and software that fits your organization's needs, you can make the most of online giving immediately.
For more fundraising resources, check out these additional articles: 
Hiring a Fundraising Consultant. With the help of an expert consulting firm, you can improve your nonprofit's fundraising strategies. Consultants can help you find more ways to accept donations online and offer their expertise on taking full advantage of your existing fundraising tools. Learn more about how to find the right consultant.
5 Fundraising Event Tips. If you're looking for ideas to raise money during your capital campaign, this resource offers 5 essential tips for hosting a successful event.
Mobile Giving. Similar to online donations, mobile giving allows supporters to contribute on their phones. Learn how to optimize your online donations for smaller screens and make the giving process more convenient.