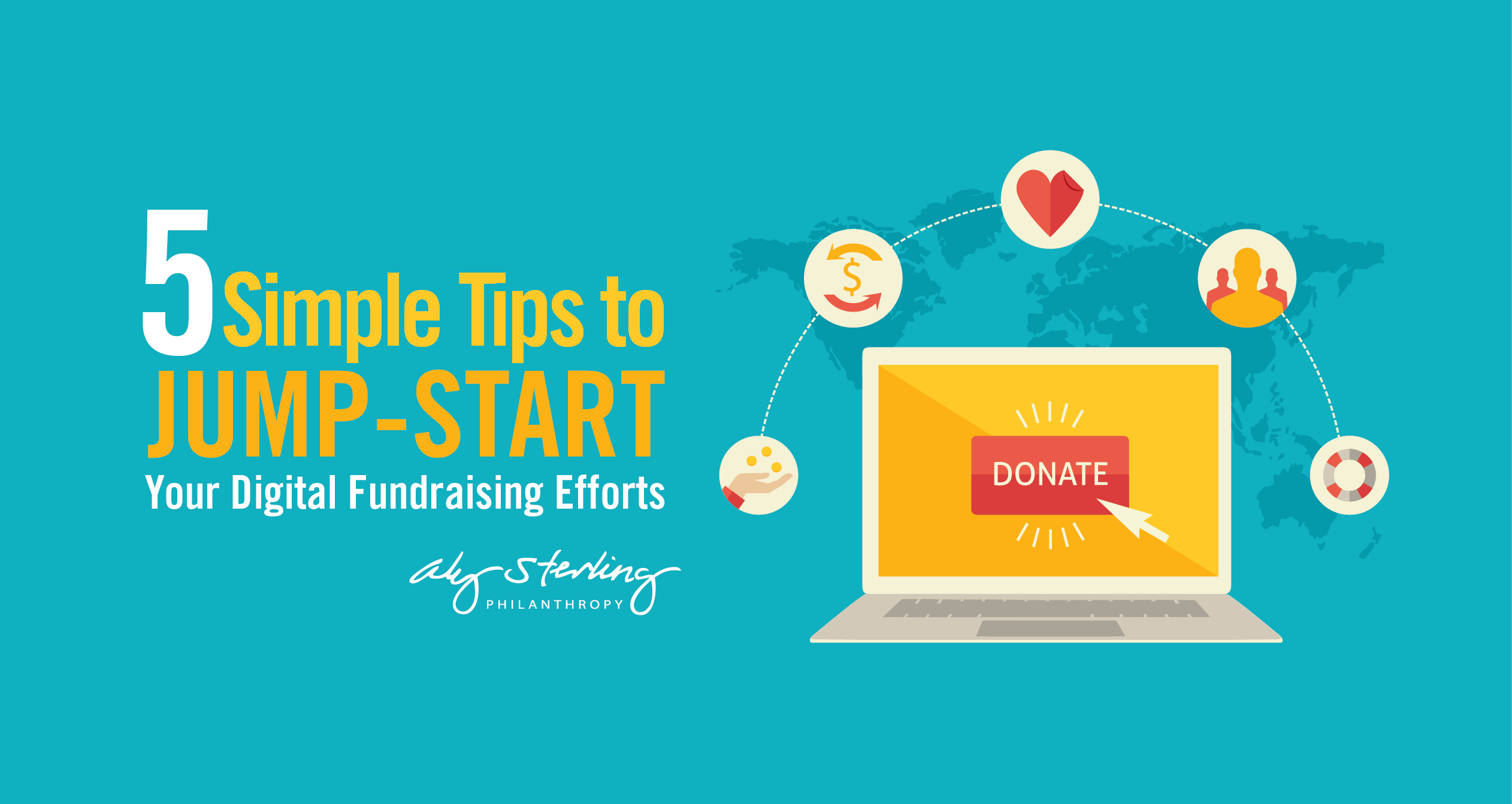 What are the best online platforms for crowdfunding and other digital fundraising campaigns? We get asked that question all of the time. And the truth is, there are many options available but not one that meets every nonprofit's needs or preferences. While we can't (and won't) recommend a specific platform, we do offer five simple tips below to guide your efforts.
1) Educate yourself about how digital platforms work and what benefits — and challenges — they offer.
Using this information, you'll want to make sure your intended project is the right fit for a digital campaign. For example, if you're
running a capital campaign
, you'll want to find a platform that supports a long-term fundraiser. Additionally, you may need a different platform for different stages in your campaign. Alternatively, if you're trying to rally support for your
digital advocacy campaign
, you'll need a unique set of tools to help you reach out to supporters to have them sign up for a petition and donate to your cause. Ultimately, deciding what features or capabilities you need will depend on your organization and its fundraising strategy; however, there are a few key elements to look for in any donation software:
Mobile giving features. Giving via mobile phone is an extremely popular way to donate because of its convenience. Depending on your nonprofit's needs, you might want to find a platform that accepts donations via text message or through mobile-responsive donation forms.
Recurring gift options. When you give donors the option to set up recurring gifts (monthly, weekly or annually), you can increase your retention rates and provide donors with a hassle-free way to contribute.
CRM integration. The great thing about online donation tools is that they can collect information from your supporters. However, that information needs to go somewhere—and what better place than your nonprofit's CRM! Search for donation software that integrates with your existing fundraising tools, so that all your donor data can be transferred to one location.
Custom brand capabilities. No matter what donation software you go with, it's important to have a tool that allows you to customize your form. Donors want to feel protected when they're donating online, and branding your donation page lets supporters know that the money is going toward your nonprofit.
Not every
online donation tool
will offer the same features, so it's up to you to decide what's most important for your organization. Determine what features will propel your fundraising to the next level and find the provider that meets those needs.
2) Research your options and be sure to consider a company's demonstrated commitment to customer service.
Sometimes looking for new tools isn't the best option. If you already use fundraising software, check to see if your vendor offers different product packages or expansions that can offer you more advanced features and support. For instance, if you use donor management software, you may have access to a crowdfunding "module" that links directly to your current software. As you begin your search, you should also consider the kind of support you'll need to get started with new software (or expansions). Ask software providers if they offer training or technical support. If not, you may need to hire a fundraising consultant to help you learn how to use your new software. If you're interested in hiring a consultant, you can either hire someone who is local or remote. Both options have their advantages and disadvantages. For instance, let's say that your nonprofit is located in Cleveland.
Hiring someone in the Cleveland area
means that you can communicate with your consultant in person more often. However, a remote consultant can give you a fresh perspective on your fundraising strategy. Don't forget to consider your budget and pay close attention to all charges and fees assessed to online campaigns… your donors will too.
3) Take it one step at a time and communicate, communicate, communicate!
Digital fundraising is new to many of your donors and staff. Successful implementation will require a bit of learning and adjustment for everyone. Create a simple roll-out plan, provide plenty of notice to users, use clear instructions and let technology to do the heavy lifting. Your plan should include:
Training on the new software for staff members. Your staff should feel confident using your new donation software along with understanding how to make a donation so that they can help donors understand the process.
Reevaluating your fundraising strategy. Your new donation software will likely affect how you approach fundraising. Determine how this new method fits into your existing strategy.
Rolling out your method to donors. Donors will need to be fully informed about your new donation methods. Not only will they want to know how to donate but also how their information is protected. Create a marketing and communications plan that educates donors and encourages them to contribute.
Having a plan in place will help you prepare for your new donation software so that you can launch your giving method(s) as soon as possible.
4) Thank your donors.
Just like with any other donation method, it's important to thank your donors for contributing. This is why CRM integration is so important. When your donation tools and CRM software connect, it will be easy to send out automated emails to acknowledge your supporters' donations. Of course, some donation tools come with features or electronic thank-you templates. This is important because authentic, consistent communication is the key to creating donors for life. Thanking donors promptly will make them feel appreciated, which could lead them to donate again in the future.
5) Keep track of what worked well (and what didn't).
Most online donation software has features that let you track your fundraising progress. For example, you may be able to track:
The average gift size.
The date and time when donors contribute.
The device donors used to donate.
And so much more!
You can use these insights to inform your next effort and determine the best time to promote your fundraising campaigns. For instance, you may find that you receive a lot of donations at the end of the year. You can create an end-of-year campaign to boost your efforts even more. Plus, insights into your online donation tools can help improve your forms so that more supporters make donations.
---
For more information, check out one of our favorite resources: The Council of Nonprofits –
Crowdfunding for Nonprofits
Best of luck with all of your fundraising efforts!
If you want more online fundraising tips and techniques, keep reading these additional resources:
The Fundamental Fundraising Plan Template: Before you can incorporate digital giving methods into your fundraising strategy, it's important to create a solid plan and assess your current tactics. This guide provides templates to help you organize and structure your fundraising plan.
5 Considerations to Make When Accepting Online Donations: From picking the perfect donation tool to managing your donor information, there is a lot to consider when collecting donations online. In this article, we cover 5 questions your organization should ask before implementing an online donation tool.
Guide to Hiring a Fundraising Consultant: If you still need help crafting the perfect fundraising strategy for your online initiatives, why not consider hiring a fundraising consultant? Consultants can help assess your nonprofit and devise the perfect plan for your organization.