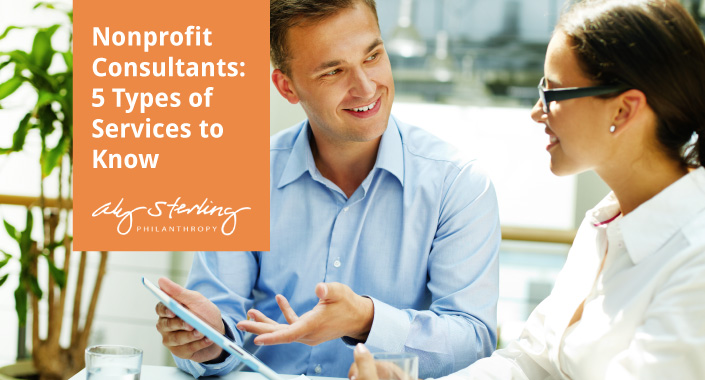 Between fundraising campaigns, program initiatives, and awareness campaigns, nonprofits' day-to-day work involves understanding a wide range of fields and specialties. As such, many charitable organizations may be highly skilled in one aspect of nonprofit management but lack expertise in another.
Fortunately, nonprofits do not need to assemble an internal team of experts for every part of their organization. Rather, they can partner with consultants to offer advice and provide ongoing services.
Organizations that have yet to hire a consultant may be surprised as the sheer number of different types of nonprofit consulting firms. Nonprofits consultants specialize in different areas, provide different offerings, and use different service models. For nonprofits considering working with a consultant for the first time, this guide will explore five types of nonprofit consultants and the services they offer.
1. Fundraising Consultants
Your nonprofit's fundraising strategy is essential for earning reliable revenue to continue funding your mission. A fundraising consultant can provide insight into your current strategy and help plan for the future, whether you're looking to grow or become more sustainable.
While fundraising consultant's specialties vary, most can provide the following services:
Specific fundraiser planning.

 

There are several moving parts involved in fundraising campaigns and events. A fundraising consultant can help you plan, organize, and even manage these engagements. For example, a consultant might help you plan a fundraising event by coordinating marketing materials, finding a venue, suggesting engagement activities, and advising how to manage your event staff and volunteers.
Marketing assistance.

 

Effective donor outreach is a core part of fundraising, and your consultant can help you refine your approach to marketing. Depending on the consultant, this can include conducting audience and market research, developing a

 

brand identity, or crafting a digital outreach strategy.
Long-term strategy consulting.

 

Fundraising consultants can help nonprofits define their long-term fundraising goals and determine how each individual fundraiser aligns with that goal. For example, a long-term fundraising goal might be to build relationships with a specific number of new major donors to make a future capital campaign more feasible. Work with your consultant to pinpoint an ambitious but achievable goal and create a step-by-step plan to keep your nonprofit on track toward accomplishing it.
Fundraising consultants often offer a wide range of services, but have greater proficiency with a select number of them. For example, one fundraising consultant may be able to offer strong advice on how to market your brand online but has more limited offerings for developing brand elements, such as designing a new logo.
When assessing fundraising consultants, review their case studies or highlights of successful projects they've worked on in the past. This will be a strong indicator of the type of projects the consulting firm primarily works with and the services they specialize in.
2. Technology Consultants
Nonprofit technology advances quickly, and new software solutions have the potential to change the way your organization operates for the better. When implementing a new platform, expanding your current functionalities, or troubleshooting issues with your existing software, it can be useful to bring in a professional consultant.
Technology consulting firms may offer services like:
Website development.

 

Website development can include designing your website, building out new functionalities, providing ongoing upkeep and more. When partnering with a website developer, first check what CMS platforms they're most familiar with.
Software implementation.

 

Implementing a new major software solution can be a time and resource intensive undertaking. For example, implementing a new CRM can take multiple months and require follow-up services for training and maintenance, so gaining the support of a technology consultant can help streamline the process.
Data management.

 

Donor and fundraising data are some of your nonprofit's most powerful tools. A

 

data management consultant

 

can help organize your CRM by implementing data hygiene best practices, preparing your data for migration between systems, and offering insight into how your nonprofit captures and leverages data.
Technology consultants tend to be even more specialized than fundraising consultants as each consultant will have different levels of familiarity with different platforms. Comprehensive and highly flexible platforms like Blackbaud and Salesforce have consultants that specialize in specific aspects of the platform. Salesforce, specifically, has a partnership program for certified consultants that divides them by expertise. Make sure to thoroughly research different consultants and their offerings so you can find a firm that will best meet your nonprofit's needs.
3. Financial Consultants
Nonprofit finances are complex, requiring organizations to manage multiple accounts and ensure funds are properly allocated based on their purpose. As such, nonprofits often work with third-party consultants to help manage their finances.
Financial consultants' services will vary depending on the complexity of your nonprofit's finances and immediate needs. To provide an overview of financial consulting services, most firms will offer:
Bookkeeping.

 

A bookkeeper will take note of all funds spent and earned, providing an ongoing record of your nonprofit's financial decisions. While some organizations use an internal bookkeeper, hiring an external consultant can help free up your time and ensure more complex transactions are always recorded accurately.
Accounting.

 

Accounting services analyze your nonprofit's budget and spending to help make plans for your financial future. In contrast to bookkeeping, nonprofit accountants always need to have specialized, professional training, making hiring an external consultant more of a necessity.
Along with ensuring your nonprofit is currently following standard financial management best practices, financial consultants can help your nonprofit plan for the future. In order to craft a long-term strategic fundraising and spending plan, your nonprofit needs to know what resources you have, what your expenses are, and if your current funds are being managed to optimal use.
4. Grant Management Consultants
Grant management is a multi-step process that requires strong organizational skills, the ability to balance multiple deadlines, and strong ongoing relationships with key prospects. As your organization begins to explore more grant opportunities, hiring a grant management consultant can ensure you craft multiple quality proposals and submit them before their deadlines.
Along with helping manage your current grant opportunities, consultants can also help your nonprofit find new grants to apply to. Some may even have connections that allow them to network for your nonprofit and connect with grantors whose grants aren't widely known or are invitation only.
Nonprofits can also work with grant management consultants for specific types of grants. For instance, Getting Attention's Google Grants agency guide explains many of the unique responsibilities associated with this grant. Specifically, consultants can help nonprofits with "eligibility confirmation, program applications, keyword research, ad creation, compliance with the program's rules, and account reactivation if needed."
Outside of the Google Ad Grant, other singular grants may also be complex enough to warrant hiring a consultant. For example, the National Endowment for the Arts offers high-value grants that also have a notoriously long and comprehensive application process.
5. Capital Campaign Consultants
Capital campaigns are major undertakings that allow nonprofits to fund large-scale projects, such as constructing a new building or launching a new initiative. Because of their scale, capital campaigns require even more planning and preparation than other fundraisers.
In fact, a major role of capital campaign consultants is to help nonprofit organizations assess if they are ready to host a capital campaign. By conducting a feasibility study, nonprofit capital campaign consultants will help nonprofits understand their current resources, project goals, potential risks, fundraising capabilities, and any other factors that may impact the outcome of their capital campaign.
Since an unsuccessful capital campaign can significantly harm a nonprofit's reputation and relationship with major donors, receiving professional, outside advice is an essential first step. If the feasibility study finds a nonprofit is unlikely to succeed, the capital campaign consultant will provide potential next steps the nonprofit can take to become ready for a major campaign.
For nonprofits who pass the feasibility study, their consultant can help them lay out a roadmap for the rest of their capital campaign. This will include setting a clear fundraising goal, identifying prospective major donors, and planning outreach during the second half of the capital campaign.
Consultants can provide guidance for nearly every part of your nonprofit, allowing you to raise more, leverage new technologies, manage your finances, and more. When partnering with a consultant, get started by asking other nonprofits in your field for referrals or using reliable online resources to find recommendations.
Author Bio
Carl Diesing co-founded DNL OmniMedia in 2006 and has grown the team to accommodate clients with on-going web development projects. Together DNL OmniMedia has worked with over 100 organizations to assist them with accomplishing their online goals. As Managing Director of DNL OmniMedia, Carl works with nonprofits and their technology to foster fundraising, create awareness, cure disease, and solve social issues. Carl lives in the Hudson Valley with his wife Sarah and their two children Charlie and Evelyn.