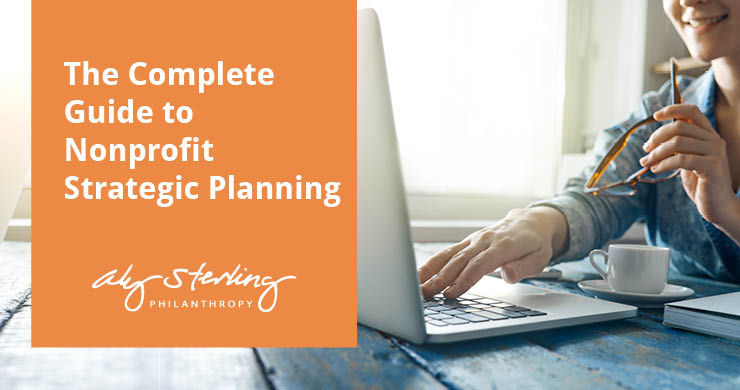 There's seemingly an endless number of famous quotes about planning. From Benjamin Franklin to Abraham Lincoln, everyone seems to be on the same page about the critical importance of preparation.
It's no different for your nonprofit. Sure, you might have a strong guiding mission motivated by a worthy cause, but you still need a roadmap to carry out that mission effectively. Strategic planning gives your organization the foundation it needs to weather any storms and stay on track to complete your goals.
Your organization may desire a strategic plan to help get through a specific initiative or unexpected event, or you may just want guidelines for the years ahead. Either way, this comprehensive guide will provide you with the framework you need to optimize your operations, grow your organization and reach your fundraising goals.
In this guide, we'll explore everything you need to know about nonprofit strategic planning, including:
After completing the essential steps of developing your nonprofit's strategic plan, you'll be in a strong position to lead your organization to success. You'll ultimately be able to use this plan to fulfill your mission more efficiently and work more effectively in your community or toward your cause.

Nonprofit Strategic Planning FAQs
What is a strategic plan for nonprofits? 
A nonprofit strategic plan is a bold plan of action that aligns an organization's goals with its values to provide a dynamic performance map for future endeavors. 

It is, of course, impossible to anticipate all of the slowdowns or obstacles that might arise throughout a specified time period. However, a strategic plan allows organizations to face any challenges with a unified mindset driven by an overarching blueprint. 
The strategic planning process involves assessing your organization's current situation, consulting with team members and formalizing findings into an action plan. 
Why should your nonprofit create a strategic plan?
Without a strategic plan, it's very challenging to keep your organization on track and complete goals in an efficient manner. 
A strategic plan helps simplify decision-making whenever your organization reaches a crossroads or an unexpected situation. It synthesizes the various teams within your nonprofit so that everyone, from your board to staff leaders, is on the same page

Benefits of Strategic Planning for Nonprofits
As mentioned, there are numerous benefits of nonprofit strategic planning, from simplifying decision-making to helping achieve goals promptly. These benefits are multiplied when your board members and staff leaders are engaged and in agreement with your nonprofit's strategic plan from the start. 
Involving your top leaders and decision-makers in strategic planning ensures these important stakeholders feel a sense of ownership over the plan. This leads to greater accountability when carrying out the plan because each individual feels more responsible for seeing it come to fruition.
Additional benefits of strategic planning include: 
Better time management.

You'll gain a better sense of which tasks you can eliminate from daily activities to save time. If something doesn't align with your priorities, you can rearrange your staff's responsibilities to reorient the team around your strategic plan. 

Ability to say no to activities or projects that don't align with your priorities.

Whenever new ideas arise, you'll have a clearer sense of direction for which ideas should be pushed forward and which shouldn't. 

Improved staff and board management.

A strategic plan ensures board and staff members understand their roles and have clearly defined responsibilities.

Better understanding of your guiding principles.

Undergoing the process of reviewing your organization's principles and retooling your approach to achieving your goals can help rally everyone around your guiding priorities. 

Opportunity to clarify/strengthen your organization's mission statement.

Use the strategic planning process as an opportunity to carve a niche for your nonprofit in the industry by strengthening your mission statement. Get to the heart of your mission by inviting input from individuals both inside and outside of your organization. 

Opportunity to assess results.

When top leaders are involved in both goal-setting and follow-through, they'll be more likely to set realistic goals and understand their role in working toward those goals.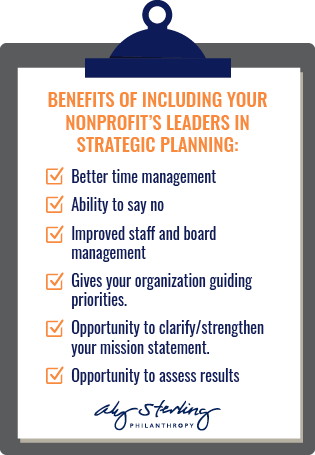 If you decide to invest the time and energy into strategic planning, the benefits can positively influence your organization for years to come. 

Key Steps for Creating a Nonprofit Strategic Plan
Nonprofits have plenty of different options for techniques and models to use to craft their strategic plan. The way you choose to develop your plan depends on your goals, needs, the unique situation within your organization and the climate of your community or cause area. 
No matter what the circumstances are, all nonprofits can benefit from a well-thought-out, structured planning process. 
Aly Sterling Philanthropy recommends an individualized strategic planning model that focuses on strengthening your organization's financial health, capacity, effectiveness and relevance within the community. The process involves a partnership with an experienced nonprofit consultant who brings robust planning tools and resources, and your nonprofit leaders themselves who bring insider knowledge of your organization.
The essential steps of this strategic planning approach include: 

1. Assess
The strategic planning process begins with a pre-planning session between the consultant and organizational leaders. In this meeting, you'll take a deep dive into your organization to assess its history, infrastructure, core programs and vision for the future.
Another element of the pre-planning process is surveying stakeholders to gather insights and opinions. Depending on your nonprofit's situation, your stakeholders may include:
Current and past board members

Current and past annual, major and planned giving donors

Influential community members such as political leaders, foundations or trust officers and church leaders

Prominent business owners

Volunteers and staff

Certain recipients of your services, such as patients, alumni or consumers
When conducting these interviews, it's important to choose participants carefully. Seek a variety of perspectives and don't just survey those with nothing but glowing reviews. Get in touch with those who've expressed discontent with certain aspects of your organization. These perspectives can provide the tough love needed to help your organization grow and become more effective. 
Supporter surveys are also a great way to continue your supporter stewardship efforts. Supporters are typically flattered to be asked to participate and offer their points of view. 
2. Align
The next step Aly Sterling Philanthropy recommends is engaging your board and staff members in a dynamic strategic planning retreat. This encourages organizational leaders to consolidate and discuss their thoughts in a dedicated, action-oriented forum.  
Within this short, half-day retreat, leaders will establish priorities and start to visualize what success looks like with the help of the consultant. In this time, the consultant will build consensus and seek suggestions for short and long-term opportunities and hurdles. 
3. Act
In the final strategic planning step, the consultant will summarize their findings and offer a recommended plan of action to nonprofit leadership. The consultant will review the highlights and top insights from the planning retreat to highlight key priorities. 
This partner will continue to provide dedicated support as your nonprofit identifies responsibilities for each leader, key objectives, performance indicators, and a timeline for completion. This encourages accountability throughout the implementation process.
In the Aly Sterling Philanthropy strategic planning model, a consultant will lead your team through each step of the process. This specialist facilitates everything from managing the stakeholder surveys to the planning retreat and final strategic plan document.

The Essential Nonprofit Strategic Plan Template
By the end of the strategic planning process, your organization will be equipped with a dynamic plan of action. 
Your organization's strategic plan will be based on several guiding pillars. These pillars are the elements within your organization that require the most attention. In this section, we'll present a template for what your organization's plan might look like and explain each element.
Let's walk through an example of a strategic plan for a nonprofit that focuses on these five pillars: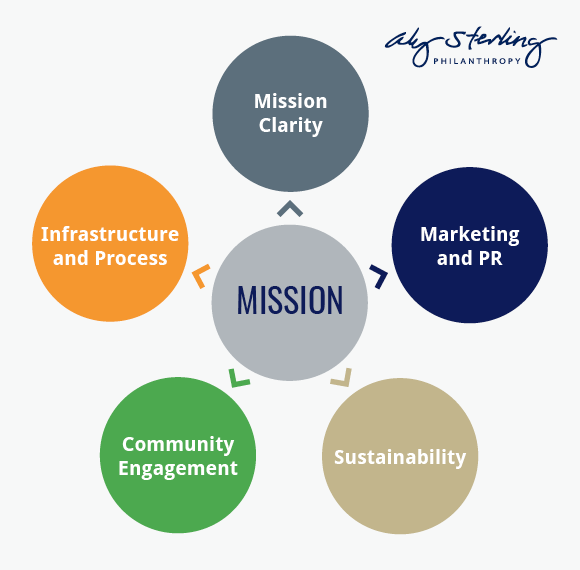 Mission clarity:

Why are you in operation? What does your nonprofit do to make a difference in the community? 

Marketing and PR:

How do you communicate your mission to a wider audience? 

Financial sustainability:

How do you sustain your operations? 

Community engagement:

How do you raise awareness of your mission in the community and earn support?

Infrastructure and process:

Is your organization's infrastructure aligned with your strategic goals? 
Here's an example plan for the fictional XYZ Foundation. The first page of this strategic plan summarizes each of these pillars, including the specific goal and action steps associated with each: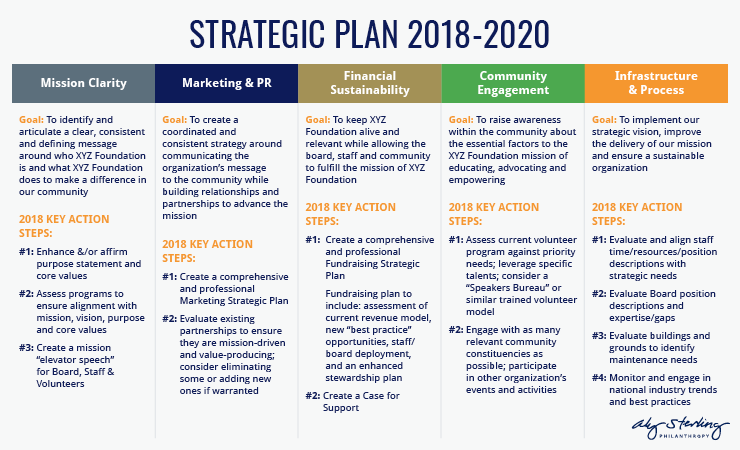 Use this blank version to add your nonprofit's pillars and action steps: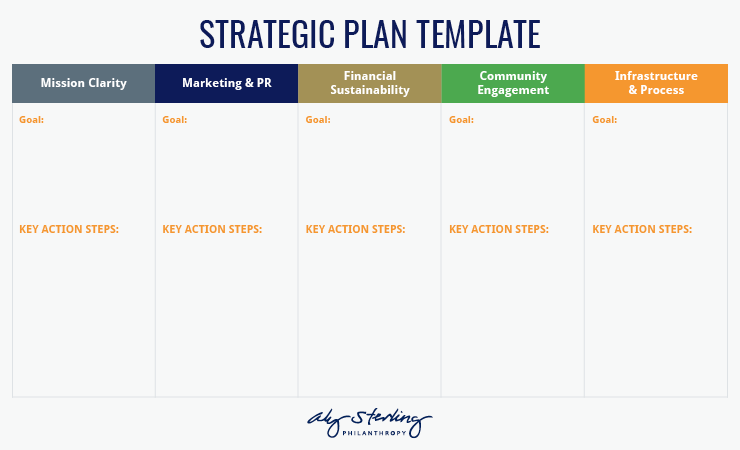 Next, you can break down each pillar into its own chart to pinpoint specific actions and tasks associated with every priority: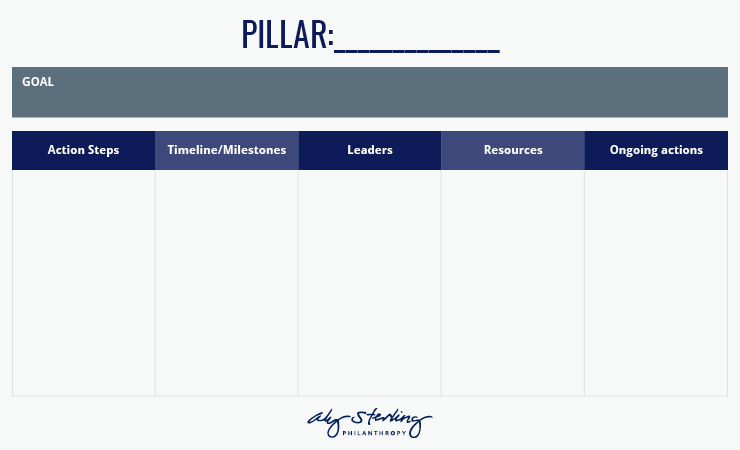 For each priority, determine the associated action steps, timeline/milestones, leaders, necessary resources and future/ongoing actions:
Action steps:

What tasks, projects, or events are necessary to complete the priority? List out each required step that will allow your team to complete the goal.

Timeline/milestones:

When should you complete each task by? Having a set timeline for each step is a great way to foster accountability. 

Leaders:

Which team member(s) will take responsibility for each task? Ensure each person is aware of their role and the associated timeline for completing their tasks.

Necessary resources:

What resources will you need to be able to complete each task? These might include people, databases, input from board members or staff members, etc. 

Future/ongoing actions:

How will you ensure that the task or project will remain ongoing instead of fizzling out? Determine the timeline and team member responsibilities for maintaining each priority. 
These documents will provide a tangible resource your team can turn to for guidance as they carry out your strategic plan. Fill out these templates using your organization's top priorities and tasks associated with each step.

Tips for Maintaining Your Nonprofit's Strategic Plan
The time, energy, and funding you spend on strategic planning is an investment in your organization's future. Don't let that investment go to waste by failing to carry out your organization's strategic plan to the fullest. 

Here are some of our top tips for keeping your strategic plan alive: 
Fill out the above templates using information from your retreat.

Make sure your plans are formalized in a document that's shared across your organization. As you fill out the template, take a "less is more" approach and only include essential information. Also, make sure you're setting SMART goals — those that are specific, measurable, attainable, relevant and time-bound. 

Work as a group.

Create a task force to work collaboratively on your strategic plan.

Keep the group large enough to be helpful, but not so large as to be a roadblock. 

Present your plan to key stakeholders.

Host regular check-in meetings as a team to measure progress and maintain accountability. 

Keep your plan front and center by posting it in a visible location.

Print and post your strategic plan in a communal room, such as your office or conference room.

Explain your plan in a public, formal presentation.

When you make your plans known to a wider audience, it increases the expectation that you will see them through. It also engages the wider community and your stakeholders in your organization's plans. 

Celebrate successes.

Plan celebrations at key milestones throughout your plan to recognize successes and keep staff and stakeholders informed of your progress. Plus, having a celebration to look forward to can motivate your team to complete its goals!
With these tips, you'll be able to maintain the initial excitement and momentum built during your strategic planning process. This will ensure your plan is doing what it was meant to – furthering your organization's mission effectively.

Wrapping Up
While you can certainly take an in-house approach to strategic planning, a dynamic action plan can sometimes be challenging to build from the inside. It often takes the third-party perspective of a consultant to take an unbiased look at your organization and offer objective and realistic guidance. 
Browse top nonprofit consultant options using this list, or contact us here at Aly Sterling Philanthropy if you're ready to kick start your organization's strategic planning process. 
In addition to strategic planning, Aly Sterling Philanthropy also offers fundraising solutions and a board assessment service to maximize the performance of your nonprofit's board. 
For more information on nonprofit strategic planning, check out the following resources:

Latest posts by Aly Sterling Philanthropy
(see all)