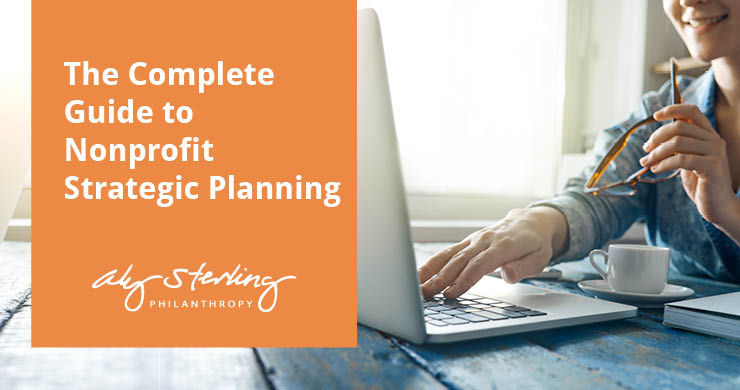 There's seemingly an endless number of famous quotes about planning. From Benjamin Franklin to Abraham Lincoln, everyone seems to be on the same page about the critical importance of preparation. 
It's no different for your nonprofit. Sure, you might have a strong guiding mission motivated by a worthy cause, but you still need a roadmap to carry out that mission effectively. Strategic planning gives your organization the foundation it needs to weather any storms and stay on track to complete your goals.

Your organization may desire a strategic plan to help get through a specific initiative or unexpected event, or you may just want guidelines for the years ahead. Either way, this comprehensive guide will provide you with the framework you need to optimize your operations, grow your organization and reach your fundraising goals. 
In this guide, we'll explore everything you need to know about nonprofit strategic planning, including: 
After completing the essential steps of developing your nonprofit's strategic plan, you'll be in a strong position to lead your organization to success. You'll ultimately be able to use this plan to fulfill your mission more efficiently and work more effectively in your community or toward your cause. 

Nonprofit Strategic Planning FAQs
What is a strategic plan for nonprofits? 
A nonprofit strategic plan is a bold plan of action that aligns an organization's goals with its values to provide a dynamic performance map for future endeavors. 

It is, of course, impossible to anticipate all of the slowdowns or obstacles that might arise throughout a specified time period. However, a strategic plan allows organizations to face any challenges with a unified mindset driven by an overarching blueprint. 
The strategic planning process involves assessing your organization's current situation, consulting with team members and formalizing findings into an action plan. 
Why should your nonprofit create a strategic plan?
Without a strategic plan, it's very challenging to keep your organization on track and complete goals in an efficient manner. 
A strategic plan helps simplify decision-making whenever your organization reaches a crossroads or an unexpected situation. It synthesizes the various teams within your nonprofit so that everyone, from your board to staff leaders, is on the same page

Benefits of Strategic Planning for Nonprofits
As mentioned, there are numerous benefits of nonprofit strategic planning, from simplifying decision-making to helping achieve goals promptly. These benefits are multiplied when your board members and staff leaders are engaged and in agreement with your nonprofit's strategic plan from the start. 
Involving your top leaders and decision-makers in strategic planning ensures these important stakeholders feel a sense of ownership over the plan. This leads to greater accountability when carrying out the plan because each individual feels more responsible for seeing it come to fruition.
Additional benefits of strategic planning include: 
Better time management.

You'll gain a better sense of which tasks you can eliminate from daily activities to save time. If something doesn't align with your priorities, you can rearrange your staff's responsibilities to reorient the team around your strategic plan. 

Ability to say no to activities or projects that don't align with your priorities.

Whenever new ideas arise, you'll have a clearer sense of direction for which ideas should be pushed forward and which shouldn't. 

Improved staff and board management.

A strategic plan ensures board and staff members understand their roles and have clearly defined responsibilities.

Better understanding of your guiding principles.

Undergoing the process of reviewing your organization's principles and retooling your approach to achieving your goals can help rally everyone around your guiding priorities. 

Opportunity to clarify/strengthen your organization's mission statement.

Use the strategic planning process as an opportunity to carve a niche for your nonprofit in the industry by strengthening your mission statement. Get to the heart of your mission by inviting input from individuals both inside and outside of your organization. 

Opportunity to assess results.

When top leaders are involved in both goal-setting and follow-through, they'll be more likely to set realistic goals and understand their role in working toward those goals.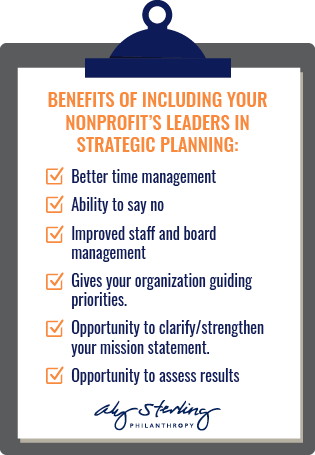 Latest posts by Aly Sterling Philanthropy
(see all)