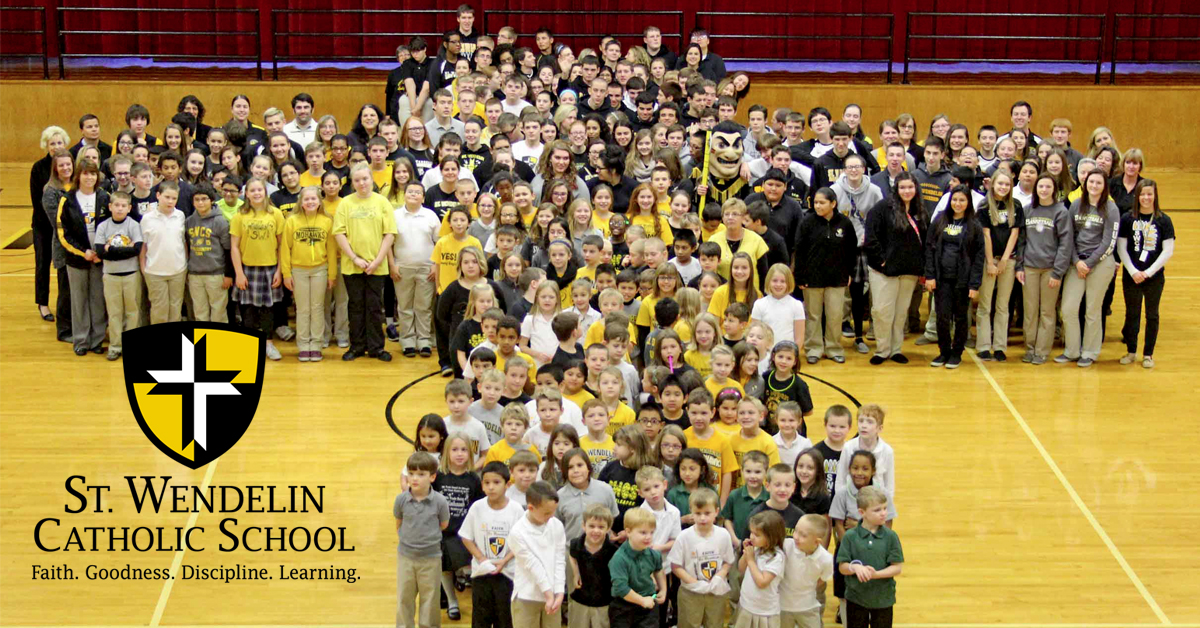 St. Wendelin Seeks Director of Development
The Director of Development is responsible for designing and executing the overall fund development strategy to provide for the current and future financial needs of St. Wendelin Parish and School.
Apply by March 25, 2016
Reports to: Parish Priest, Director of Parish and School 
Location: Fostoria, Ohio
Hours: Full-time salaried position
Compensation: Commensurate with experience
To Apply:
Please submit cover letter, resume, salary requirements and three professional references (combined into one attachment) by end of day March 25 to:
Kimberly Forren
Advisor
Aly Sterling Philanthropy
kimberly@alysterling.com
Only applications submitted via email will be considered.
About St. Wendelin
The administration, pastoral staff, faculty, parishioners and parents at St. Wendelin Parish and School are committed to providing a holistic education encompassing spiritual, intellectual, leadership social and physical aspects to all who desire to learn. The parish, as a whole, sees the school as a vital ministry of the parish community. While St. Wendelin Catholic School welcomes students of all creeds, the primary goal is to educate disciples of Christ within the Catholic faith tradition. It is the belief of the parish and school that young people are the Church of today and tomorrow, as well as future religious and societal leaders.
Core Responsibilities
Responsible for designing and executing the overall fund development strategy. 1/3 of fund development efforts will be focused on the parish and 2/3 will be focused on the school. Goal of cultivating annual fundraising revenue including the following core initiatives: annual fund, legacy/endowment gifts, and alumnae relations gifts.

Responsible and accountable for meeting annual fund development financial target goals including monthly Key Performance Indicators (KPIs) associated with these goals.

Responsible for all donor cultivation, solicitation and recognition. Responsible for managing a prospect list of donors (including parents, past and present) and coordinating visits and meetings between the parish priest, director of the parish and school, and potential gift donors.

Facilitates parish and school events that bring together potential or current donors, including hosting donor events.

Maintains records of all past and current donor activity. Oversees stewardship efforts including preparation of acknowledgements of giving, thank you notes, and tax documentation.

Consistently seeks to build relationships with parish priest, board and staff members, volunteers, community partners, parish members, families, alumnae, and donors. Develops systems to enable Foundation board involvement in annual fund solicitation, personal giving, and donor recognition.  Is expected to attend events and be active in relevant community initiatives. Makes public speaking appearances in community as needed.

Responsible for the continued development, cultivation, and securing of legacy giving to increase perpetual support for the organization's programs, services, and endowment.

Responsible for co-developing (with administrative team & and enrollment officer) a vibrant alumnae relations plan, to include the engagement and cultivation of a diverse and geographically dispersed alumnae base. This may include local travel.

Builds a plan for development efforts at the parish to cultivate continued giving efforts and stewardship by parish members and families (Sunday collections). Speaks at church periodically to share development efforts.

Is responsible, along with leadership, to advance and grow an internal culture and commitment to philanthropy. As a staff person and co-worker, motivates and inspires others, has a positive perspective on work and relationships and is an asset in a dynamic team environment.

Demonstrates a passion for St. Wendelin's mission and values and a willingness to commit to the teachings of the Catholic Church.
Position Requirements
Bachelor's degree required

3-5 years previous experience in fundraising within the nonprofit sector or related for-profit experience (marketing, communications, PR, sales)

Ties with St. Wendelin Parish strongly preferred

Familiarity with Catholic faith and Catholic education a plus

Excellent written, verbal and interpersonal skills

Highly organized, creative and a self-starter with a high degree of independence

Computer literate; knowledgeable of Heritage Design – Matchmaker (or equivalent donor software system) and  Microsoft Office products such as Outlook, Word, Excel, PowerPoint

Must possess skills necessary to efficiently plan and implement activities within policies and procedures; maintains positive working relationship; respects rights of others; demonstrates initiative and accepts accountability; effectively manages time and responds to inquiries in a timely manner

Should be accessible for meetings/events before and after normal work hours as necessary
The above list of duties is intended to describe the general nature and level of work performed by the incumbent. It is not to be construed an exhaustive list of duties performed by the incumbent.
St. Wendelin Catholic School
533 N Countyline St. | Fostoria OH 44830
419-435-8144 | 419-436-4042 (fax)
stwendelin.org/highschool