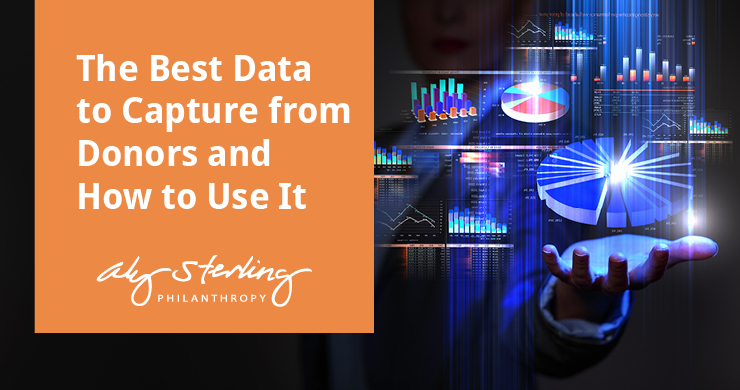 Your organization's data, when used strategically, can grow your fundraising efforts exponentially. However, you need a reliable constituent relationship management (CRM) system. Your CRM is the database where you retain donor information, so it's a crucial aspect of your overall success. This tool can interpret your data and help you develop goals that drive your organization forward.
When you use a CRM, leverage all of its features. Don't just capture relevant information about those who support your cause, but organize them within individualized profiles. Use this data to strengthen relationships with your supporters. Retaining your current contributors is of the utmost importance to your organization's success. Maintaining a high donor retention rate helps save your team the time and money required to gain new supporters. 
When considering your CRM options, make sure there's an integrated payment processor. This way, all of your donor's information is centralized, including data from your donation and payment forms. With this, you'll have access to accurate and valuable information to supplement communications when reaching out to donors for information, updates and donation requests. 
Effective strategies and tools can help you make the most of your donor data. Some data collection tools even provide various benefits like automating aspects of marketing strategy, unifying your team and streamlining communications. To use data to your advantage, let's walk through these topics:
With each fundraising endeavor and nonprofit tool you invest in, you spend money and time to ensure you're getting the most out of it. Let's dive into how to best leverage the information you collect! 

Types of data to collect
Collecting data is one of the most worthwhile things you can do for your organization. Consider where you collect that data and the types of information you're gathering. 
The initial place you receive donor data is your online donation forms. When potential supporters find out about your cause and seek to give, you want to make sure that the donation process is simple and easy to finish. Customize your form to get the most useful information possible without deterring donors with too many questions. 
So, what should you ask in your donation forms?
First, establish which data is the most pertinent to your goals. The last place you want to lose donors is in the home stretch. Therefore, your team must come up with just a few pointed questions, so only ask the essentials and what's most important now. You can always follow up with more questions later on!
This questionnaire will differ depending on your unique goals, but think of what's crucial to know about someone supporting your cause. Consider asking information such as:
Donor name

Gift amount

Email address

How they heard about your organization
This information provides you with a useful starting collection of names and points of contact. These details can improve engagements with donors after their initial gift and further develop those relationships. 
In addition to asking the right questions, remember that presentation is critical. Pay attention to the look and straightforwardness of your donation form. This can significantly impact whether or not someone completes their gift. For instance, remember to provide many payment options, offer recurring giving and make sure your donation page is optimized for mobile browsing.

Best practices for collecting and using your data 
Getting the most out of your donor data is a goal your organization should always aim to accomplish and is an ongoing task. Here's how to make the most of your organization's donor database: 
Use the right payment processor for your team. 
Foremost, make sure you're using a payment processor that integrates well with your data collection software. Investing in the right payment processor is essential, and the wrong one can even risk your donors' data. 
When a potential donor is filling out your form to contribute money, they're entering sensitive information. It's your job to ensure that you're protecting your supporters' private data like addresses and credit card numbers. Otherwise, the public will blame your organization for any breaches and putting your donors at risk. Consider the following features for your payment processor:
Works effectively with your donation form

Accepts all types of payments

Has data fraud prevention

Is PCI compliant or certified
For more information regarding how to get started with selecting your software, be sure to read the iATS Payments nonprofit payment processing guide. You'll be set up with the best software stack for your organization in no time.
Efficiently store your data. 
To have a reliable and accurate donor data resource, you'll need something that records as much information as possible about donors and their contributions to your organization. As mentioned earlier, this is your CRM. 
When your CRM and payment processor integrate, your organization can automatically catch and store relevant information from your payment processor. 
This catch-all gives you the ability to access the information you're looking for in real time. Without this tool, you'll have to record everything manually on a spreadsheet and frequently update it. Your organization is already busy, so you want to simplify your tasks in every way possible! 
Create donor segments. 
As you continue to grow, you'll have subdivisions of donors. Different groups of your supporters are more responsive to different types of outreach. Your donor's data can help you group them by similar qualities. These are called donor segments. 
Your team can base donor segments on:
The preferred social media platform

How they found out about your organization

What events they attend

What motivates them to give

What stage of their relationship they're in with your organization

Age, location, education status and job
Why are donor segments important? Donor segments help you create targeted communications that can bring more value for supporters and build those critical relationships. 
Let's say you have a group of new supporters from your most recent event. You want to send them introduction-type marketing information. Using your donor data, you'll segment this group and send them online resources, as well as how to get involved. 
On the other hand, your long-term donor segment consists of those who have been involved for years. You'll create specifically targeted communications to stay involved and inform them of plans you've implemented for further growth.
Follow up for more information from donors. 
Now that you've retained basic information from your donors, be sure to fill in the blanks on additional information you may need. For instance, after that first gift, you may send an optional survey along with your donor thank you letter. This is the perfect opportunity to ask those questions that you didn't include in your donation form and learn even more about your donors.
With these best practices in mind, you can better use the data you capture to your advantage in reaching nonprofit goals and fundraising milestones.
Analyze your data. 
Your organization's donor database and CRM also serve to strengthen relationships in the community. To accurately analyze that data, consider the essential questions your team should be asking and set key performance indicators (KPI) to draw insights about your donors. You can even compile reports to help you visualize those insights. 
There are a variety of things you can accomplish with your data. You can:
Create specific goals and targets 

Track your progress with KPIs

Better retain supporters by using donor data to grow relationships

Form a communications strategy based on real metrics
Once you've analyzed your data, put these insights into action to streamline your communications with your supporters with the information provided from your donor database. For more information, refer to this guide for best practices for leveraging your donor information.

How data shapes your fundraising strategies
Your supporters are the true foundation of your cause, and they are key to helping drive your mission forward.
Therefore, data that helps you better understand your donors is an invaluable resource for creating a clear strategic plan to achieve your organization's goals. This includes short and long-term fundraising planning that raises the awareness and dollars necessary to support your mission.
Leverage your donor data to:
Create targeted promotional materials:

Like with donor segments, you'll want to create multiple promotional materials depending on how applicable it is to the audience. For example, new donors will want to know the more basic information and get involved, whereas older contributors will want to know more about your growth compared to previous years.

Reveal information about supporter networks:

With your donors' contact data, assess how they interact with their community. For example, do they have children that would want to volunteer? Would their spouse be interested in giving? This way, you can leverage your direct mail to their household instead of each person in their family individually.

Track success metrics:

It's crucial to know if your promotional efforts and contacts are successful. When you send emails, are they being opened? Are you sending it to an email address that's being used? These marketing metrics and insights can improve and optimize future strategies. Make sure your donor database is integrated with your communications and other marketing tools.

Divulge future major giving potential:

Look to your data to tactfully choose certain prospects to reach out to in terms of significant giving potential. Your data can provide excellent insight using your supporters' engagement history and financial capabilities. Then, you can strategically reach out to those who would be willing to contribute major gifts.

Monitor engagement history:

Your data can tell you which campaign a donor contributed to and when. It can even keep track of which events they signed up for and attended. Tracking the details of your donor's engagement history can help push your efforts forward and give you insight into the future of that specific relationship. 
With these uses in mind, your team will be motivated to put your captured data to use. There's no such thing as insufficient data when it comes to learning more about how to better engage with your supporters.
The data your organization collects can strengthen relationships with your supporters, inform marketing strategies, and more. But to do so, your team must put best practices into use when selecting a payment processor, CRM, and other nonprofit tech. Put the information you've learned into use, and good luck!