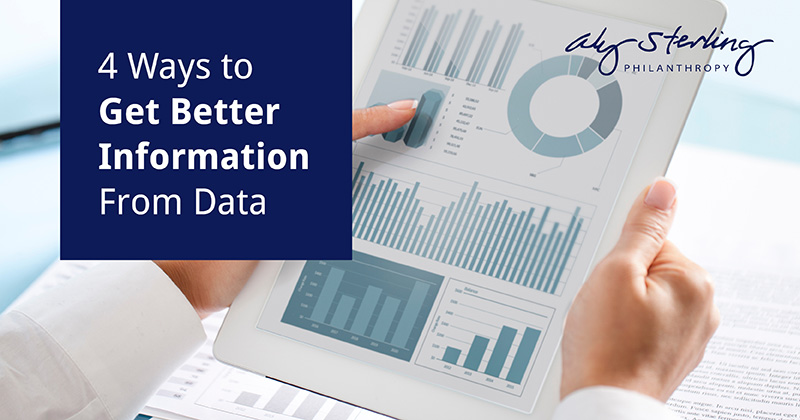 Sure, you've got data. Lots of data. Yet, somehow, the data aren't working for you. You're not getting the information you need to make good decisions. What's the problem?
Let's look at one example: A circumscribed but potentially highly profitable way that nonprofits can use data is to apply it to major or planned giving. The data is there: it exists in the donor-management systems in which organizations have recorded years of past interactions. The key is to use that data to gauge future behavior, especially regarding major or planned gifts.
Fundraisers responsible for major and planned giving outreach often say that they already know who their prospects are, or that major/planned giving isn't data driven. Neither, technically speaking, is true. Yes, gift officers often have a good list of prospects in their pipelines. However, they traditionally don't get the kind of data insight that will help them identify each and every possible prospect that exists in the database.
The late, great dog trainer Barbara Woodhouse used to say that she didn't train dogs–she trained owners.  To get what your organization needs from its data, you, data owner, need to make sure your organization and staff treat data properly. Following are four key ways that you can train your organization to get better information from its data.
1. Be strategic about what you want to do with data.
To gain real insight from data, you need to understand clearly its importance, i.e., what decisions the information will help you make.  Asking why the information is important can provide that invaluable strategic perspective.  
As well, because requests for information can often be needlessly broad and result in unwieldy results, don't stop with one "why."  You might end up asking (yourself or others) "why" five or six times (politely, of course) before the real need emerges. For instance, the executive director wants campaign results.  You could pull the entire list of people who got the mail package and see if they responded, but is that her real need?  Instead, by asking "why," you determine that she wants to see who's responding best to the campaign.
Armed with that information, you provide aggregate information like total number of mail pieces, how much revenue resulted, the number of people who responded in each segment, and so on, analyzed by segments.  In that way, she can easily see which segment had the greatest return.
2. (Arguably most important) make sure the data entering the system are accurate and reflect facts.
Effective data governance—the standards of how your organization handles data–helps here.  Establish rules for, for example, how records are input and coded.  Vet address information and spelling of names with a data quality service, make sure everyone properly and consistently uses the codes you've created, and so on.  Creating and communicating rules for data governance ideally will underscore to staff the need for accuracy.
3. Make sure the data you might need later is actually in your system now
If you know a chapter or regional designation frequently is helpful in pulling targeted lists, have your system assign such designations based on zip code as the record enters the system. If your organization conducts wealth screening on your house list, add the results to records in your list immediately rather than simply analyzing the data file. Later, you can identify good opportunities by running reports combining giving potential based on the wealth screening with giving history to your organization.
4. Consider a data warehouse.
If you keep getting crummy information from your data, it might just be too detailed.  
Let's say you have 39,000,000 gifts in your database and want to figure out yearly giving.  Pulling that kind of information from a database with a gazillion records is a daunting task even for Deep Blue. If you have a database of that scale, you might want to add to your fundraising system a data warehouse–a database designed specifically for queries and analysis rather than for transactions like gift processing.  It collects and summarizes oceans of data from different systems—your donor database, finance, online giving, etc.—and turns it into usable chunks of information that have meaning.   Gaining meaningful information from your data becomes a much less daunting prospect.
Once you have a handle on treating data the way it deserves, you can begin to see the results in what it can identify. For instance, experience tells us that major or planned givers can often emerge from the group of people who are lapsed givers, or have given $50 twice a year for 10 years, or took part in a 5K race two years ago at the invitation of another major donor.  If your organization has been diligent in collecting, recording, and using its data on giving histories, participation, and connections, identifying viable prospects from such data becomes a simple exercise in analytics and modeling.
---
Steve Birnbaum is vice president at SofTrek, which has nearly 30 years' experience successfully helping nonprofits raise money. Its flagship product, ClearView CRM, offers constituent-relationship management, online marketing and operational tools; business intelligence and reporting; and professional services to help nonprofits of all types deepen donor relationships and manage fundraising activities.
To find out more about ClearView CRM and its developer, SofTrek, visit www.softrek.com/fundraising-software

Latest posts by Aly Sterling Philanthropy
(see all)