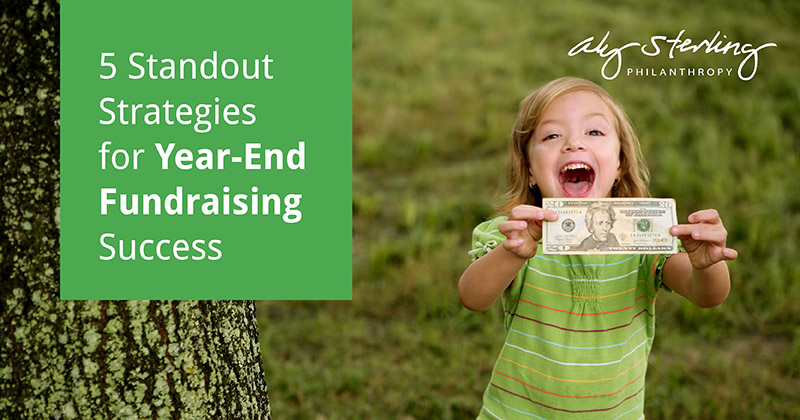 The holidays can be an excruciating exciting time for fundraising professionals. While most people are winding down and getting ready for a nice long winter's nap, nonprofits are working like caffeinated elves to get donors' attentions before January 1st. To paraphrase an old saying: 'Tis the season for sleep deprivation and in-laws criticizing your guest bathroom's backsplash.
To build out your year-end fundraising strategy, here are few considerations to take into account:
Before you continue reading this article: just stop. Take a breath. Even if just for a minute. So many of us are spinning around in circles — trying to chase future successes and avoiding previous mishaps — that we're only making the problem worse. So, stop thinking about what you could have done differently, and let's move forward.
1. Centralize your efforts around a compelling story.
Start thinking about all the people your organization helped in 2017, and all the people you intend to help in 2018. The nonprofit sector has no shortage of feel-good stories and continuous impact; your organization certainly can't be an exception to this. A family who directly benefited from your efforts. A new volunteer who made more than a few new friends through his or her involvement.
Here's a good exercise to get your team involved. The whole process could take 1-2 hours, but it's worth every second. Feel free to include trusted volunteers who work directly with your beneficiaries:
Get all the participants together in a room, and hand them each a pen and a notepad. Sticky notes work, too.
For the next 10-15 minutes, have everyone make a list of anyone they can think of who was (or will be) impacted by your nonprofit's efforts. This could be a family who directly benefitted from your efforts. A new volunteer who made more than a few new friends through his or her involvement. These people can be real, or imaginary.
Once the time is up or no one can think of any more ideas (whichever comes first), take five minutes for each participant to select one or two of their very best stories and ideas.
After everyone has selected their own personal favorites, go around the room and individually take a moment for everyone to read aloud their story ideas. Jot each story down on a whiteboard or somewhere else that everyone can see.
After someone reads each story, take a minute to provide feedback. Here's the catch: The feedback has to be positive. No "but"s or "can't"s allowed. If you can't say something nice, then don't say anything.
Keep reading your ideas aloud until everyone has a chance to be heard. After this, put these great stories to a vote. Let each participant vote for the story that impacted them most. Once everyone has voted, tally up the votes and have everyone finally discuss why they voted the way they did.
These stories you hone in on, whether they arise from this exercise or another brainstorming session or a lightbulb moment in your brain, will directly influence your year-end campaign strategies. Think of these stories as characters in your nonprofit's novel, and your marketing strategies as the novel's chapters. Whether you're reaching out to recurring donors via email, or engaging followers on social media platforms — your nonprofit's stories should be the central focus in persuading your audience to give to your cause this holiday season.
2. Get the word out!
This seems fairly obvious, but an announcement's timing is truly crucial. What's surprising is how often many a campaign launch fails because of poor timing, broken lines of communication, and missed deadlines.
Your fundraising efforts do not happen in a vacuum. Don't expect people to magically realize your website is spruced-up, or what projects you're planning for 2018. Even recurring donors need to be reminded that it's that time of year again to give.
Set a hard date to announce your fundraising campaign. Every digital messaging platform your nonprofit uses — be it email, social media, or your website — needs to be ready to go live with the announcement on this date.
3. Personalize your messaging for one-time vs. recurring donors
It's interesting how many articles are on the web regarding why recurring giving is important. It's even more interesting how few articles there are on why it's important and what you can do about it.
Would you talk to your best friend the same way you talk to an acquaintance at a networking cocktail hour? Someone who has already given to your nonprofit has a completely different set of questions and goals, than compared to a first-time donor.
Make sure your email and direct mail marketing lists are properly maintained and segmented to separate previous one-time contributors to those who give on a recurring basis. While you might try to convince a one-time donor to contribute on a monthly basis, you should still count it a success if they decline your initial offer, but decide to make another one-time donation. On the other hand, a simple thank-you message or a hard ask to recurring donors may entice them to increase their periodic contributions.
4. Follow-up on your appeals
Direct mail is not dead! I can't stand to use exclamation points, but that sentence really needed one. While slightly more costly than your digital alternative, direct mail is surprisingly still engaging and converting a number of millennials and baby boomers alike.
The Nonprofit Research Collaborative reported that direct mail receipts increased for 56% of surveyed nonprofits in 2015. According to 2015 report by the Direct Marketing Association, the median response rate is 3.7% — that's a 34% increase in response rate when compared to MailChimp's benchmark data for clickthrough rates within the nonprofit sector.
Those statistics don't even take into account the notion that direct mail impacts the payment behaviors of online donors.
The takeaway: Email might be a cheaper alternative, but there's truly something unique about getting something physical in your mailbox. You don't want to overdo it and render your organization's efforts to the recycling bin, but one or two sends at the end of the year should be a clear reminder.
While you may decide to launch your year-end campaign via email and other digital platforms, a well-executed and story-driven direct mail campaign can easily make its impact heard as an avenue for reaching and converting previous donors.
And, as always, thank them!
5. Optimize your website's donation forms
Every ask you make should redirect every potential donor to a central place to take action. This will likely be your website's donation page. And if you haven't taken a look at it recently, now would be a good time to do so. Before that massive influx of traffic rolls in around December, test out the online donation process on your website. Jot down some of your notes for feedback. Ask yourself some of the following questions:
Can your audience readily look at your donation page and determine what your nonprofit does?
Is your nonprofit's branding up-to-date?
Are the images compelling? How about the copy?
What are the default donation values on the form? Compared to the average online donation, are they too high, or too small?
Can your form readily accept corporate matching gifts?
Do you receive an email confirmation receipt upon completion? If so, how long does it take to enter your inbox?
From accessing the form to payment confirmation, how long does the entire process take? Is it too complicated? How could the process be made easier?
There are some truly complex, convoluted, and downright ugly donation pages out there on the Web. Optimizing your online forms to make the process streamlined and enjoyable might even mean the difference between converting a one-time donor to recurring, or losing them on the bottom line.
---
A successful year-end campaign calls for major strategic planning, cool heads, and powerful stories. But at a time of year when so many of us are reminded for what we are thankful, let love — and not fear of failure — drive your efforts.
---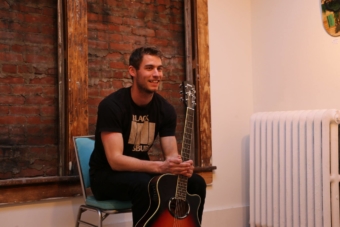 Matt Sutherland is the Communications Director for Click & Pledge, an all-in-one online fundraising platform for nonprofits. Matt's favorite activities include playing pickup lacrosse games and turning his guitar amp up to 11. You can also connect with him on LinkedIn.

Latest posts by Aly Sterling Philanthropy
(see all)