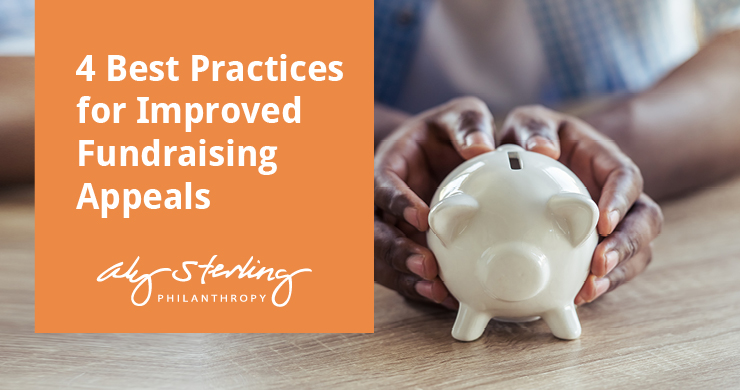 An effective fundraising appeal is a decisive component of your nonprofit's fundraising efforts, as it's the way your organization asks for donations from those who are likely to support you. After you've put in the hard work and created a fundraising strategy to catch supporters' attention, your appeal is the crucial last step between generating awareness and securing a donation.
Fundraising appeals include an "ask" and can look like general donation requests, sponsorship asks, in-kind donation requests and more. Regardless of the exact type of appeal you're making, we'll review some best practices that apply to any kind of fundraising goal.
Strategic fundraising appeals are a key component to helping nonprofit organizations like yours reach their fundraising goals and make an impact. Here are a few tips that will help your team do just that:
A well-formed fundraising appeal will have a positive impact on your final fundraising results. Let's jump into a few best practices for the most effective appeal possible.

1. Start with a carefully crafted fundraising plan.
Reaching your fundraising goals starts when your organization establishes a dependable fundraising strategy. Most fundraising strategies include a similar or standard set of tactics, but keep in mind that you should tailor your plan to your organization's unique needs and supporters.
Before your team can reach your campaign goals, you'll need to take the time to develop an effective fundraising strategy that takes your unique characteristics into account. That's because it's not enough to passively wait for support; you have to actively catch your donors' attention with your appeals. Start by laying a solid foundation with these core steps:
Assess your organization's current strategies.
What has your organization done in the past that was successful or unsuccessful in making fundraising asks? Hold onto what seemed to resonate with your donors, and avoid anything that wasn't as successful. 
For example, if your Facebook appeals are not getting a ton of engagement, you'll need to revisit the particular strategies you're using on that platform or even consider eliminating them from your campaign.
Use your historical fundraising data, broken down by campaign and donation source whenever possible, and correlate those results to the specific appeal strategies that you used. This should be an ongoing exercise anytime you're planning a new fundraising campaign.
Determine your fundraising goals for your campaign.
As an organization, carefully set your goals for campaigns based on a number of relevant factors. These include your donor's past giving capabilities, how much is needed to achieve your goal and potential major donors in your network. 
Then, consider which specific audiences or messages are best suited to help you reach those goals. A basic example might be a major capital campaign; you'll want to target major donors, so plan from the start to tailor your appeals to that particular segment in a personalized way.
Your fundraising goals also aren't limited to monetary achievement. You can aim to increase your donor retention or to increase the number of significant gifts.
Develop a plan of action.
Once you've determined which types of messages and donors are best suited for your campaign's goals, it's time to get specific. Making a plan of action helps everyone in your organization stay on the same page. 
When making an effective fundraising appeal plan, consider the following items to maximize your outreach:
The channels of communication you'll use to reach your target audiences.

The donors who are most likely to support this effort.

How you'll communicate your call to action.
With a clear-cut plan, you'll be prepared to carry out a successful campaign with fundraising appeals that are targeted to the right donors.
Choose your key performance indicators (KPIs).
Your KPIs will help your team determine if your fundraising appeal tactics work. Set realistic targets for evaluating your progress and adjust as needed. Track metrics that are relevant to the goals and specific strategies that you've already outlined. For instance: 
If your campaign is geared toward securing repeat donations, actively track the number of donations coming in from previous donors. This metric can clue you in on which donors are your most active recurring contributors.

If your appeals are designed to boost event attendance, set specific KPIs around registration and engagement with your promotional materials. This will let you know if your communication strategy needs any tweaking.

Track email open rates. This data will help your team determine if email outreach is working effectively for your organization.
These are crucial to understanding the impact of how supporters interact with your campaign and outreach efforts.
With these four core steps in place, you'll have a solid foundation for creating and tracking highly effective fundraising appeals and can build on this strategy going forward.

2. Emphasize donor retention and stewardship.
In crafting your plan, make sure you find the right cadence of donor stewardship and solicitation appeals. Your donors must be aware that they're a critical part of your organization and that you couldn't reach your goals without them.  
Your fundraising appeals should be interspersed with regular stewardship messages, like:
Providing donors with the results and impact of their giving.

Keeping supporters updated on the progress of your campaign. 

Guiding donors into the cultivation process by keeping them engaged with your organization and offering new ways to get involved.

Thanking your donors for their support.
Stewardship means your organization respects your donor's giving intentions and expectations. When you practice effective stewardship, you foster a long-term beneficial relationship with your donors. 
Donor retention is of tremendous importance to your organization, as securing the support of repeat donors is more cost-effective than constantly acquiring one-time supporters. They eventually become dependable supporters over time.
When your broader fundraising appeal strategy encompasses calls to action and relationship-building messages, you'll generate more value and deeper relationships with your donor base over time. Remember that with every campaign, think ahead about how you'll thank donors, show the progress they've helped you make and communicate to them about their ultimate impact on your mission.

3. Engage with donors at multiple touchpoints.
Today, a multi-channel communications strategy is the most effective way to make your fundraising appeal. This tactic will help your organization reach a broad audience both digitally and physically.
This way, you can target your preferred audience through multiple channels and strategically build their interest and engagement toward a central goal. The ultimate goal is to have your audience respond favorably to your final appeal and take the target action you want them to. Here are three effective channels to consider for your appeal strategy:
Direct Mail
According to GivingMail's nonprofit marketing statistics, direct mail is the most effective channel for nonprofits because it accounts for around 90% of direct response donations. Direct mail is one of the most effective fundraising appeal platforms for nonprofits and is certainly not obsolete. It can have a response rate up to 10x higher than digital marketing outlets for nonprofit organizations.
Your potential donors are likely to respond to physical fundraising appeals for various reasons, including:
Letters stand out from the digital space.

Mail has a high visibility rate.

Physical mail is more memorable than digital messaging.
When you plan your direct mail appeal, be sure to point to easy ways to give and get involved by including a return envelope for donations or prominently stating the URL for your campaign's online donation page. 
Email
Email appeals are another platform for a successful multi-channel marketing strategy. Digital mail has the advantage of giving you more up-to-date and specific KPIs than direct mail. Your software can capture data such as user opens, link click-throughs and time users spend reading. Email marketing is an excellent option for your outreach because of its variety of benefits:
Low-cost outreach

Specific insights

Easy path for donors to contribute 
Use catchy email subject lines to separate your mail from other messages. Additionally, segment your donors based on their interactions with your campaign. These segments can include anything from those who respond and read your emails to those who take additional actions like donating or signing up for an event. For example, you can create segments for overall responsiveness, average gift amount and any other markers relevant to each particular campaign.
Social Media
Consider using your donor data to study past social media engagement and to find which platforms are the most popular with your target audience.
Social media is a useful option for making appeals because:
The variety of social media platforms allows organizations to pick the options that are most effective for them.

Social media data can give helpful information about the success of your outreach efforts.

The majority of your donors are on social media and are inclined to follow and interact with your organization's active pages. 
When making your social media fundraising appeals, your content will appear on the feeds of your supporters. Be sure to include a link to donate in your posts and on your profile pages. 
Keep in mind that you should be creating content native to whichever platform you choose. For example, the Facebook algorithm prioritizes original (not reposted) videos, while Instagram is all about high-quality images. 
To learn about more benefits of a multichannel approach, be sure to check out GivingMail's donation appeal guide. With this strategy, you'll be able to reach a wider range of prospective donors.

4. Don't hesitate to consult fundraising experts
Nonprofit consultants can help you craft or adjust your fundraising strategy. These professionals can help your organization nail down the specific segmentation and appeal strategies that will be best suited to your campaign's particular goals. Your team can then assess which audiences or prospects to pursue further to maximize results. 
Your team can build a strategy for creating fundraising appeals on your own, but we recommend hiring a professional to handle the most challenging obstacles for you. There is a wealth of resources and partners available who specialize in all types of campaigns and fundraising initiatives.
For example, suppose your team is looking for more effective ways to send direct mail appeals. In that case, you'll look to a direct mail fundraising company to provide valuable insights and assistance in sending better requests.
On the other hand, some consulting firms aid nonprofit organizations in other areas. These include:
Fundraising goals

Strategy assessments

Board leadership

Crisis planning
For example, Aly Sterling Philanthropy is a partnership-driven nonprofit consulting firm that specializes in donor cultivation and fundraising strategy for large-scale campaigns. With the extra help of a nonprofit consulting firm, your team can rest assured that you'll be hitting goals with the guidance of professional insight.
With these best practices in mind, your organization will be making more effective decisions when it comes to optimizing your fundraising appeals. With these resources, you're sure to hit the ground running on your next campaign.