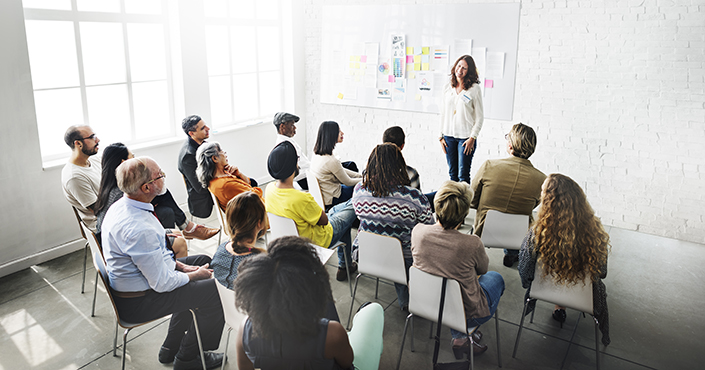 Attracting and retaining talent is critical to the success of any organization, especially nonprofits, where budgets are tight and staff resources may be limited. Identifying what is important to employees and how to retain them is paramount to keeping them engaged.
Compensation has a significant impact on employee satisfaction. To meet the ever-changing and growing demands of employees, nonprofits must be creative in developing a compensation strategy that can effectively address employees' needs.
In this article, we discuss the following topics:
What is a Total Rewards strategy?
The nexus between Total Rewards and employee retention
The importance of indirect compensation
Total Rewards equity – a key player in retaining talent
What is a Total Rewards Strategy?
The goal of a Total Rewards strategy is to find a balance between direct (monetary) and indirect (non-monetary) compensation. An organization's culture plays a significant role in identifying the components of a progressive Total Rewards program.
Direct compensation includes salary, hourly pay, and overtime, incentive pay and/or bonuses. Indirect compensation includes all the other ways an organization can reward them, that includes health insurance, paid time off, a retirement plan, various other ways employees' are recognized, and the internal culture that an organization creates.
The Nexus Between Total Rewards and Employee Retention
When developing a Total Rewards strategy, it is important that employees clearly understand the elements of the program and the value to them. Employees want to be recognized for their contribution to the organization. They also want to understand that their employer is providing compensation, benefits, and other rewards that speak to their needs and also align with the organization's values and nonprofit brand. Investing in your employees in a way that is meaningful to them will have a positive impact on an organization's employee retention rates.
The Importance of Indirect Compensation
Not only do indirect benefits give employees insight into an organization's culture, but they also demonstrate an employer's investment in them beyond monetary compensation.
Invest in your employee's mental health by offering:
Employee assistance programs
Wellness benefits, such as gym memberships
Time off benefits
Empower personal and professional growth by offering:
Tuition reimbursement
Sabbaticals to pursue work and non-work-related interests
Corporate volunteering programs
Student loan repayment
Upskilling
Continuing education opportunities
Support familial and future obligations by offering:
Child and elder care
Flexible work schedules – hybrid, remote or compressed workweeks (i.e., 4-day workweek)
Retirement benefits
Providing programs that are meaningful to your employees is critical to the value these programs bring. One of the best ways to determine what benefits are most beneficial to your employee base is to conduct a survey. While you can create a survey internally, HR consultants can guide you through the process and then assist in developing a strategy that fits your values, mission, and workforce.
Retaining Talent with Total Rewards Equity
As part of a robust retention strategy, a Total Rewards program should be evaluated for equity. Review employees' pay data to evaluate the fairness of base salaries, wages, and other monetary payments. Highlight any pay gaps that allude to inequitable practices. All of your indirect compensation programs should be viewed through the same equitable lens and held to the same rigorous standards as pay equity analyses.
Performance management systems, upskilling, continuing education, training programs, and tuition reimbursement programs should also be examined with job equity in mind. Employees should be given equitable opportunities for career advancement. By auditing these programs and correcting any deficiencies, nonprofits can ensure that everyone has equal opportunities and access to excel and grow with the organization.
Creating a Balanced Workplace Culture
One of the reasons why Total Rewards is so effective is due to its holistic employee recognition approach. You're showing your employees that you care about them beyond their ability to further your organization's goals—you care about them, not just the work they do.
Enhance your commitment to your employee's well-being and boost morale and retention by implementing an employee recognition program. Some examples include:
Employee gifts.

 

Give your employees tangible gifts in return for their dedication and hard work. You can even partner with a

 

company that specializes in gifts

 

to reduce the stress of gift-giving by selecting rewards you already know your employees will love.
Milestone celebrations.

 

Show your staff members that you value their commitment to your organization by celebrating important milestones. This includes their birthdays and their work anniversaries.
Peer recognition.

 

Peer-to-peer recognition within the workplace can lead to tighter-knit coworkers and a more positive workplace environment. Encourage your employees to appreciate each other for their contributions to foster a culture where everyone feels appreciated for their work.
Awards. While having ad-hoc recognition programs, such as a Bravo Board, is important, management should also implement formal recognition strategies to recognize consistent high performers. A classic way to do this is through

 

employee achievement awards. For instance, you can award an Employee of the Month with their name on a plaque and a lunch on the company's dime. Or, you could do more specialized superlative awards, such as Biggest Team Player or Rising Star. These awards give management the chance to show that they value outstanding work and can inspire team members to go above and beyond.
Employee appreciation events. One of the best ways to publicly recognize your employees and distribute awards is via

 

appreciation events. They can be as simple as a pizza lunch or as formal as a dinner gala. Whatever you choose, ensure that there are activities and prizes to celebrate your employees' hard work and accomplishments.
Implementing a Total Rewards strategy is more than just changing your employees' compensation—it means a change in your entire workplace culture. By using this strategy and augmenting it with other employee recognition programs, you'll be creating a workplace culture that more effectively balances your nonprofit's interests and your employees' expectations. And ultimately, this leads to a greater employee retention rate.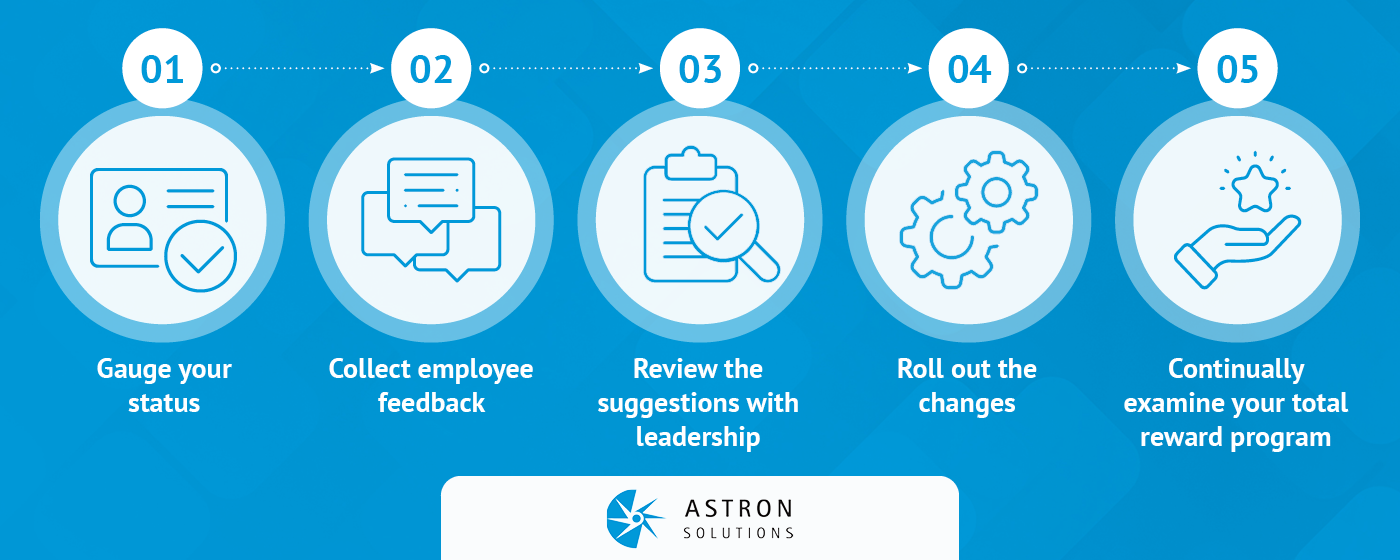 Gauge your current Total Rewards status.

 

When planning your Total Rewards approach, it's crucial to have a baseline so you know how to grow. Your best resource for this step is your nonprofit's policy book—review it and take note of your current compensation practices. 
Collect employee feedback.

 

Once you understand your current standing regarding compensation, you can start brainstorming new additions that contribute to total rewards. But, this process shouldn't happen in a vacuum. Encourage employees to provide suggestions of what kinds of programs they want to be added, as they'll be the ones benefiting from the changes. Remember to have employees explain their rationale and follow up if you have questions. 
Review the suggestions with leadership and respond to feedback.

 

Your nonprofit's leadership team should carefully consider the feasibility of each suggestion and pick a final slate of proposed changes. Then, you can bring the results back to your employees and have them vote on their favorites. Ensure you provide your reasoning for why you accepted or rejected each recommendation to boost transparency.
Roll out the changes.

 

Whether you're instituting a new

 

employee gift program

 

or adding extra paid time off, you need to outline the changes in your employee handbook and workplace policy book. Remember to time the rollout correctly so you can get your financial information in order. Keep your employees informed throughout the rollout so they know when new rewards will be available.
Continually gauge your total reward program's effectiveness.

 

Your leadership team's work isn't finished once the rewards are fully implemented. For the first year after the rollout, send out regular surveys so employees can provide feedback on the changes. If you find that employee engagement isn't improving or that your programs aren't financially efficient, you should rethink your strategy. After the one-year mark, continue tracking the program's impact via employee performance, current trends, and your nonprofit's financial situation, and make adjustments accordingly. 
Total Rewards will look different for every nonprofit based on its size, employee demographics, and current priorities. So, you can keep up with current trends to see if any new elements can be added but don't feel the need to copy other nonprofits' strategies. Just remember to reward your employees for their hard work while ensuring you maintain adequate resources for your beneficiaries, and everyone will benefit from your strategy.
While moving from a traditional compensation structure to a Total Rewards strategy can seem like an overwhelming task, the benefits to your employees and organization are great – and you do not have to take this on alone. Consider seeking outside support from HR and Compensation experts. With a Total Rewards program in place that mirrors both your organization's and your employee's needs, your employees are more likely to be satisfied and your retention rates likely to improve.