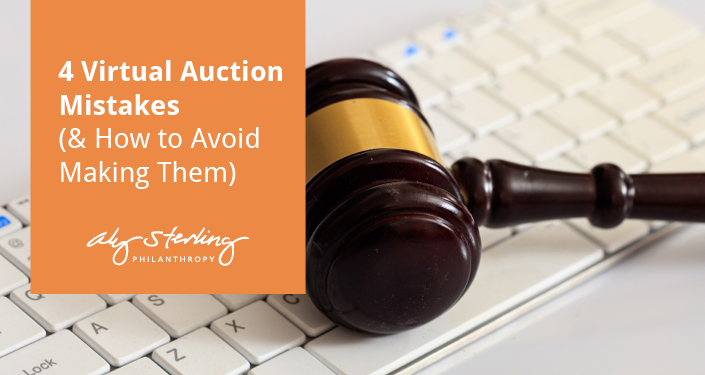 For nonprofits, auctions are often a winning fundraising event. When planned well, they attract many participants and typically have a very high ROI. It's no wonder that many organizations use auctions as a key part of their fundraising strategy.
Virtual event fundraisers have also become popular, and hosting silent auctions online often works well. Your organization can save money on event components like a venue and catering, and your supporters can participate from the comfort of their homes, so it's a win-win situation!
But eliminating the in-person component of auctions doesn't take away the possibility of making mistakes. Just like in-person events, online auctions are only successful when you take the time to plan them well.
In this guide, we'll look at four common virtual auction mistakes and provide tips to help you avoid or correct them during your planning process. With the right resources and a solid plan, you'll be able to make your virtual auction into a successful fundraising event for your nonprofit. Let's dive in!
Mistake #1: Getting the wrong kinds of auction items
An auction isn't an auction without items for supporters to bid on. You'll probably secure a lot of virtual auction items through in-kind donations or partnerships with businesses in your area. But the key to success isn't just procuring items to bid on—it's procuring items that people will want to bid on.
Examples of the wrong kinds of auction items? Personal services like haircuts and tanning, and photo sessions by unknown photographers usually don't sell well. Try to avoid procuring items like these. If you happen to get one or two, bundle them with something else that your bidders will find valuable.
The items that sell best at auctions are often the ones that bidders can't find easily in stores, such as:
Services and experiences. These types of auction items can range from car washes to spa packages to vacations. In addition to being popular, they also work well logistically for virtual auctions because your organization can easily email a gift certificate or digital tickets to the winner.
Goods made by local artists. Besides having a one-of-a-kind quality that many bidders will love, the connection your nonprofit creates with an artist in your community can attract more auction participants who are familiar with that person's work. Keep in mind that you'll need to have a way to ship or hand-deliver physical items to the winner's address. Otherwise, they may need to pick up the item from your organization in person.
Prize baskets or bundles. Make smaller in-kind donations more valuable by combining related items into a basket and auctioning them as one prize. For example, you could put together a movie theater gift card, popcorn, candy, and a throw blanket to create a "movie night" basket to deliver to one winner. 
Experiences and items provided as in-kind donations allow your organization to maximize your ROI. But you can't auction off just any item that your organization receives as a gift. Imagine a well-intentioned supporter brought in an in-kind donation that you couldn't possibly see anyone buying. Or worse—they donated items that could be dangerous for your organization to sell, like products where the safety seal is broken or even live animals!
In these situations, it's hard for your nonprofit to win. If you accept the donation and then throw it away, you've wasted a contribution and could still receive more useless or risky items. But if you decline the gift, you may come off as ungrateful to the supporter, making them less likely to donate again in the future.
Fortunately, there's a solution for your nonprofit: creating a donation acceptance policy. This way, if you need to decline an in-kind donation, you'll have the backing of an official document to lessen the blow of your "thanks, but no thanks." Jitasa's guide to in-kind donations also points out that by spreading the word about your donation acceptance policy, you can actually encourage more in-kind contributions for your auction!
Mistake #2: Marketing your event too little and too late
Even if you've found auction items that you think bidders will love, you won't have a successful virtual auction if your supporters don't know it's happening! Spreading the word early and often is essential to getting as many people as possible to participate in a virtual auction. 
How to promote a virtual auction
Promoting your nonprofit's fundraising efforts, like auctions, works best if you start communicating them to your supporters well in advance (think two to three months). You'll also want to use several channels to get your message out, including:
Your website
Email outreach
Social media
Direct mail
Yes, the last idea (possibly two if you print physical flyers!) in that list is print instead of digital—but that doesn't mean you shouldn't use it to market your virtual auction. Add an easy-to-type link or QR code to your direct mail messages and print flyers so supporters can register for and access your event.
What details to promote for a virtual auction
Every channel you use to market your auction will lend itself to slightly different marketing content. You can say a lot more in an email than in a tweet, and you'll probably have a different demographic group who responds to direct mail than to an Instagram post.
But there are a few details you'll need to include in every message about your auction, such as:
Your organization's name and logo
The date and time of the auction
The cause your event is supporting
Steps necessary to access the virtual auction
Contact information for someone who can answer supporters' questions
Checking these boxes in all your marketing materials will ensure every supporter knows exactly what your event is about and how to participate. Provide this information several times, across several platforms, to ensure supporters will run into it somewhere and hopefully more than once! 
Mistake #3: Going into the bidding without ground rules
Once you have your auction items in order and you've spread the word to supporters, you probably think you've checked all the boxes necessary to prepare for your virtual auction. Don't jump the gun, though! It's dangerous (or, at least, it creates problems for your event team) to let participants enter into a bidding war without establishing some rules of engagement.
Handbid's guide to silent auction rules outlines five areas where your nonprofit should set guidelines for your virtual auction, including:
Bidding. Besides setting a fair starting bid and bid increments for each item, you'll need to make your policy on bid cancellation clear to supporters (all bids should be final unless removing one is absolutely necessary).
Selling. Following seller guidelines ensures that supporters trust you to follow through on your transactions. You'll need to describe items accurately, make sure you don't accidentally manipulate the bidding process, and always provide winners with receipts.
Legal compliance. The primary legal issue that could come up at your auction is whether to charge sales tax—check the requirements for your state in advance so you know if you'll need to charge sales tax on auction items.
Checkout. To ensure you collect all of the online donations from your virtual auction, require supporters to enter their contact and payment information before the auction starts. This makes checkout easier for your supporters as well because they don't need to wait in long checkout lines or deal with clunky point-of-sale systems. 
Opening and closing. Let all participants know exactly when bidding starts and stops to keep the auction fair. Also, notify them when they have 10 minutes left so they can get their last bids in on time.
Reviewing the auction rules may sound somewhat tedious, but you won't regret putting them together when the auction event comes along. Having established guidelines in place makes for a more fun time for participants overall and is less of a hassle on your end.
Mistake #4: Losing donors' attention during the event
One downside of virtual events is that it's easier to lose participants' attention when they aren't all physically in the same room. Thankfully, there are ways to use technology to your advantage and keep supporters engaged with your organization's virtual auction.
Your online auction software will be particularly helpful in engaging supporters during the event. Try attention-grabbing strategies like:
Live streaming. Face-to-face interactions may be the one thing missing from virtual events, but live streaming is the next best thing. Start your virtual auction with a live video from your organization to hype up supporters and finish with a video thanking them for participating. You can also use live streaming so your virtual audience doesn't miss out on other aspects of the event, like keynote speakers and other presentations. 
Text updates and push notifications. Every so often, let your supporters know how the event is going via text to keep them involved, and definitely remember to send out the time warning message we mentioned before. You can also enable push notifications for mobile auctions, providing immediate alerts when your auction attendees have been outbid on their favorite items. 
Gamification. Auctions are the most fun—and bring in the most revenue—when they incorporate friendly competition. Amp up the competition with gamification tools like leaderboards, fundraising thermometers, sound effects, and badges.
Auctions are a great opportunity to build relationships with donors—even if your event is virtual! But keeping supporters engaged during the event is just one aspect of this strategy. After the auction, send a personalized thank-you message to each participant letting them know how their donations will benefit your cause and the impact they've had on your mission. You can even suggest other ways for them to get involved in the future.
Mistakes happen, especially if it's your nonprofit's first time hosting a virtual auction. But if you know what's likely to go wrong in advance and how to course-correct if it does, you'll be prepared to make your virtual auction a success. Keep an eye out for these common mistakes and take precautions to avoid making them in the first place.