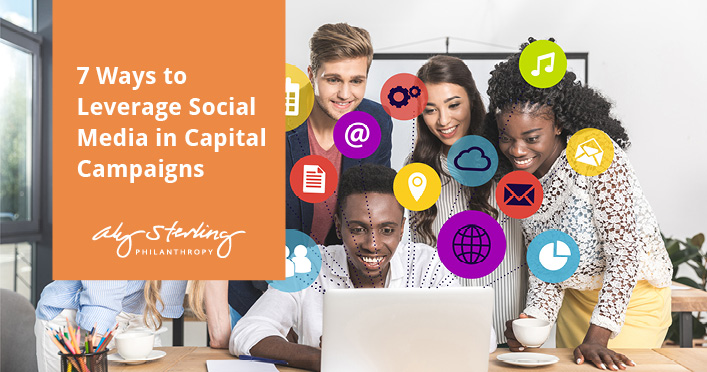 Are you fast approaching the public phase of your capital campaign? It's likely that it's time to revamp your fundraising plan and outreach strategy. The answer for your organization might just be in the palm of your hand.
Social media is an extremely important online fundraising tool with countless features. It has transformed the mission-driven space and exponentially broadened the potential of campaigns to reach new audiences. The truth is, social media has become a crucial piece of the capital campaign puzzle. No successful campaign is complete without it.
While it's exciting that the digital age presents new opportunities for outreach and online fundraising, it can be a daunting task to figure out a strategy with all the options available. Luckily, it doesn't have to be! Here are some strategies to use social media in your capital campaign fundraising effort and cross the finish line with more donations than ever before.
Which Social Media Site Should I Use, and What For?
It seems like there's a social media platform for everyone and everything these days. Every social media site is different and attracts distinct audiences. Making a profile and trying to cultivate an audience on every platform is time-consuming and costly. That's why you should focus your efforts on a select few platforms that will maximize your engagement.
If you're an old soul new to the social media game, you might not know which platform to target. Here's the average trend of social media user age and preferred content:
Facebook
Twitter
Instagram
TikTok
YouTube
LinkedIn
Now that you know about the social media platforms out there and what they're used for, you can start strategizing. The first step is checking to see where your constituents are the most engaged already. Narrowing down your options will make the entire process less daunting and time-consuming. According to Donate.ly's guide to nonprofit web accessibility,
Next, meet with your team and identify which content areas will play to your strengths. Once you have that information, create a profile on that platform if you haven't already and update your existing profiles. Be sure to encourage your donors and members to follow you to receive updates on your capital campaign!
Now that you have an idea of where to concentrate your efforts, it's time to get posting! Here are 7 tips to maximize your capital campaign's impact using social media.
1. Use Integrated Link Features
One of the biggest appeals of using social media platforms is their interconnectedness. Even though different sites have distinct purposes and features, it's easy to make your brand cohesive across numerous mediums.
One way to increase overall traffic to your nonprofit and capital campaign is to include your social links across all of your profiles. For example, you can publish a Tweet advertising your Instagram and vice versa.
Social media platforms make cross-promotion incredibly easy with the integrated link feature. You can include hyperlinks in posts, post captions, or in your profile's bio section. You can even advertise links on a story post for short bursts of time.
Link-sharing makes online fundraising platforms even more attractive. You should invest in one if you haven't already to make the donation process more convenient. You will certainly gain some recognition if you diligently cross-promote your content!
2. Partner with Other Creators and Community Members
Do you have an event planned for your capital campaign, but are unsure how to get the word out? The answer is in your own backyard. Most businesses, artists and restaurants have their own online profiles in response to the digital commerce and marketing boom. This provides a golden opportunity for outreach and donor satisfaction.
Reach out to a popular fixture of your community, whether it's a performer, food truck or boutique. Then, coordinate an event that is tied to your capital campaign where you both can raise money. An example is an outdoor festival where the food truck charges for their product and your nonprofit can charge admission for the fundraiser. Plus, you can treat this as an opportunity to meet your donors in person and connect with them. This is a classic form of public phase community outreach that can be fun, memorable and downright delicious!
3. Branch Out from the Same Old Posts
If there's one thing that turns social media users off, it's stagnation. Most social media algorithms reward creators with fresh, unique and entertaining content. If you see a decline in your engagement and dollars raised, it's probably time to make a change.
Do some research into different types of trends and forms of entertainment online. Then, get your thinking caps on and brainstorm some ideas for content that your organization hasn't explored yet. Some ideas include:
Your nonprofit should always keep its target audience and community in mind when choosing new types of content and trends to ensure that it'll actually have an impact and get attention. Fortune favors the bold, so don't be afraid to push the envelope. Bust out your microphone, camera, and even your old dance moves. You might just go viral!
4. Create Short- and Long-form Content
Your social media platforms are not the only thing that should be diversified. You should also make sure that you're producing some content for everyone to understand and enjoy.
If you've ever tried to entertain a kid while babysitting, or if you have your own and have watched them surf the web, you know well how nonexistent their attention span can be. If you're trying to attract a younger audience, stick to short-form content such as TikTok videos or Instagram photos.
However, older generations of adults are more used to long-form content. For them, consider producing a video interview of a loyal donor telling their story. Tugging on the heartstrings is always a tool your nonprofit can and should take advantage of!
Producing a range of content is a great way to reach as many potential supporters as possible. Across all of your content, you should create a dedicated hashtag for the campaign. Ideally, it's something snappy that people will remember and associate with your organization. Use this tag whenever possible.
Work with your team and a content production team to figure out the best fit for your organization, and let your imagination run wild!
5. Use the Reviews Feature
If you've ever patronized any establishment, whether that be a restaurant or a tailor, or even a nonprofit, you understand the usefulness of review functions online. Practically any social media offers reviews nowadays, but the most popular review sites are Google, Facebook and Yelp.
While facilitating reviews is a very different form of an online presence than social media, it's integral to building your brand all the same. According to Donate.ly, user-generated content like reviews is helpful for expanding your reach, appealing to multiple generations of donors, and increasing your credibility.
The first step is to check that your nonprofit is verified on the Google, Facebook and Yelp landing pages. Once you've done that, make sure that your address and contact information remains the same. Consider uploading your organization's logo and a banner for the capital campaign. Then, encourage your loyal donors to leave reviews about their experience with the organization. But, your work isn't done yet!
If someone happens to post a negative review, don't just ignore it. Connect with them to try and make it right. During the public phase of your campaign, all eyes will be on your organization – preparing early to make a good impression online can go a long way to help you secure even more support as you approach the finish line. Newcomers will see that your organization knows how to proactively and professionally handle conflict, and will be more likely to check out your cause.
6. Leverage the Repost Button
Never has it been easier to spread your message since the invention of the repost button! This feature allows users to directly repost your content to their profile, reaching hundreds of new eyes instantly. That makes this button officially your new best friend in the social media marketing realm.
Some ways to incentivize users to repost include:
Directly asking them to like and share the content
Including a funny meme into the post that makes people want to share
Producing content with a person of interest, like an influencer
The more likes, shares and comments you get, the more the algorithm will appreciate your content and spread it to more users. So, get as many of your followers to interact with your profile as possible to increase overall visibility.
7. Gamify Participation
Perhaps the best way to get people to care about your cause is to directly involve them in it. Here's where the games come in. You've probably heard of gamified "thons" like fun runs, walk-a-thons and dance-a-thons. Usually, these competitions employ a peer-to-peer model. Instead of just your limited nonprofit circle trying to raise all the money, pass it to the public and get an entire community hearing about your cause. It just makes sense!
Social media has allowed peer-to-peer fundraising to flourish. Instead of relying on word-of-mouth outreach from your participants, social media opens the doors for donations around the world. So, you should give your fundraisers some tools to help them harness the power of online fundraising. Here are some ideas to gamify your fundraising efforts:
Coordinate with a major donor to make a "dollar-per-share" or another matching challenge.
Create postable templates to incentivize people to help out. One popular example is a bingo board with varying amounts of money on each square. Once someone donates, cross out the square and thank them online. Then, they'll feel like they did their part, even if it's just a donation of a few dollars.
Create an online raffle for donors. Have donors post their receipt under a certain hashtag and like and share the original post for a chance to be entered into a raffle. Make the prizes appeal to that particular social media's demographic.
Humans love a little friendly competition, so take advantage of that for your own goals. Let the games begin!
If your traditional fundraising strategies have been disappointing you recently, it's time to go digital. Social media is the future of marketing and donor connection. With a fundraising effort as substantial as a capital campaign, you should use invest your time in equally significant advertising methods.
The public phase of your capital campaign is a critical time to spread the word as far as you can about your fundraiser. While the private phase of your campaign is more exclusive to major donors, the public phase of your capital campaign prioritizes everyday people in your community. Social media opens the gates to the entire world outside of your preexisting constituency. It's the best way to not only advertise your campaign but to tell your organization's story and build long-term support. If you follow these steps, the public phase of your capital campaign will certainly reach more eyes, hearts and wallets!