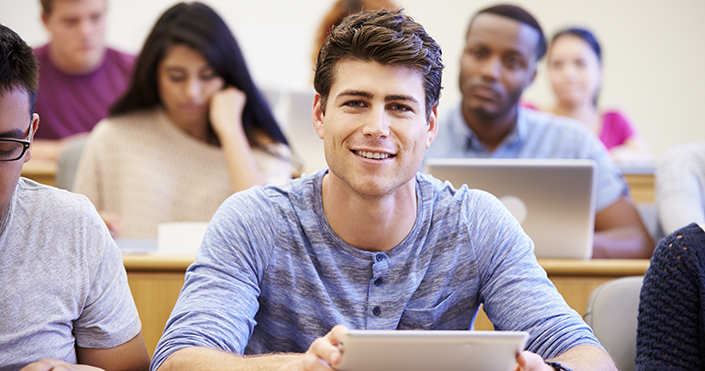 Whether you're launching a capital campaign to build a new chapter house or fundraising to benefit a local nonprofit, your fraternity relies on the generosity of alumni donors to accomplish its fundraising goals. However, many fraternity leaders make the mistake of neglecting the role that research can play in their fundraising efforts.
Generally, you can expect about 80% of donations to come from 20% of donors. With such a large amount of donations being given by just a few individuals, it's important for your fraternity to do its homework and solicit gifts from major donors who are willing and able to give.
This is where prospect research comes in. Prospect research allows you to take a closer look at your alumni and gauge their affinity and capacity for giving to your fraternity. If you're new to prospect research or simply need a refresher, this is the guide for you. In it, we'll cover these three tips:
Look at more than just the numbers.
Work with a prospect research professional.
Build genuine relationships with newfound prospects.
If you're ready to supercharge your fraternity fundraising efforts, prospect research is a great place to start to ensure you're on the path to success. Before we dive into our three tips, let's take a closer look at what prospect research is all about.
What is Prospect Research?
According to Donorly's guide to prospect research, prospect research is "the process of identifying potential major donors for your nonprofit, helping you take a more focused approach to securing major gifts, capital campaign contributors, planned gifts, and more."
It typically takes a variety of tools to conduct thorough prospect research, such as:
Your fraternity's

 

internal database:

 

Your internal records that contain information about alumni (and students) are a great place to start looking for donors or identifying connections that could help you as you reach out to a potential donor down the road.
Government records:

 

SEC investment records or FEC political contribution records can provide valuable information about a potential donor's financial capacity.
Social media platforms:

 

Looking at a potential donor's social media profiles can help you get to know them as a person, whether they're sharing pictures of their latest fishing trip on Instagram or posting frequent career updates on LinkedIn.
Matching gift databases:

 

Some donors' employers may offer

 

gift matching, which means a donor could be able to boost their impact when they donate to your organization (without spending more money!). You can use a matching gift tool to identify their eligibility.
Prospect generator tools:

 

These tools provide you with lists of donors who give to organizations like your own, helping you to identify donors who may be naturally inclined to give to your fraternity's campaign.
Some fraternities may have the capacity to invest in prospect research-specific tools and dedicate the necessary time for a thorough research process. However, more often than not, many fraternities opt to work with a professional prospect researcher. (More on this later!)
Now that you understand the basics of prospect research, let's dive into three tips that will help you hone your prospecting efforts!
1. Look at more than just the numbers.
However you decide to conduct prospect research, you'll typically be looking for two things as you use the prospect research tools we listed above: capacity (wealth) and affinity (warmth) markers. Let's take a closer look at each.
Capacity Markers
Capacity markers are the indicators that show a potential donor has the financial means to give a major gift to your organization. These include:
Business connections
Real estate ownership
Stock holdings
Capacity markers are typically thought of as the most important, but that simply isn't true, especially for organizations who want to ensure they're building genuine relationships with their donors instead of treating them like ATMs. That's where affinity markers come in—they're critical for identifying donors who are truly poised to give generously to your fraternity.
Affinity Markers
Affinity markers are the indicators that show a potential donor cares about your fraternity and may be inclined to give to it. These include:
Past donations or involvement with your fraternity or similar organizations
Professional and personal connections with your current donors
Political involvement
Once you've identified both capacity and affinity markers for a potential donor, you can start reaching out to them, but focus on building a relationship before making a donation ask.
Here's what this might look like in practice: Say you find an alumnus that was heavily involved in your fraternity as a student, has a history of volunteering with higher education-related nonprofits and has business connections that indicate great wealth. By knowing that they have both the capacity for giving a major gift and an affinity toward organizations like your fraternity, you can be confident that the alumnus will respond well to a future donation solicitation, so you first put in the effort to meet with them over coffee to get to know them. We'll dive into a few more strategies for forging strong connections below.
2. Work with a prospect research professional.
As mentioned above, many fraternities choose to work with a prospect research professional rather than conduct prospect research themselves. There are a number of benefits to hiring a third-party consultant to conduct your prospect research, including:
Prospect research professionals bring

 

specialized expertise

 

to the prospecting process, including how to use prospect research tools.
By leveraging a third-party perspective during the prospecting process, you may

 

discover new insights about your donors

 

that would have otherwise gone unnoticed.
Hiring a consultant to conduct prospect research for you makes the process more

 

efficient and cost-effective.
Of course, in order to experience all of these benefits of partnering with a prospect research professional, you'll have to approach the hiring process carefully. Here are some tips for ensuring you hire the right consultant for the job:
Clearly outline your fraternity's specific prospect research needs.

 

Some fraternities may already have access to a number of prospect research tools and just not know how to use them. Others may be starting from scratch. Work with your fellow fraternity leaders to determine what exactly you need from a consultant and how you'll communicate that to potential hires.
Determine how much money you have to spend on hiring outside help.

 

Running a fraternity successfully means sticking to a budget. As you start to consider different potential consultants to work with, pay close attention to their rates and make sure you're only paying an amount that your fraternity can afford.
Find a consultant that can serve as a true partner for your fraternity.

 

The best prospect research professionals understand that you know your fraternity best—from your student members to your alumni members. They'll help you balance your ambitions with pragmatism and follow your lead instead of trying to take the wheel. Finding the right fit will pay off in the end as you more effectively connect with your donors and reach your goals.
Often you'll find prospect research experts are also well-versed in other parts of the fundraising world, like strengthening your alumni communication strategy, recruiting volunteers, establishing annual funds, or conducting capital campaign feasibility studies. If you know that your fraternity needs help in other areas, make sure you explore everything that your chosen consultant may be able to offer your team.
3. Build genuine relationships with newfound prospects.
Once your fraternity has a list of potential major donors to work with, it's time to reach out to them and begin cultivating relationships with them. This will give you the chance to forge genuine connections with your donors and help them become fully involved in your fraternity's operations, which will be important steps to take before asking for a donation.
Here are some strategies you can use to initiate contact with your new-found prospects and start building relationships with them:
Leverage

 

alumni engagement tools.

 

There are a number of ways you can more effectively communicate with your major donors, and one of those is to leverage alumni engagement tools. For example, you might send out monthly newsletters that keep alumni updated on what your fraternity is doing to improve student life or prepare students for the professional world.
Get to know them—as people.

 

When you sit down with a potential donor to chat, you should do more than just ask them to write a check. Get to know them as people first, asking them about their careers, family, hobbies and other personal interests. A donor who feels seen as a person will be more likely to fully engage with your fraternity beyond a one-time donation.
Always say thank you.

 

You don't have to reserve a thank-you letter for after the first time you receive a donation. In fact, you shouldn't. According to

 

Fundraising Letters' guide to donor thank-you letters, sending a thank-you letter "kick starts your donor relationship and sets you up for future engagements with that supporter." Consider sending a thank-you letter after your first initial visit with a prospect to set a strong precedent for your future interactions with them.
Building genuine connections with your newfound prospective donors will not only help you secure donations but will also help you engage more alumni in volunteer work, alumni events and other facets of your fraternity's operations. And engaging your prospects in multiple ways will strengthen their loyalty to your fraternity, which can result in more and more successful fundraising asks down the road.
Trying to launch a major fraternity fundraising effort without conducting prospect research is like trying to explore a cave without a flashlight. Prospect research can help you more effectively identify alumni that have the capacity and affinity to donate to your fraternity's projects and can help you start building strong relationships with them.
Whether you'll be conducting your own prospect research or working with a professional, you can use these tips to get a running start. Happy prospecting!