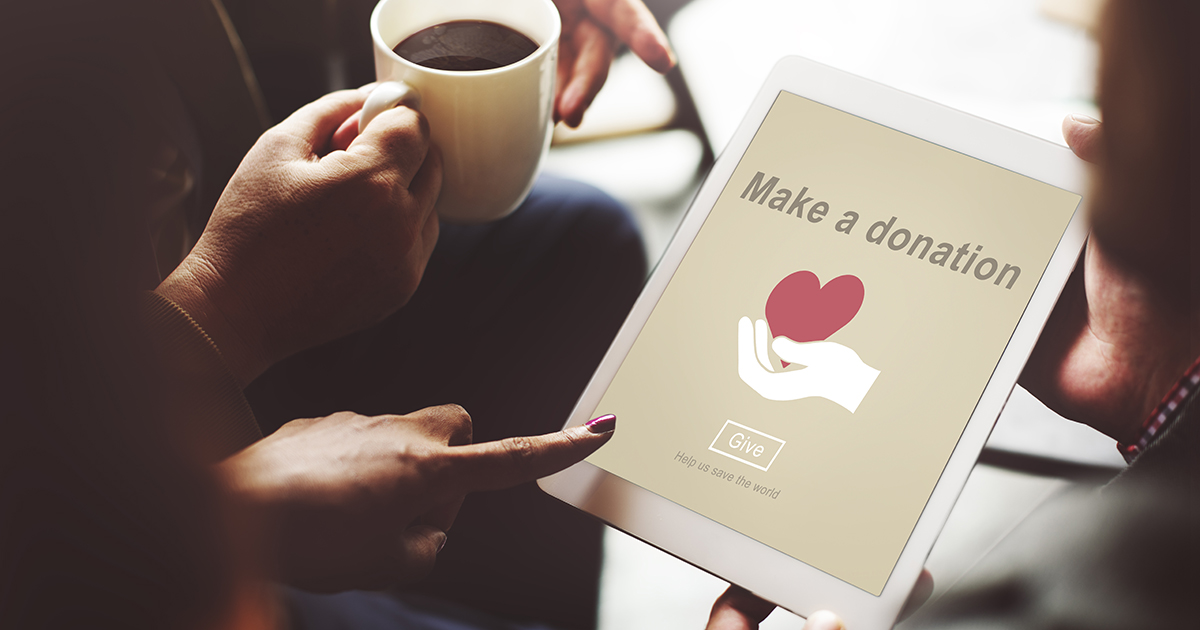 Corporate philanthropy isn't just a "nice-to-have" business feature anymore — it's quickly becoming a must-have element of modern businesses. The statistics illuminate this growing trend:
Perhaps you've noted these developments along with the myriad benefits corporate philanthropy offers, from greater employee recruitment and engagement to better community relationships. If you're creating or enhancing your business's corporate philanthropy program, it's helpful to review successful examples for inspiration.
By examining the steps other organizations have taken to successfully build their programs, you can note the aspects that might work well for your business. We've compiled a list of our favorite corporate philanthropy programs, along with key takeaways for each example. Each organization draws inspiration from a unique philanthropic calling that ties directly into its business purpose and values.

1. TOMS
Comfy sandals, slip-ons and sneakers aren't the only things shoe brand TOMs is known for. The TOMS corporate philanthropy mindset is driven by a simple mission: "We're in business to improve lives." TOMS donates a full 1/3 of profits to grassroots social good causes. Grassroots causes are defined as efforts that stem from community organizing around an issue that affects all community members.
Investments are directed to three key areas:
Improving mental health
Increasing access to opportunity
Ending gun violence
TOMS works with a wide variety of partners in this capacity, from organizations that provide mental health services for LGBTQ+ community members to gang rehabilitation and gun violence prevention organizations. All of these efforts are intended to support this guiding statement: "We believe in a more equitable tomorrow."
TOMS is also a Certified B Corporation, a designation businesses receive when they meet the highest standards of "verified performance, accountability, and transparency." Businesses that receive this certification must commit to being accountable to all stakeholders (community members, employees, etc.) and not just their investors.
Key Corporate Philanthropy Example Takeaways:

It's helpful to organize your corporate philanthropy initiatives around a handful of guiding principles. That way, you can prioritize where to send funding and other forms of support.
Seeking a B Corp certification can provide a framework for helping your business increase accountability and transparency. Achieving this certification can solidify your reputation as an organization committed to making a positive impact.

2. Bombas
Charitable donations are at the core of the Bombas business structure. Every time a customer buys a pair of socks, Bombas donates a pair to a homeless shelter.
This has been the company's mission since its very inception when its founders realized socks are the most requested item at homeless shelters.
By the company's estimates, Bombas has contributed over 50 million items since its founding in 2013. The business offers socks that are a bit more expensive than the typical cheap pricing that consumers are used to. That's because they offer high-quality, stylish socks that actually stand the test of time. It's not just the charitable aspect that draws customers — it's also the fact that they know they're investing in a high-quality product.
Key Corporate Philanthropy Example Takeaways:
What is your business's core purpose, and how can you use that purpose to support the greater good? Take the unique product or service you provide customers and use the systems you've already established to supply charitable causes with your offerings.

3. Bitwise Industries
Bitwise Industries offers tech training for individuals in marginalized communities, seeking to build strong tech economies in "underestimated" cities. Through real estate development, workforce training and technology consulting, the company seeks to uplift the disenfranchised and diversify the tech industry.
For Bitwise, corporate philanthropy isn't just an add-on — it's baked into the company's DNA. It was even recognized by Fast Company as one of the 10 most innovative corporate social responsibility companies.
With a wide variety of initiatives, from teaching people to code to launching a workforce development and community support app, Bitwise is constantly seeking new ways to uplift communities.
Key Corporate Philanthropy Example Takeaways:
Your corporate philanthropy program should feel intensely genuine and personal. When you make corporate philanthropy a core reason for your organization's existence, you show community members and customers that you're truly dedicated to leaving a lasting positive impact, not just pursuing profits.

4. Firehouse Subs
Not surprisingly, Firehouse Subs was founded by two firefighter brothers hailing from a family of firefighters and first responders.
Charitable giving to first responders and public safety organizations is the core of the Firehouse Subs philanthropic program. It's part of the company's overarching purpose and mission. Through the Firehouse Subs Foundation, the company:
Equips first responders with lifesaving equipment such as bullet-proof vests, vehicle extrication tools and automated external defibrillators (AEDs).
Provides prevention education resources to the public to help avoid disasters within homes and the community at large. This includes fire extinguisher training systems, CPR training and more.
Offers scholarships and financial assistance to those pursuing public safety education.
Provides disaster relief after natural and man-made disasters.
Supports members of the military.
The Foundation has donated over $67.5 million to these areas since its inception.
Key Corporate Philanthropy Example Takeaways:

As a business leader, what are your core values? Are these values reflected in your corporate philanthropy priorities? By incorporating your values into your corporate philanthropy program, you'll naturally have more passion and interest in your cause platforms.
Remember, it's never too late to incorporate social responsibility into your business model. Firehouse Subs started its foundation in the aftermath of Hurricane Katrina, 11 years after the company was founded.

5. Owens Corning
Owens Corning's business purpose is to produce insulation, roofing and composites, but the company also takes an active role in contributing to a more sustainable future. The business highlights its sustainability and corporate responsibility initiatives on its website homepage, showcasing CSR as a core business priority.
Owens Corning offers a wide range of corporate philanthropy initiatives, including:
Employee volunteerism
Product donations (such as building materials) to critical-needs shelters or organizations building homes for those in need
A charitable partnership with Habitat for Humanity
Employee engagement through a matching gift program, volunteer recognition award, community grants and a scholarship program
Sustainability is at the heart of the Owens Corning business model, with initiatives devoted to creating a circular economy, developing supply chain sustainability, sourcing renewable energy, combating climate change and more.
Key Corporate Philanthropy Example Takeaways:

Set clear, concise goals to strive for with your corporate philanthropy program. Owens Corning has defined, specific, time-bound goals that the company is focused on achieving, helping its initiatives stay on track and providing accountability.
When it comes to developing an impactful, long-lasting corporate philanthropy program, transparency is key. Owens Corning offers a robust list of reports and certifications, showing stakeholders that the company is devoted to full accountability.

6. Microsoft
Microsoft is the world's largest software company, meaning its actions carry a lot of weight in the tech world. It has also made major strides regarding its corporate social responsibility initiatives.
Microsoft's CSR commitments fall into these major categories:
Fostering inclusive economic opportunity
Protecting human rights
Creating a more sustainable future
Earning trust through security and transparency
The results Microsoft has been able to achieve with its philanthropic efforts are massive — they've removed 2.5 million metric tons of carbon from the atmosphere and provided 42 million people with free digital skills training, to name a couple.
The company also engages employees in pro bono legal services that help close the gap present in the justice system. Pro bono volunteers take on efforts such as upholding immigrant rights, defending voter rights and providing legal support to incarcerated individuals.
Key Corporate Philanthropy Example Takeaways:
Most companies aren't in the same stratosphere as Microsoft when it comes to size and influence. But that doesn't mean adopting corporate philanthropy initiatives isn't worth it! Your business has the potential to make positive changes right in your local community. Even if the scale is smaller, the impact you can have on community members can be quite significant.

7. Wendy's
Wendy's corporate philanthropy mindset is revealed by a quote from the company's founder, Dave Thomas: "You earn your reputation by the things you do every day." With this credo, Wendy's commits to being more than a fast-food joint — the company also dedicates itself to a wide variety of community-based philanthropy initiatives.
Wendy's philanthropic initiatives are focused on these pillars:
Community giving program
Employee volunteerism
Foster care adoption
Hunger and food insecurity
Community-based support for youth and families
Wendy's has aligned its sustainability goals with the UN Sustainable Development Goals, a set of global goals intended to achieve a more sustainable future. Some of the specific goals they're focused on include reducing hunger, practicing responsible consumption and production and offering decent work and economic growth opportunities for all.
Key Corporate Philanthropy Example Takeaways:
The UN Sustainable Development Goals are a comprehensive set of guiding principles that you can use to guide your own corporate philanthropy cause platforms and align them with larger worldwide initiatives. If you're working on defining your corporate philanthropy values, review the list of goals and see which ones resonate with you.

8. Starbucks
As the biggest coffee brand in the world, Starbucks has churned out creative coffee beverages and other drinks since its inception in 1974. Starbucks has committed to being a leader in the sustainability and corporate responsibility world as well as the coffee realm.
The company is committed to improving its societal impact in these key areas:
Workplace diversity, equity and inclusion
Ethical sourcing
Sustainability
Strengthening communities
Starbucks is known for its fair treatment of its employees and efforts to support their personal and professional growth. Starbucks offers health benefits to part-time workers, tuition coverage, a 401K plan and paid time off for a variety of reasons. Every partner also receives a free drink and food item every shift.
Key Corporate Philanthropy Example Takeaways:
Often, the greatest, most impactful corporate social responsibility initiative you can adopt is a commitment to treat your employees fairly and equitably and improve their quality of life. Optimizing your CSR initiative with internal improvements to your employee engagement strategy ensures that you're taking care of your people and creating a more inclusive, welcoming workplace.

9. Verizon
Verizon's corporate philanthropy program maintains a strong focus on community development and digital inclusion. Through inclusive learning initiatives, Verizon seeks to equip children and schools with innovative technology such as virtual and augmented reality and 3D printing. The company has increased urgency surrounding this issue since the advent of the pandemic when many students learned from home for an extended period.
Verizon's CSR program also shines when it comes to facilitating employee giving and volunteering. Verizon offers the following opportunities for employees:
Volunteer grants: Verizon's volunteer grants program offers $750 after employees have volunteered with a nonprofit for 50 hours.
Matching gifts: Verizon offers a 1:1 matching gift ratio for up to $1,000 per year.
Through these initiatives, Verizon has facilitated over 1 million volunteer hours and $7.2 million in matching gifts.
Key Corporate Philanthropy Example Takeaways:
Matching gifts and volunteer grants give employees greater flexibility and autonomy when it comes to exercising corporate philanthropy initiatives. By offering your employees access to these giving opportunities, you show them that you care about supporting the causes that are most important to them.

10. Patagonia
Patagonia is a member of a growing group of "activist" companies that view improving their environmental impact and fighting climate change as one of their central priorities. Patagonia's mission statement, "We're in business to save our home planet," positions the company as one that's dedicated to reducing harm, protecting the environment and offering a durable, functional product.
The durability aspect of their clothing products is one of the most important elements of the Patagonia brand. Along with creating long-lasting, high-quality items, the company is dedicated to helping its customers repair and recycle their clothing and other gear.
Patagonia takes its environmental commitment up a notch by devoting 1% of all sales to environmental nonprofits. The company funds community-based, grassroots organizations typically working within underserved communities.
Key Corporate Philanthropy Example Takeaways:
Purpose-driven consumers have rewarded Patagonia for its quality products and strong philanthropic stance — the company has surpassed $1 billion in sales. This shows the growing trend of consumers being more conscious about the brands they're supporting, and consequently, the need for your business to adopt a strong CSR approach.
Wrapping Up
As you can see, there are many ways companies can leave a positive impact on their local communities, employees and the environment. How can your business align its offerings and values to shape a better future?
Carefully consider your corporate philanthropy values, goals and the initiatives you want to implement. If you need a helping hand to make your corporate philanthropy program the best it can be, consider partnering with the CSR consultants at Aly Sterling Philanthropy.
We offer corporate philanthropy development services such as:
Evaluating your program and conducting stakeholder assessments
Exploring and defining your company values
Helping to launch your philanthropy program by developing cause platforms and giving policies
Boosting your community and employee engagement
Leading a retreat with employees/leadership and developing consensus
Whether you're looking to build out your existing program or start one from scratch, we can meet you where you are to help realize your vision and the full potential of your brand.
For more information on corporate philanthropy, review these additional resources: