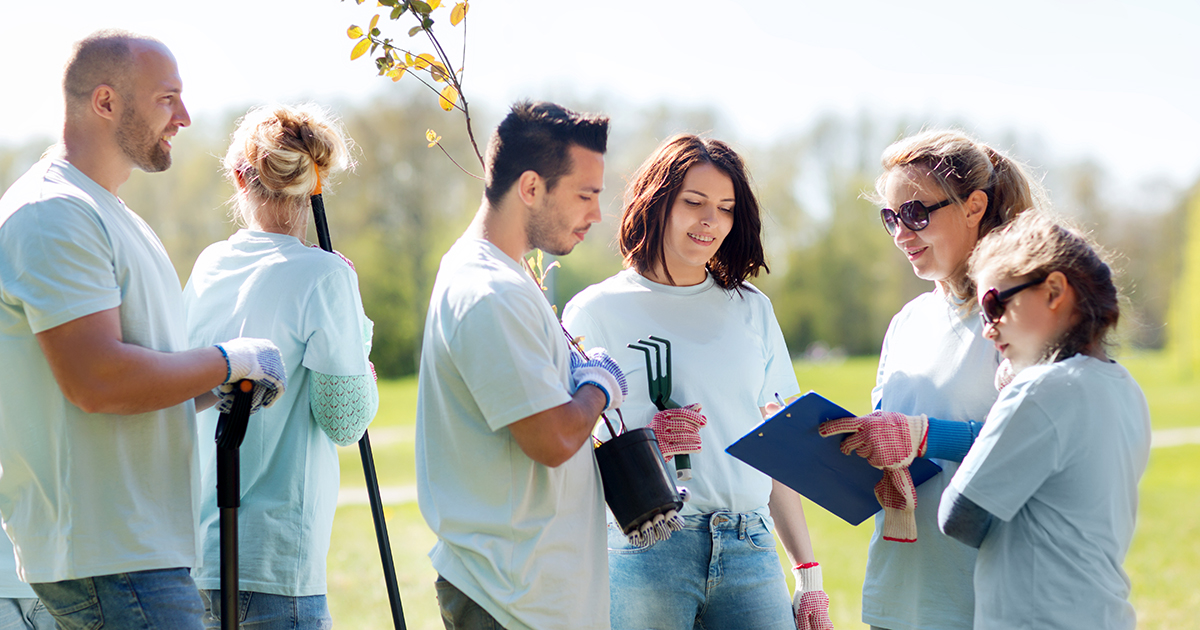 Have you recently considered launching or revamping your business's corporate social responsibility (CSR) program? With 71% of surveyed employees saying it's important that their company's culture supports giving and volunteering, it's in your best interest to offer a robust CSR program that appeals to employees' desires for greater community engagement. One important element of a well-rounded CSR program is corporate volunteering. 
Volunteering brings out the best in people. It allows employees to interact with community members and one another, put their skills into action and contribute to positive change. As a business leader, you have the power to bring these benefits into your workplace, creating a stronger company culture and better community relations.
In this guide, we'll explore the ins and outs of corporate volunteering. We'll cover:
Adding a corporate volunteering program to your CSR strategy can help you realize the full potential of your brand and contribute to positive change in your community. Let's get started!


What is Corporate Volunteering?
Corporate volunteering is a form of business-led volunteer work that engages employees and seeks to improve local communities. It can involve individuals or groups of employees participating in volunteer initiatives at local nonprofits, schools and other charitable organizations.
Corporate volunteering programs are often just one component of a business's overarching corporate social responsibility (CSR) program. CSR programs often also include:
Corporate giving initiatives, such as direct donations, matching gifts and in-kind donations.
Environmental, social and governance best practices.
Diversity, equity and inclusion policies.
Employee and consumer engagement opportunities.
Corporate volunteering falls under the last list item, allowing your business to better engage with your employees, customers and the community at large. Let's take a closer look at the benefits that an employee volunteering program can offer your business.


6 Corporate Volunteering Benefits for Your Business
You might be thinking "My business already has a strong corporate philanthropy component. Why should we spend the time and energy necessary to develop a volunteering program?"
While it's true that it will require some work to get a volunteer program up and running, the effort is well worth it in the end. Starting a corporate volunteer program gives your business access to the following benefits: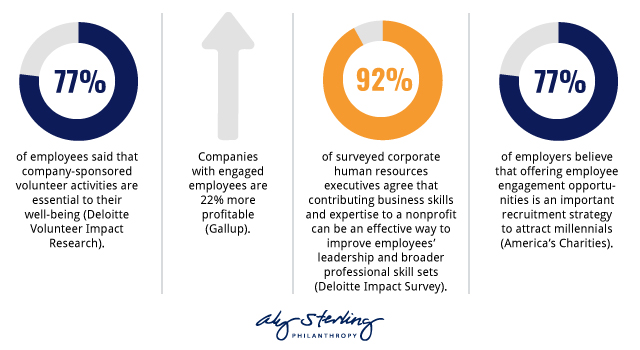 Greater employee engagement. Did you know that 77 percent of employees said that company-sponsored volunteer activities are essential to their well-being? A high level of employee well-being contributes to a happier, more engaged team. When employees feel engaged and fulfilled in their personal lives, it carries over to greater productivity in their professional lives, too.
Profitability boost. Employee engagement levels have a direct impact on your business outcomes. Companies with engaged employees are 22% more profitable.
Improve employee skills. 92% of surveyed corporate human resources executives agree that contributing business skills and expertise to a nonprofit can be an effective way to improve employees' leadership and broader professional skill sets. Volunteering gives employees a chance to test out their skills in a different environment. Many volunteer opportunities also allow employees to utilize their specialized skills, whether it's carpentry, painting or web design.
Boost recruitment efforts. The statistics are clear — candidates, especially younger ones, want to work for companies that care about and seek to improve their societal impact. 77% of employers believe that offering employee engagement opportunities is an important recruitment strategy to attract millennials.
Stronger ties with the local community. Your shareholders, employees and customers aren't your only stakeholders. Your business is a part of your local community, meaning the community members are also important stakeholders to consider when creating your strategic business plan. People respect and appreciate local businesses that prioritize positive community relationships, and a volunteering program allows you to enhance your reputation as a force for good.
Greater customer engagement. Think about it — would you rather shop at the generic chain shoe store or the local shop where the owners volunteer with and donate a percentage of profits to a nearby animal shelter? Consumers want to contribute their hard-earned money to businesses that emphasize positive social impact. For example, 28% of all respondents to Deloitte's Global 2021 Millenial and Gen Z survey said they've started or deepened their consumer relationships with businesses whose products and services benefit the environment.
Ultimately, corporate volunteer programs offer win-win benefits for employees, your local community and your business as a whole.


8 Steps to Create a Corporate Volunteering Program
To access the full range of benefits corporate volunteering can offer your business, you must design your program strategically. Your program won't be able to get off the ground if you don't consider employee and community feedback, if your opportunities are sparsely attended or if you don't have a clear way to assess the effectiveness of your efforts.
Follow these tips to design an effective corporate volunteering program that works for your unique business:
1. Define your goals.
You've reviewed the benefits of corporate volunteerism for other businesses. So, what are you specifically hoping to achieve or gain from your employee volunteer program?
Your goals should align with your company values and the objectives of your corporate philanthropy program as a whole. Ask yourself these questions:
What are our company's values?
How can we align our corporate volunteering efforts with our overarching corporate social responsibility goals?
Are employees aware of our company's values? Do our employees' values align with the broader company's?
What types of nonprofits or other charitable organizations do we already work with or want to work with? Can we support these organizations through volunteering?
These questions will help you think strategically about where your employee volunteering program fits into the larger CSR picture.
Also, to ensure you can actually accomplish your goals, make sure that they're SMART:
Specific: Do you want to facilitate at least 200 employee volunteer hours? Do you want to engage at least half of your employees in volunteer initiatives? Set goals that are specific enough to be measured and tracked.
Measurable: Choose goals that are aligned with quantifiable statistics (hours volunteered, total volunteer grant amount donated, etc.) You can even turn qualitative metrics like employee engagement rates into quantifiable ones using surveys. Ask employees to anonymously rate their engagement level from 1 to 10 and keep track of this data over time by sending several surveys a year.
Attainable: Don't set a highly ambitious and unlikely goal. Give yourself a practical goal to empower your team to actually achieve your aims.
Realistic: If this is your first time offering an employee volunteering program, don't expect to immediately be able to facilitate dozens of employee hours. Set a realistic goal based on your team's capacity and the success of past volunteer opportunities (if you've held any).
Time-bound: Set a reasonable timeline to achieve your goals, such as six months or a year. Give your team enough time to get your program up and running, but don't make the timeline so long that you start to lose momentum.
Your goals will give you a tangible objective to shoot for, infusing your volunteer program with a sense of purpose and urgency. And, if you're creating your volunteer program from scratch, you'll give yourself a benchmark to assess your progress.
2. Work with a corporate philanthropy consultant.
Depending on the size of your staff, you might not have an employee devoted to building and optimizing your corporate volunteering program. Even if you do have a team member tasked with pushing your corporate philanthropy initiatives forward, that individual may need a helping hand to get your program off the ground.
A corporate philanthropy consultant can provide the expertise and support your business needs to develop a sustainable, distinctive volunteer program that meets your business's and community's needs. For instance, a consulting firm like Aly Sterling Philanthropy can offer corporate philanthropy development services like: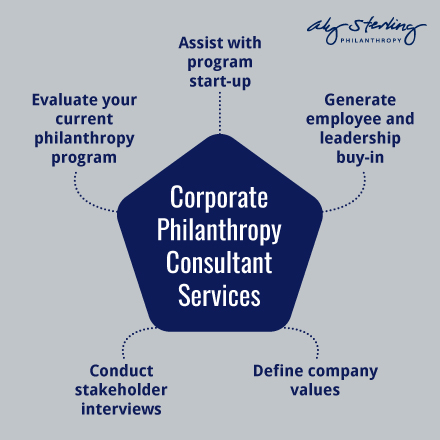 Evaluating your current corporate philanthropy program (if you have one) and conducting stakeholder assessments.
Aligning your company values with your philanthropy program.
Helping start your corporate philanthropy program, including policy-making and choosing cause platforms.
Generating buy-in and consensus among employees and leadership.
Working with a consultant can give your organization a solid foundation to expand not just your corporate volunteering efforts, but also your other chosen philanthropy platforms. Plus, they'll ensure all of your philanthropic initiatives align with your long-term business goals, strengthening your organization as a whole.
3. Gather employee input.
An important part of creating a corporate volunteer program is getting your employees on board. Without employee buy-in, your volunteer initiatives will likely flounder because no one will be interested in participating.
By gathering employee input throughout the entire process, you ensure you're creating a volunteer program that's engaging, exciting and fulfilling for staff members. After all, one of the main reasons you're probably creating this program is to provide employees opportunities to connect with the local community and engage in rewarding activities outside of work. Your program is for them — that makes their input crucial to the planning process.
Engage employees from the start by sending a survey before you launch your program. Ask questions like:
What types of volunteer opportunities are you interested in? (Outdoor, indoor, in-person, virtual, group opportunities, etc.)
What organizations would you like to volunteer with? (Animal advocacy groups, climate change organizations, Habitat for Humanity, homeless shelters, etc.)
When are you available to volunteer? (Weekends, weekdays, mornings, afternoons, etc.)
Do you have any barriers to volunteering that would prevent you from participating?
Do you already volunteer with any organizations? Would you like to plan a group volunteer opportunity?
These questions can help you craft your program with volunteer opportunities that employees actually want to participate in. Plus, you can address employees' scheduling needs and help eliminate any barriers to participation they might have to make your program more convenient.
Along with collecting employee feedback, you should also identify a few employees who are most excited about your new volunteer program. You can recruit these individuals to help push your program forward, promoting it amongst their colleagues, inviting people to attend and even leading volunteer opportunities themselves. Let employees know this is a great opportunity to engage with the wider community and grow as leaders.
4. Choose a workplace giving platform.
If you're planning to make corporate volunteering a permanent, major fixture of your business, it can be helpful to have a system in place to keep your volunteer information and reporting data organized.
Workplace giving platforms such as volunteer management tools can provide the structure your program leaders need to help plan opportunities, get in touch with employee volunteers and easily produce progress reports. If you're interested in investing in a management tool, search for one that has the following features:
A volunteer opportunity database to find relevant volunteer opportunities with reputable organizations.
Tracking and reporting tools to measure the impact of your program and other key metrics.
Volunteer grants management to help monitor and assess grant applications (more on this later).
Carefully review your options before committing to a platform to ensure your chosen solution can meet your business's unique needs. Request demos from your top choices and read reviews to get a good idea of what each tool offers.
5. Plan volunteer opportunities.
After you carefully conduct planning efforts — interviewing employees, setting program goals and aligning your program with your company's values — it's time to actually start creating volunteer opportunities.
Build relationships with local nonprofits to understand what level and type of volunteer support they need and where your employees can contribute most effectively. If you already have relationships with local organizations, ask them what type of volunteer work they would find most useful. If you don't have strong relationships with other organizations yet, ask employees if they're engaged with any local groups and willing to facilitate introductions.
Then, determine which types of volunteer opportunities to plan. For instance, you might offer employees opportunities that are:
Virtual: Employees can manage a virtual helpline, participate in a virtual 5K, add information to an online database or conduct peer-to-peer fundraising (be sure to let employees pick the organization that will benefit from the funds).
In-person: Participants might sort food for a canned food drive, walk dogs at the local animal shelter, construct or renovate a home for a community member in need or gather clothing at a clothing drive.
In their own time: You can encourage (or require) employees to contribute pro-bono work, pick up trash at a local park, translate text into different languages or work on a specialized project of their choosing.
Your volunteer opportunities should be fun, engaging and easy for employees to participate in. Planning a volunteer opportunity for a Friday at 6 p.m. after a long work week is setting your initiative up for failure. Instead, schedule your events to take place on days that are convenient for the largest group of employees possible. You might even plan the opportunity to take place during the workday so employees don't have to use their free time to participate.
6. Offer volunteer grants.
Volunteer grants allow your employees to make an even greater impact with their volunteer efforts. Volunteer grants, also known as Dollars for Doers, are donations that businesses contribute to nonprofits after their employees have volunteered at those organizations for a specified amount of time. For instance, a business might offer a grant of $15 per volunteer hour, or $150 for every ten hours served.
Volunteer grants are growing in popularity — in fact, 40% of Fortune 500 companies offer volunteer grants.
Create clear guidelines surrounding volunteer grant eligibility. Set policies regarding:
Which employees are eligible to apply for volunteer grants
The types of organizations you'll contribute grants to (for instance, some businesses choose to only donate to registered 501(c)(3)s or organizations that align with their stated company values)
Minimum hours and hour-tracking procedures
The grant amount
Deadlines for applying for grants each year
Offering these grants for any volunteer opportunities your employees participate in (not just your business-sponsored ones) shows them you're dedicated to supporting the causes they care about.
7. Offer volunteer time off.
Volunteer time off (VTO) is business-sponsored paid leave for employees to spend time volunteering with charitable organizations. Volunteer time off allows employees to get involved in local causes during the workday while on the clock.
Just like with volunteer grants, you should implement clear policies regarding your VTO. Adopt guidelines surrounding:
Which employees are eligible to participate
How much time employees can take for VTO
What type of volunteer work is and isn't eligible for VTO
How employees can get their VTO approved
Transparent guidelines give employees clear expectations surrounding this program and exactly what they need to do to participate. Ensure you're not cutting into the time off you already give your employees by offering VTO in addition to other forms of paid time off, such as vacation, holiday and sick time.
8. Track progress.
As mentioned, it's important to diligently track your corporate volunteer program's progress and impact. Having a clear idea of the state of your program allows you to deliver comprehensive reports to employees, community members, shareholders, customers and other stakeholders. You can show these audiences the progress you're making with your efforts and the positive impact you've had on the community.
Use the reporting tools with your project management system to track metrics such as:
Total volunteer hours
Data related to each volunteer project (such as the number of community members helped, houses renovated, etc.)
Employee participation rate
Employee productivity rate
This data will provide hard numbers to point to when asked about the impact of your corporate volunteering program on your employees and community relationships.
Wrapping Up
Developing an impactful, engaging corporate volunteering program will take some strategic planning up front, but the effort will be well worth it in the end. You'll strengthen relationships with employees, community members, local nonprofits and other charitable organizations and customers.
In addition, by working with a dedicated corporate philanthropy consultant (like Aly Sterling Philanthropy!), you can infuse corporate philanthropy into your organization's DNA and realize your brand's full potential to be a force for good. This will allow corporate philanthropy initiatives like employee volunteer programs to become second nature for your organization and solidify your reputation as a philanthropically-minded business.
Looking for more information on how to develop your corporate philanthropy initiatives? Check out these additional resources: