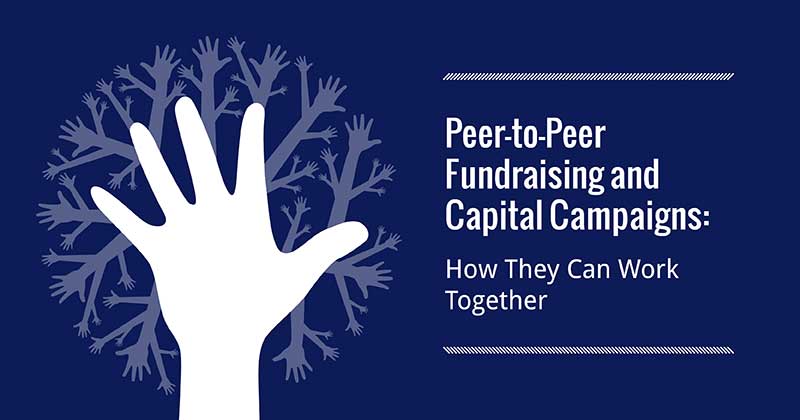 You've likely heard a lot about peer-to-peer fundraising and capital campaigns, but very few people tend to think of these two fundraising strategies as working in conjunction with one another.
This lack of connection is understandable. Capital campaigns are huge fundraising efforts that can last years. They are targeted, very deliberate campaigns that are typically geared toward a concrete objective (i.e., a new building or wing).
Conversely, peer-to-peer fundraising is often used in conjunction with active fundraisers like walkathons, marathons, and cycling events. These campaigns can last anywhere from a few weeks to several months. They combine the power of social media with your supporters' passion for your cause and involve your supporters asking their networks for donations on your organization's behalf.
The two can seem like separate entities.
But did you know that peer-to-peer fundraising can actually be one of the most effective to raise money during your capital campaign's public phase?
Peer-to-peer fundraising enables your supporters to detail their personal stories and connection to your nonprofit. Capital campaigns are highly influenced by your nonprofit's reputation within the community, and genuine word-of-mouth fundraising from your most loyal supporters is some of the best publicity you can receive.
How can you execute this strategy? We're going to cover:

1. Why pairing peer-to-peer fundraising and capital campaigns is effective
Here's the thing: capital campaigns require a lot of funding. Depending on your campaign, you might be trying to raise anywhere from tens of thousands to tens of millions of dollars.
And even though you should've raised between 50% and 70% of your goal during the quiet phase, you still have a sizeable chunk of funds left to raise to meet your goal.
The public phase of your campaign is an opportunity to make an impression on your community, share your mission and rally support for your cause. Peer-to-peer fundraising is a natural fit because it depends so heavily on your donors' interpersonal relationships.
According to Salsa Labs, 43% of millennials are donating to nonprofits through peer-to-peer fundraising, suggesting that peer-to-peer is a method of tapping into a young, growing donor base that may constitute a significant portion of your community.
It's important to maximize your nonprofit's reach by pulling all the strings in your donor network — not just to raise funds, but to draw new supporters into your organization. The advent of your capital campaign means that your organization is growing, and you'll need to replenish your donor pool to support your mission as it advances.
One of the best ways to accomplish both of these goals is to introduce peer-to-peer fundraising into your campaign.
There are two primary reasons why peer-to-peer fundraising works:
It's been proven that people give to people and organizations that they trust. Some of the people in your supporters' networks might not know anything about your organization or your capital campaign. But when their niece, neighbor, or coworker asks them to make a donation, they are far more likely to give than if your nonprofit appeared out of the blue to ask for money.
People are more compelled to given when the person who's asking has given themselves. The people who carry the bulk of the effort in peer-to-peer fundraising are your loyal donors and contributors. When they ask their friends and family for donations, they're asking for what they themselves have already given. People respond to others' generosity with gifts of their own.
When you have several individuals who are all passionate about your cause asking their friends and family members for donations, you're more likely to see results!


2. How your nonprofit can combine peer-to-peer fundraising with your capital campaign
It might be easier to illustrate this point with an example:
Imagine that you've raised 60% of your capital campaign's goal of $10 million in your quiet phase, which means you still have $4 million left when the campaign goes public.
You launch your public phase with a kickoff event and invite everyone in your community, including your existing donors and volunteers (you might even have a livestream of the event on your website so that your remote supporters can "attend" as well).
At some point during the event, one of your speakers (typically a board member or loyal supporter) emphasizes the importance of reaching your goal and announces the beginning of your peer-to-peer campaign.
At this time, your nonprofit can recruit peer-to-peer fundraisers directly from your crowd. Ask who is interested and direct them to a signup table or provide them with a signup link.
These people will become your peer-to-peer fundraisers and will ask for donations on your nonprofit's behalf.
Once they've signed up, you can take them through the training process and help them set up their peer-to-peer fundraising pages.
But how effective is this fundraising method?
Look what happens when we crunch the numbers.
Let's say that you invite 1,000 people (remote and on-site) to your kickoff event. Of these, imagine that 500 decide to become a part of your peer-to-peer campaign.
If all of these fundraisers only reach out to two people (a conservative estimate), your nonprofit automatically acquires 1,000 extra donors.
In reality, the average peer-to-peer fundraiser raises $568 from seven donors (source). This means that your 500 peer-to-peer fundraisers can help you raise $284,000.
This may not seem like a lot of money in comparison to the $4 million that your nonprofit still has to raise, but it's important to remember that you've also acquired a ton of new supporters. These people might be willing to give again.
Plus, since capital campaigns can last for years, you can host several peer-to-peer fundraisers within that time span.
Here's the bottom line: Peer-to-peer fundraising isn't going to fund your entire capital campaign. But when planned correctly, peer-to-peer fundraising can be a great way to supplement your additional donation appeals (plus, it helps you acquire more donors!).


3. How to retain peer-to-peer donors after the fundraisers are over
While peer-to-peer fundraising is a great way to raise funds and acquire more donors, it can be tricky when it comes to donor retention and stewardship.
Why are peer-to-peer donors in particular so difficult to retain?
Well, it essentially boils down to their "donation association." When they made a gift to your peer-to-peer campaign, they really made a contribution to their friend or family member. They may have never heard of your nonprofit or the work you do. They gave because someone they care about asked them to support a cause.
Therefore, it might be more difficult for your nonprofit to retain these supporters since they don't have a strong association with your organization.
However, you can fix that with the following strategies:
A. Include your peer-to-peer fundraisers in the acknowledgement process
As you go through and thank your peer-to-peer donors, make sure that you incorporate your peer-to-peer fundraisers in the process.
Since your donors gave to their friends and family members, it makes sense that your fundraisers would be the one to thank them for their contributions.
Of course, the acknowledgement email or letter should prominently highlight your nonprofit and your capital campaign, but it should come from the fundraiser and include:
A personal thank-you message.
Details about what the money will go toward.
Information about why the fundraiser has chosen to raise money for your nonprofit.
After that initial acknowledgement, your nonprofit can take over the stewardship process, but the first thank-you letter or email should come from your organization and your fundraiser.
B. Interact with your new donors
You can't ask your peer-to-peer donors for another donation (not yet, anyway), but that doesn't mean that you can't communicate with them!
In fact, the more that your donors can learn about your nonprofit and your capital campaign, the more likely they'll be to support you in the future.
With comprehensive peer-to-peer fundraising software, the donor data you collect from the campaign will flow directly into your nonprofit's CRM or donor database. That way, you can build tailored interactions based upon the donor's giving amount and historic relationship with your nonprofit (after all, a first-time donor may be overwhelmed by a long list of volunteer opportunities, while a long-time supporter could be bored by introductory materials that explain your cause).
Based on your donor data, send your peer-to-peer donors information such as:
Statistics about your cause.
Surveys about their giving experience.
Information about your capital campaign.
Data that shows how you've been accomplishing your mission.
Ways that they can get involved with your nonprofit (besides donating).
It's important to remember that you shouldn't bombard donors with information at this stage. They're still new to your organization and won't appreciate a full inbox or mailbox.
Retaining your peer-to-peer donors might be tricky, but with these two tips, it's attainable!
---
Now that you know how to put peer-to-peer fundraising and capital campaigns together, it's time to go out and put all of these best practices to use!
For more information about peer-to-peer fundraising, check out these additional resources:


Latest posts by Aly Sterling Philanthropy
(see all)