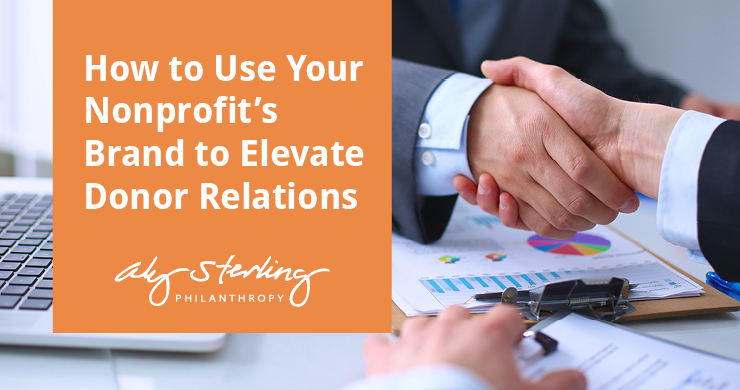 Fundraising is an essential part of any nonprofit's day-to-day operations. Your organization depends on revenue from a variety of sources to be able to provide services and resources in line with your mission. However, even the most successful fundraising professionals experience challenges when trying to pursue new major donors or secure new grants. 
The top tried-and-true way to improve your overall fundraising strategy is by focusing specifically on donor relations. When you invest in personal connections with individual supporters, you facilitate a deeper commitment to your cause. 
While one-on-one conversations are key in achieving this goal, you should also consider taking a step back to see what role your organization's brand can play in these relationships. Your nonprofit's brand can be a powerful tool to improve your donor appreciation, engagement, and cultivation strategies.
At Eleven Fifty Seven, we help nonprofits leverage their brands to create meaningfully designed spaces and donor recognition experiences. We've compiled this guide to help you refine your brand and put it to work for your donor relationships.
Your brand is an invaluable resource to help you share your mission more broadly with the world. It's worth taking the time to craft a thoughtful visual and thematic brand that will resonate with supporters and drive your work forward. Let's dive in to explore what goes into creating a brand and how you can use it effectively.

Basics of a Nonprofit Brand
When you hear the word "brand," you may immediately think of graphic elements like logos and color schemes. While the visual design of your organization is important (and will drive many of the strategies we discuss in this article) it's not the only thing to consider.
Your nonprofit's brand is a distilled representation of your organization. When community members or peer organizations think of your nonprofit, you want them to have an accurate understanding of what you stand for and the work that you do. Your brand is where you can allow your organization's culture to truly shine.
By putting work into your nonprofit's brand, you create a clearer image of your organization. This will help shape your external communications and persona as well as add definition to the version of your organization perceived by others. 
While this list is not exhaustive, these are some of the most important elements to keep in mind as you develop your nonprofit's brand:
Logo, colors, and typography

Brand voice and tone

Writing style and grammatical conventions

Graphic design and photography style

Messaging around mission and values

Physical environment (office space, facility, etc.)
By outlining clear guidelines around each of these areas, you'll be able to operate and communicate with consistency. It's much easier for each team member to ask themselves, "Does this initiative or message align with our established brand guidelines?" than to handle each question on an ad hoc basis. By defining your brand guidelines upfront, you'll be equipped to incorporate your brand across your marketing, fundraising, and donor engagement efforts. 

Importance of a Nonprofit Brand 
At this point, we've emphasized the importance of a clear brand, but you may be wondering why it's so important. How can a set of values, colors, and other guidelines help you to connect with supporters and accomplish mission-related goals?
It's not rocket science to know that people feel more connected to things they know, understand, and find familiar. This is most obvious when considering consumer goods and services, but it also applies to the nonprofit sector. People are more likely to donate to organizations that they know and trust. 
Once you've secured the first donation from a supporter, your brand can help you deepen the new relationship and boost your retention rate. A steady and standardized presence in each donor's inbox or mailbox creates more confidence than a haphazard and inconsistent approach. Imagine how you'd feel if your favorite product had a new and completely different brand image every time you turned around!
Consider the following ways in which your brand can enhance your ties with both existing and new donors:
Builds trust.

By clearly demonstrating your commitment to your work through your brand, your organization is seen as authentic and trustworthy. 

Conveys your mission.

Your ongoing messaging should communicate the reason why you do what you do each day. Why is it important, and how can your supporters help you accomplish your goals? According to

this guide

to donor retention, supporters give when they feel like they are part of an important cause.

Creates familiarity.

Donors who feel like they know and understand your organization will be more inclined to continue giving. Having a clear brand voice can help your nonprofit feel like an old friend. 

Establishes your reputation.

Developing your brand is an opportunity to put your best foot forward in the community. Consider what you want your organization to be known for—effectiveness? Compassion? Transparency? 

Generates awareness.

A recognizable brand is more likely to attract a new following. By putting work towards your public persona, you'll be able to generate increased awareness and attention for your organization.
A strong brand will elevate your approach to donor relations—as long as it's built with your supporters in mind. While the core element of your brand should be your nonprofit's values and mission, it's helpful to gear your messaging towards what you know about your existing supporters and potential target audience. For example, an animal rescue organization might have a playful brand that emphasizes a passion for pets. 

Leveraging Your Brand for Donor Relations: 4 Strategies
Integrate throughout digital communications
Your nonprofit's brand can create a more cohesive online presence for your organization. Be sure to incorporate brand-focused messaging and graphic elements throughout your multichannel digital marketing strategy.
Most importantly, your nonprofit's website plays a key role in emphasizing your brand. Your website is the first place supporters turn when they're looking to engage with your organization, whether it's to make a donation, sign up to volunteer, or simply learn more about your work. This information should be easily accessible to all visitors and presented in a way that aligns with your brand.
This means more than just splashing your logo on each page of the website. Consider the elements discussed earlier in this article to answer questions such as:
Do you talk about your mission in a consistent and compelling way throughout the website?

What writing style conventions are you following? For example, do you use the oxford comma?

What language do you use to refer to your supporters? 
You'll also want to incorporate your brand throughout your outgoing digital communications, specifically via social media and email. Clear brand guidelines make it easier to share these tasks across your marketing team yet still retail a unified voice. Then, these messages and appeals will direct supporters back to your website, where they'll immediately recognize your brand due to its consistency.
Include in print materials
In addition to your online communications, be sure to follow your brand guidelines when preparing printed materials. Everything you mail to supporters should be clearly recognizable with your logo, brand colors, fonts, and align with the rest of your strategy.
For example, be sure to use your graphic brand elements when compiling a highly visual document like your annual report. As seen in DonorSearch's guide to nonprofit annual reports, visuals like infographics can be a powerful tool to convey information in an engaging way. By using your standard colors and typography to create these graphics, they'll be more clearly defined as part of your work.
You can also include your visual brand for something that's not mass-printed, like a handwritten thank you note. Consider using custom stationery when choosing how to thank donors in a personal way.
Create a branded environment
You can also extend your brand off the page and use it to create a fully branded environment in your nonprofit's facility. This is a physical manifestation of your overall brand that incorporates graphic and storytelling elements for a show-stopping effect.
When donors and other stakeholders visit your facility, they'll be immersed in a powerful experience that puts your mission and work in the spotlight. This environment will drive a deeper emotional connection to your organization. 
To create a branded environment, look for a design agency with experience working with nonprofits. They will be best equipped to help you tell a mission-driven story about your organization that resonates with donors.
Recognize donors publicly  
Another way to implement your brand in a physical capacity is with a donor recognition display. As we discuss in the Eleven Fifty Seven guide to donor recognition walls, this can be part of a larger environment or a standalone project.
A well-planned donor recognition program is a key part of a successful retention strategy, and a donor wall is a permanent testament to your gratitude. A donor wall design firm can incorporate elements of your brand throughout a meaningful recognition display so that you can say "thank you" while letting your established character shine through. 
If you don't have the space available to create a physical wall, you can also create a virtual donor recognition wall that lives on your website. This is also a great solution for recognizing donors effectively during the COVID-19 era. 
An intentional brand strategy can help your nonprofit build trust and deepen relationships with supporters. By putting thought into your visual style, communications, and mission-related messaging, you'll create a more unified representation of your organization.