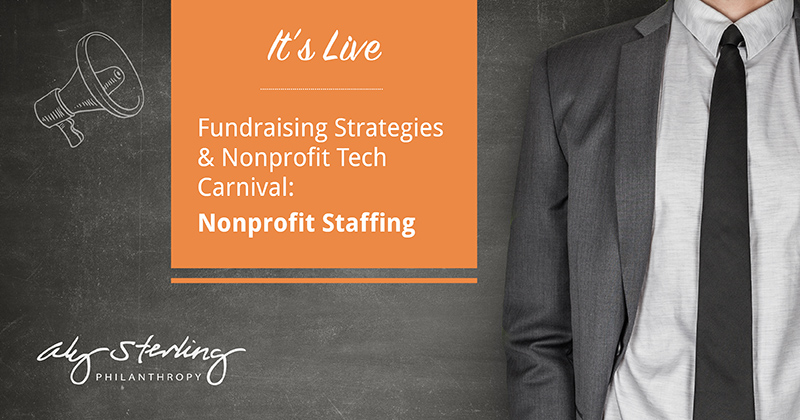 For this iteration of the Fundraising Strategies & Nonprofit Tech Carnival, the call for submissions was all about nonprofit staffing. (Read the full announcement here!)
We were incredibly thrilled with the huge influx of submissions received. And we're excited to share this great advice with you! We ended up narrowing the submissions down to nine articles.
Each article offers a unique insight and touches on a different aspect of nonprofit staffing, and we hope you come away with some new perspectives on this important topic. Here it goes!
1. Aly Sterling Philanthropy's "How to Write a Major Gift Officer Job Description: 4 Must-Know Tips"
If you want a complete overview of how to successfully write a major gift officer job description, look no further than this page of tips from our blog. This article sums up everything you need to know when creating various roles for your nonprofit.
It includes actionable instructions for writing a major gift officer job description, such as the template, key responsibilities, job requirements, and description.
Click here to learn more from Aly Sterling Philanthrophy's tips.
2. @Pay's "Nonprofit Staffing: 5 Tips for Developing Executive Roles"
The first step in any successful nonprofit staffing effort is going to be identifying and developing executive roles for your organization.
@Pay has put together a resource that will help you understand your nonprofit's identification of executive role skills. For example, one of the 5 tips is all about understanding the hiring process, explaining:
Make sure your nonprofit is up to speed on how to optimize your hiring procedure by partnering with a nonprofit executive search firm. These consultants are well-versed on not only the steps of a successful hiring process, but also on how to manage your interviews in a way that evaluates the top qualities in candidates that your nonprofit is looking for.
Click here to read the full article on @Pay's blog.
3. Fundly's "Nonprofit Job Board: How to Land Your Dream Career"
If you are a professional looking for a how-to guide when on your nonprofit job board search, this article from Fundly is the perfect resource. In this guide, Fundly breaks down their advice into three sections:
The Organization's Cause
The Organization's Culture
The Organization's Professionalism
For instance, within the section on the organization's culture, Fundly notes the factors professionals should consider when examining a nonprofit.
One of the points describes:
Always look for a balance of professionalism and personality in the language the nonprofit uses in their job description and/or application process. This will speak loudly for the nonprofit's development standards as well as how connected they are with their employees.
Click here to learn more about landing your dream career.
4. Gesture's "Staffing Your Special Event"
When should you use volunteers and when should you hire staff? How do you go about finding and training the right people, and how do you ensure that everything is set up in a way that makes it easiest for the staff? What is the best way to go about managing the staff before, at, and after the event? Answer your staffing questions with these tips from the Gesture Account Managers.
Click here for Gesture's advice.
5. Double the Donation's "The Top 7 Executive Search Firms for Your Nonprofit"
Since the last excerpt focused on joining a nonprofit as a professional, it's only fitting that the next resource we feature is about another important aspect of nonprofit staffing. This Double the Donation contribution features a number of the top executive search firms that'll lead your nonprofit's efforts to success.
Click here to read Double the Donation's complete list.
6. Wild Apricot's "Successful Volunteer Teams Have These Four Types of People"
There are four types of people or personas that make for successful volunteer teams. Via Wild Apricot's blog, Clay Boggess guides you through each of their motivations, which tasks they're best suited for, their behaviors, strengths, and opportunities.
Clay lists the four personas as:
Data Heads
Creative Heads
Event Experts
Motivators
Click here to learn more about the four personas and Clay Boggess' advice.
7. Qgiv's "7 Tips for Hiring a Top-Notch Nonprofit Development Expert"
This list of tips from Qgiv is chock-full of great advice, so we'll jump straight into one of the 7 tips. Tip #3 encourages nonprofits to create an executive search committee.
As is explained in the section:
One of the most pragmatic services a nonprofit executive search firm can offer is guidance for creating and running a strong search committee. Nonprofits need sharp and well-rounded search committees to conduct hiring processes for leadership positions like: executive directors, major gift officers, and development directors.
For more on tip #3 and the rest of useful tips, check out the Qgiv resource.
8. DonorSearch's "4 Tips for Writing Your Executive Director Job Description"
In this insightful article from DonorSearch, you can learn all about best practices for drafting a job description when searching for an executive director.
Click here view the tips and learn more about creating a job description.
9. GiveGab's "3 Ways to Maximize the Efforts of Your Fundraising Team"
Forming a good relationship with your colleagues in the workplace is key when looking to improve efforts. This article from GiveGab compiles a list of 3 tips to follow when trying to grow and maintain a relationship with your team.
The article explains:
Taking the time to understand one another, improve your communication, and effectively reach your goals are all it takes to start seeing general improvements within the workplace.  
Click here to read all of Give Gab's tips.
---
That concludes this month's Fundraising Strategies and Nonprofit Tech Carnival. Subscribe to the newsletter to stay up-to-date on the latest announcements. You can even reach out to Taylor Gibbs to learn more about participating or hosting just like we did.