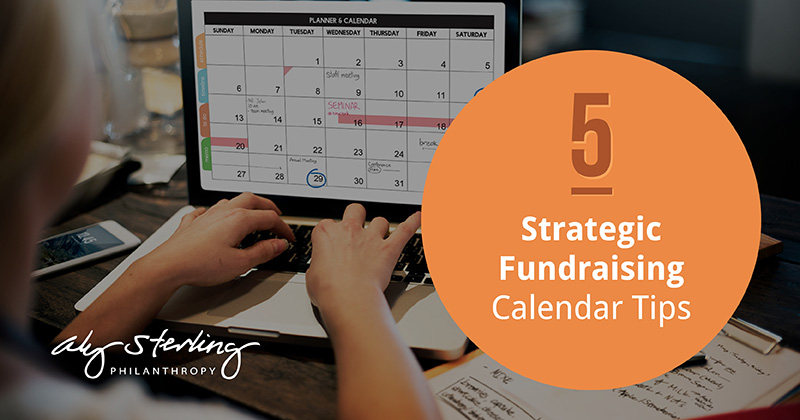 Taking on the challenge of improving your nonprofit's fundraising strategy may seem daunting. After all, it can be tough to keep track of all the moving parts in your organization and even tougher to help guide them to work together.
Want to get ahead? Try improving your fundraising efforts by designing a nonprofit fundraising calendar.
With this tool in hand, you will better understand the big picture of your fundraising strategy, giving you the power to implement improvements across all levels of your organization.
Ready to build a strategic, comprehensive fundraising calendar for your nonprofit? Here are 5 tips to help get you going:
Your nonprofit's perfect fundraising calendar is only a few steps away. Let us dive into some more detail!

1. Align your calendar with your fundraising strategy.
Your fundraising calendar is not just for marking down dates: it should be an extension of your nonprofit's overall fundraising strategy that is both a guide and a blueprint.
When designing your calendar, use it to reflect the priorities of your organization. If your nonprofit is focusing on a particular area of improvement, weave your ambitions throughout the calendar.

Your fundraising calendar should be reconfigured every time your nonprofit makes changes to its fundraising strategy. For this reason, it's most important for you to closely align the calendar into your fundraising over the first year or two of a big change in strategy. This is when your nonprofit lays the groundwork for future fundraising and you don't want lose focus.
You can keep your nonprofit on track by:
Setting deadlines for goals. It's difficult to see a goal as tangible if you do not know its endpoint. Set clear, definitive deadlines for all of your goals in the calendar. This way, your team members can see how much time they have left to help reach the goal, preventing "maybe someday" attitudes.
Scheduling strategy check-in dates. Your strategy does not have to be a fixed, unchanging rulebook. Your strategy should be flexible and your calendar should feature set check-in dates where you take the time to evaluate how well the strategy is working. If changes need to be made, then you can correct course.
Build goals upwards. Give each of your departments smaller, more tailored goals that they can achieve in the short term. Then, use these goals to get you closer to your broader fundraising goals. For example, a communications department might aim to increase CTA click-throughs, which could lead to increased donations.
Set goals for events. Similarly, you should also set smaller goals that tie-in with events on your calendar. This can help you plan out steps toward carrying out an event, as well as help keep event planning on track. An event goal might, for instance, be to email X number of constituents with an invitation.

Takeaway: Aligning your calendar with your fundraising strategy lets you take a big-picture look at your fundraising efforts and allows you to take a step-by-step approach to achieving your goals.

2. Plan your fundraising calendar with data.
You wouldn't set your fundraising strategy without consulting data to back it up, so why would you plan your fundraising calendar without it?
When designing your calendar, you need to look into your past data to help set effective dates for your nonprofit's activities.
If your organization keeps detailed records of when certain tasks were accomplished or when events were held, you can assess how these activities performed over time.

Bonus tip! With the help of nonprofit software solutions, it has never been easier to collect useful fundraising data to help you better plan your fundraising calendar.
By analyzing past data, nonprofits can better schedule activities. Some things to keep in mind when evaluating your past data include:
Slow fundraising periods. Some times of year are tough for fundraising; for example, summer is generally a slow time for fundraising. Design your calendar to avoid your slow periods, or supplement them with more fundraising during historically successful periods.
Annual events. Does your organization hold annual events? Do you tend to hold fundraisers around the same time each year? Your constituents might expect fundraisers to come at certain times of year, and your data should guide your calendar in implementing a fixed event schedule.
Event performance. Do certain events or fundraisers perform better than others? By evaluating performance data, you can pick and choose the types of events you hold by seeing what worked for your nonprofit in the past. You can evaluate performance using metrics like retention rates, number of donations, event attendance, etc.
Takeaway: When drafting your fundraising calendar, leverage your existing data to help schedule activities. You can use the data to pick event dates, as well as plan what types of events to hold.

3. Determine hard deadlines for your fundraising calendar.
Maintaining hard deadlines can ensure that your nonprofit runs efficiently and stays on track with your fundraising strategy.
Keeping a comprehensive fundraising calendar can help you enforce these hard deadlines, as well as strategize how you set them.
You should set hard deadlines for a variety of activities:
Events. You should plan out your event schedule well in advance and select dates for them in reference to the rest of your event lineup. Additionally, set deadlines for every step of the event planning process to keep yourself on track.
Annual campaigns. Similarly, you should set hard deadlines for every step of your annual campaigns. These are your big push for donations, so you need to make sure you benefit from them as much as possible.
Milestones. Throughout the year, set milestones to help you assess your fundraising strategy. For example, at the end of Q1 you can set a fundraising goal to let you track the progression of your fundraising for the year so far. If you're moving slower than normally, then you know that improvements need to be made.
Board and budget meetings. Setting deadlines for board and budget meetings also helps keep your nonprofit on track. If there are any issues that need to be addressed, getting together with your team will help bring problems to light. Additionally, with everyone in the room, it's easier to come to a quick solution.
Hard deadlines should also be used in conjunction with monthly goals. If your January objective is to increase end-of-year donor retention, in December you should set deadlines for stewardship activities.
Takeaway: Not only do hard deadlines act as a motivator, but they also help break down larger goals into more manageable short-term tasks.

4. Provide your teams with fundraising calendar access.
Fundraising calendars are not just helpful tools for those in charge of big-picture planning in your nonprofit. They're also useful for team members across your organization.
You should make your fundraising calendar accessible to everyone, especially those who head your different departments. You want your team members to be able to see how their work fits in with everyone else's and how their efforts are getting you closer to achieving your long-term goals.
To improve calendar accessibility for your team members, you might try using:
An online calendar. There are many online calendar options out there that would allow you to share deadlines and events with your entire staff. In particular, a Google calendar works well for sharing a calendar across a single network.
A CRM. Some CRM options offer calendar tools to their users. Using a CRM's calendar function is also very convenient since you can use data you have collected in the CRM to help you plan out your fundraising activities. (Check out Double the Donation's guide to CRMs for some expert CRM software recommendations!)
A calendar matrix. A calendar matrix is an efficient way to show the delegation of tasks among departments for specific fundraising events and campaigns. Unlike a regular calendar, a calendar matrix only shows days where deadlines need to be met and includes strategic information related to the tasks at hand.

Takeaway: The more team members who have access to your fundraising calendar, the better. Be sure to clearly delegate tasks and show your organization how each department factors into achieving various goals.

5. Avoid fundraising overlap with your calendar.
One of the most important things that fundraising calendars help you avoid is fundraising overlap.
There's nothing worse than a donor who has yet to be thanked for their last gift receiving another ask. With a fundraising calendar, you can keep track of your different campaigns as well as the donor life cycle.
When you are aware of when campaigns are happening in relation to one another, you can better plan out when to ask donors for their support. If you segment donors, you can avoid asking for gifts too frequently. Or, you might use donor segments to see who send donor thank you letters and for what you should thank them.
Your nonprofit might segment individuals by:
Recent donors
Major donors
New donors
Planned donors
Event attendees
On your fundraising calendar, you can stay aware of what events, campaigns, or donor outreach initiatives you are holding and which segments are involved. This helps you personalize your donor engagement, which in the end will make your donors more likely to continue to give to your organization.
Takeaway: With your fundraising calendar, you can better manage your donor segments by keeping track of your nonprofit's campaigns. Stay on top of who you've engaged with and know when to refrain from asking too frequently.
---
Staying on top of your fundraising goals starts with plotting out a detailed timeline. Improve your fundraising strategy by designing a detailed fundraising calendar today!
Additional Resources
Capital Campaigns: The Ultimate Guide. Planning a capital campaign? Your nonprofit's fundraising calendar is a perfect tool to stay on track of your capital campaign's progress. Be sure to consult our guide to capital campaigns to learn all you need to know about this important fundraising style!
Planning Your Next Capital Campaign: 9 Steps to Success. When planning out your next capital campaign, your nonprofit should keep a few things in mind. Make the most of your next capital campaign with our 9 steps to success!
Nonprofit Feasibility Studies: 9 Tips to Maximize Results. With an effectively designed fundraising calendar, tasks like feasibility studies can be scheduled with the rest of your calendar's fundraising events in mind. Want to learn more ways to strategize your next feasibility study? Learn more with our 9 tips to maximize feasibility study results!
[capital-campaign-checklist-bottom]

Latest posts by Aly Sterling Philanthropy
(see all)