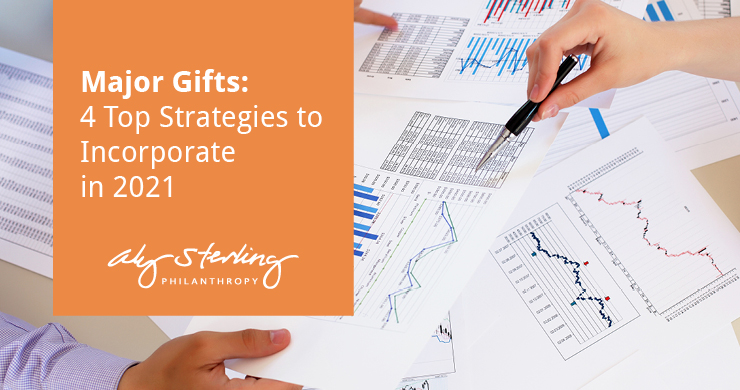 As a nonprofit professional, you know that major gifts are the largest contributions your organization receives. But these substantial contributions don't come out of thin air—they're the result of careful research, stewardship and well-informed fundraising asks. For that reason, focusing on cultivating relationships with major gift donors is essential.
However, securing such large donations is normally easier said than done. That's why we've outlined some of our top strategies you can use to tap into major gifts as we kick off the new year.
In order to carry out a successful major gift solicitation, you should:
As with building any fundraising strategy, it's important to consider your current major gift process and identify areas where it can be improved. This means taking the relevant steps to understand your donors and your options. If you're ready to adjust your major gift outreach, let's jump in!

1. Perform prospect research.
Prospect research is what fundraisers use to learn more about their donors, be it personal backgrounds, past giving or other metrics that can aid in the donor stewardship process.
According to DonorSearch's major gifts guide, prospect research is essential for identifying potential major gift donors, whether they are in the organization's current pool of donors or in the greater community.
In order to determine a prospective donor's likelihood of giving a major gift to your nonprofit, you need to look at two different kinds of metrics:
Wealth Markers
Wealth markers indicate a donor's capacity to give. These include important points such as:
Real estate ownership

SEC transactions

Business affiliations

Political giving
Understanding the metrics above will help you determine whether the individuals in your donor pool have the ability to give a major gift to your nonprofit.
Philanthropic Indicators
The other type of metric is philanthropic indicators, or a donor's affinity to give. These include:
Previous donations to your nonprofit

Donations to other nonprofits

Nonprofit involvement

Personal information, such as hobbies and interests
Having an idea of an individual's giving history and interests will help you target donors who may be capable of giving a large gift or inclined to give to your particular mission. It is not an indicator of someone's likelihood to give, however. That can only be developed and measured through the careful cultivation of relationships based on mutual interest.
All kinds of organizations use prospect research to measure wealth and affinity. The smartest organizations deploy this approach to gauge a prospect's interest and support relationship-building efforts that lead to an educated ask.

2. Leverage corporate matching gifts.
What if a major gift could go twice as far? That would have a huge impact on your organization and bring in a significant amount of revenue. With corporate matching gift programs, that is entirely possible.
What are corporate matching gifts?
Corporate matching gifts are a type of corporate philanthropy in which companies financially match donations their employees make to eligible nonprofits. Most companies match at a 1:1 ratio (a dollar for a dollar), but match ratios can range anywhere from .5:1 to 4:1.
According to Double the Donation's matching gift statistics, about 84% of supporters say they're more likely to donate if a match is offered. This means if you're reaching out to potential major gift donors, it is essential that you promote matching gift opportunities. Not only could this encourage them to donate in the first place, but it'll turn one major gift into two.
There are many ways to leverage matching gifts as part of your major gift strategy. Some of our top options include:
Matching gift software.

Matching gift software

gives donors direct access to a matching gift database via a search tool plugin. Donors can then determine their matching gift eligibility by searching for their company, and you can embed this plugin anywhere on your website. One of the most effective places you can insert this plugin is on your donation page, where supporters are most likely to engage with it.

A dedicated matching gift page.

Feature matching gift information on a specific page on your website so you can educate donors about this form of corporate philanthropy. This will serve as your primary source of educational information about matching gifts, and you can direct supporters to this page in your other forms of outreach.

Social media.

Social media is an effective channel to use as you promote matching gifts. Schedule posts throughout the year to make donors aware of this opportunity, and link viewers directly to your dedicated matching gift page or donation page.

Email.

Does your organization send out a newsletter on a regular basis? Incorporate matching gifts into your newsletter calendar to educate donors. You can also add matching gift information to your confirmation and thank-you emails. Briefly explain matching gifts and include a link to your website so donors can learn more.
There are several ways you can incorporate matching gifts into your major gift strategy. Many companies have high maximum match amounts, but any amount you receive will go further than a single donation would have. This is the perfect way to make the most of a donation without asking your major gift donor to reach back into their own pocket.

3. Grow your communication strategy.
Of course, when it comes down to it, major gift donors aren't going to contribute to your cause if you don't make the ask. Cultivating relationships with current donors and stewarding them toward making a major gift is also easier said than done. 
That's why growing your communication strategy is crucial. Whether you're making the ask or communicating about other topics with your supporters, your process should be streamlined, consistent and effective.
So how can you create an effective communication strategy?
Focusing on your donors, their preferences and their interests is essential. This will encourage more engagement from your audience because you'll demonstrate that you're paying attention to them.
For example, you should:
Segment your donor lists.

As

part of major donor fundraising

, one of the best things you can do with your lists is segment them. The more targeted your communications are, the more likely donors will be to respond. For example, if some major donors prefer not to be contacted about donations at the moment, be sure to create a segment of donors in your database with this preference.

Communicate about non-fundraising-related activities.

Especially now in the era of COVID-19, it's important to engage your supporters in communications unrelated to fundraising. Genuinely ask how they're doing, while noting how your organization has also been affected.

Offer other forms of engagement and interaction.

Cultivating major donors means establishing a meaningful relationship with them. For instance, give them insights about volunteer opportunities with your organization and invite them to upcoming virtual events. Make sure they know they're valued for more than just monetary donations.

Make it personal.

The most important thing you can do as you reach out to potential major donors is to make your ask as personal as possible. Leverage the information you know based on your prospect research to ask for an appropriate amount. You'll show that you value their time and preferred communication methods. Check out

these templates

of donation request letters for some inspiration.
Communicating in the right manner is key to building relationships with major donors. Showing how much you value their support will then encourage them to continue supporting your mission.

4. Assemble the right team.
As your organization sets out to solicit major gifts from donors, it's important to have the right people on your team so you can make the most of your outreach.
We've already talked about communicating with donors, but it's also essential that you communicate with your staff (and incoming staff, too!). 
For example, many organizations have major gift officers who handle much of the major gift process. When hiring a major gift officer, it's important to be clear in your job description and further communicate the importance of the role. You want to end up working with the best candidate for the job who understands the process, knows how to effectively perform prospect research and successfully communicates with donors.
An additional avenue to consider is hiring a fundraising consultant who can help you define your strategy and streamline the process of securing donations, including major gifts. Fundraising consultants help in a variety of areas that your organization can benefit from, so it's worth considering as your organization continues to grow.
Having the best team assembled will help your nonprofit find success in its fundraising efforts. Be sure to explore all avenues of assistance, choose the best individual suited to be your major gift officer and hit the ground running.
As your strategy continues to evolve, it's important to make sure your major gifts process also grows. For that reason, make sure you incorporate prospect research, consider matching gifts, effectively communicate, and assemble the right team to engage your major donors. From there, you'll be on your way to securing the major gifts that will play a huge part in funding your cause. Good luck!
Sarah Tedesco is the Executive Vice President of DonorSearch, a prospect research and wealth screening company that focuses on proven philanthropy. Sarah is responsible for managing the production and customer support department concerning client contract fulfillment, increasing retention rate and customer satisfaction. She collaborates with other team members on a variety of issues including sales, marketing and product development ideas.