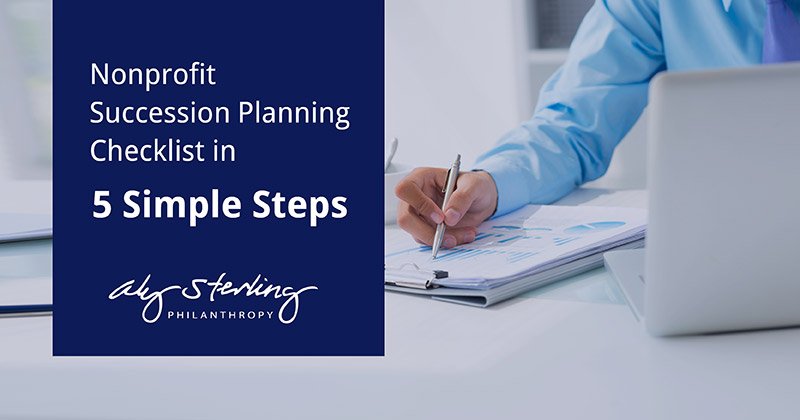 When a key executive, staff or board member departs from your nonprofit, weathering the transition can be a balancing act.
On one hand, your team will need to keep moving full speed ahead on your fundraising projects. On the other hand, without this important individual to lean on, you risk falling off course in your fundraising efforts.
Luckily, when your organization has a nonprofit succession plan in place before you face a transition like this, you'll always know what next steps to take.
A nonprofit succession plan is a strategic document developed by nonprofits that not only lays out what to do in the event that an executive, staff or board member leaves your organization, but also shows you how to prepare for the departure before the individual ever leaves your organization.
Want to learn more? Let's go over our nonprofit succession planning process to help your team create an airtight succession plan you can lean on.
The succession planning process comprises the following key steps:

Ready to get started developing your nonprofit's next succession plan? Let's dive into this expert checklist!

1. Assess what vacancies your nonprofit succession plan will address.
Unfortunately, nonprofit succession plans aren't one-size-fits-all. If your organization really wants to stay on top of future departures, you'll need to develop targeted succession plans that address different kinds of possible vacancies.
Your organization should have succession plans in place for:
Your executive director.

High-level staff roles (development director, major gifts officer and more).

Board members.
Since these individuals operate at the foundational levels of your nonprofit, your team could quickly stray off course if these individuals make a departure.
In addition to knowing which position(s) your plan will address, your team should also develop plans tailored to the type of departure you may face in the future.
There are 2 key departure types a succession plan can address:
An emergency departure

in which a key member of your organization unexpectedly resigns, has their position terminated or passes away.

A planned departure

in which an individual announces their departure well in advance of leaving their position, such as in the case of a retirement or sabbatical.
As your nonprofit crafts its succession plan, you'll also need to assess factors such as the turnover risk of the role in question and the needs of personnel who work with the individual currently occupying the role.
Bonus! Anticipating the departure of your nonprofit's executive director, president or CEO? Check out our expert steps for crafting a nonprofit executive transition plan.

2. Align an internal vision for your nonprofit succession plan.
For your nonprofit's succession plan to be as effective as possible, you'll need to ensure that your entire organization is aligned in vision as you undertake this process.
As you craft your nonprofit succession plan, gather together a committee that is comprised of your executive director, high-level staff and board members, as well as team leaders and other important staff who may not occupy high-ranking roles at your organization.
With this committee assembled, ask some of the following questions to gain a better understanding of what should be done to plan for future successions:
What do these committee members understand as the responsibilities of the role in question?

How does the individual in this role interact with them in their own role?

What kind of growth would they like to see in this role when the succession is complete?

How involved do they expect to be in the leadership transition process?

What are they willing to do to help transition this new leader into their role?
These questions will help clearly delegate tasks to each committee member in the event of future successions. It also provides direction to your nonprofit's plan.
After engaging with this committee, your nonprofit can work to assess your wants, needs and expectations of your nonprofit's internal members and translate that understanding into a clear vision for the role in question
With this aligned vision in mind, your team will be better equipped to prepare for the future transition, as well as be better prepared to identify the right successor.

3. Begin cultivating internal talent for future transitions.
One of the biggest obstacles an individual can face when transitioning into an important leadership role at a nonprofit is not meshing well with the organization's established culture.
There are several cultural challenges that can get in the way of a successor seamlessly taking on their role and successfully serving as a leader at their organization.
If they're an external hire, they may face pushback from individuals who have long served your nonprofit. Conscious or not, there will almost always be some degree of awkwardness as new dynamics are forged and the role's precursor departs.
Additionally, whenever a nonprofit brings on an external hire, there's always the risk that they won't be prepared to take on the role at hand.
While this risk doesn't disappear when promoting from within, there's significantly more of a chance that an internal hire will both better understand the role and be better trained to take on the role.
For this reason, part of your nonprofit succession planning process should include outlining a process of internal leadership cultivation.
This refers to the process of identifying ideal candidates for future promotion, discussing your team's intentions for their future at your organization, training these individuals and then promoting them when the time comes to fill the vacant leadership role.
Bonus! Want to learn more about planning for future leadership successions? Visit Double the Donation for their expert nonprofit leadership succession planning strategies.

4. Outline the executive search phase of your nonprofit succession plan.
Although it's important to cultivate internal members of your team for future leadership succession, you'll still need to open the process up to finding external talent who might bring something new to your nonprofit that you've been missing.
Whether your succession plan is anticipating a planned or emergency departure, set aside time to open up the search to external candidates.
For a planned departure, you'll benefit from being able to take your time in finding a great new hire outside of your organization with the help of the individual currently occupying the role.
For an unplanned transition, you can still hold an executive search period. If there's no time to leave the position vacant, you might hire an interim leader internally or have one placed by your nonprofit consultant.
While the interim leader is occupying the role, your nonprofit is free to conduct an extensive executive search.
Expect the recruitment process to last about 6 months. During this period, your  team should craft the perfect job description and identify standout candidates for the role. Then, with a candidate list in hand, your nonprofit can take around 3 months to conduct interviews. 
Once interviews have concluded, you'll be able to select your new hire and make them an offer to join your team.
If, at this time, you are unable to find the right person internally or externally for the job, you may head back to the drawing board or decide to absorb the responsibilities of the role into other roles at your organization if possible.
However, if you've taken the time to carefully develop your nonprofit succession plan before a vacancy arises, you may not have to face such a challenge.

5. Transition the individual into their role at your nonprofit.
Finding the right successor for a vacant leadership role at your nonprofit is only half the battle. To ensure the success of the new hire or promotion, you'll need to set aside time in your nonprofit succession plan to onboard this individual into their role.
Onboarding is the process of training and introduction that an individual must undergo when they transition into the leadership role at your nonprofit.
During this period, your team may:
Train the individual in the responsibilities of their role.

Integrate the individual into your organization or into their team.

Assess the individual's progress as they acclimate.

Provide them with actionable guidelines for improvement.

Transition them from this introductory period into independence within their role.
The onboarding process should take about 3 to 6 months to complete and is absolutely necessary to ensuring the success of this individual in their new position.
Provides adequate guidance to help your new team member assimilate into the role. Also, make sure to prescribe the necessary next steps for other members on your team to complete to during the transition.
---
Is your organization ready to complete the nonprofit succession planning checklist? With these steps in mind, you'll be ready to face anything that comes your when when preparing for future leadership transitions. Good luck!
Additional Succession Planning Resources

Latest posts by Aly Sterling Philanthropy
(see all)