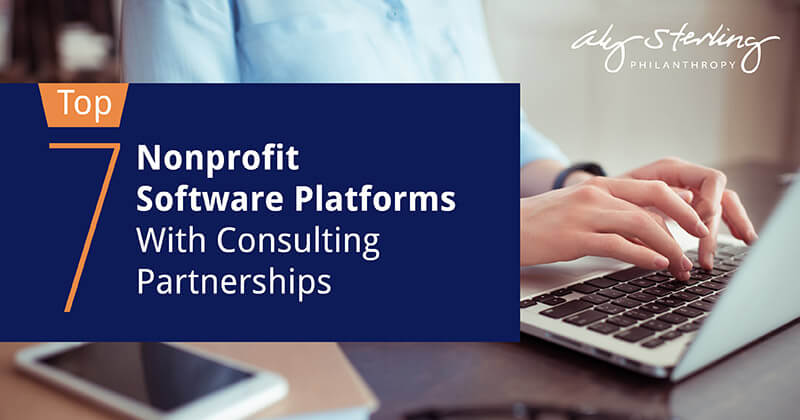 [capital-campaign-consultant-mobile]
If you are involved in the nonprofit world, you already know the value of bringing on a nonprofit consultant to give your organization some additional help and support.
Oftentimes, nonprofit professionals bring on a consultant when they are looking to accomplish one of the following tasks:
Executive search. It can be helpful to have a nonprofit consultant on board when you are looking for a qualified candidate to fill a specific role within your organization.
Board training. Nonprofit consultants have an arsenal of team building tools at their disposal to help you craft a strong, connected board.
Strategic planning. It can be useful to seek out consultant support when making changes to your organization's fundraising or other strategies.
Capital campaign planning. Consultants are a major asset to the capital campaign process and can help your organization organize and streamline the process.
For many of these tasks, nonprofits also decide to implement specific nonprofit software to assist in staying organized and to help manage the many moving parts.
Just as you want to make sure that your software programs can be successfully integrated, why not make sure that your software program and your nonprofit consultant can similarly work well together?
We've curated a list of the providers that have made a concerted effort to actively seek out partnerships with experts in the industry to provide more help and support to nonprofits like yours.
Here are our top picks for software platforms that have strong consultant partnerships:
No matter which software provider you choose, you'll be getting top-notch support and the ability to work with top experts in the industry to help your nonprofit succeed!

1. Salsa
What does this nonprofit software do?
Salsa provides a comprehensive fundraising software platform that offers a wide variety of tools to help you manage and track your fundraising.
With Salsa, you can, among other things, accept online donations, track donor engagement and schedule communications and boost efficiency by automating essential tasks.
With Salsa's donor management feature, you can create profiles for all of your supporters. Additionally, you can run reports on your campaigns to help you make critical decisions and improve your future fundraising efforts. The data you gather is another tool in your consultant's arsenal, and as a result, your organization can move forward with the most informed strategy possible.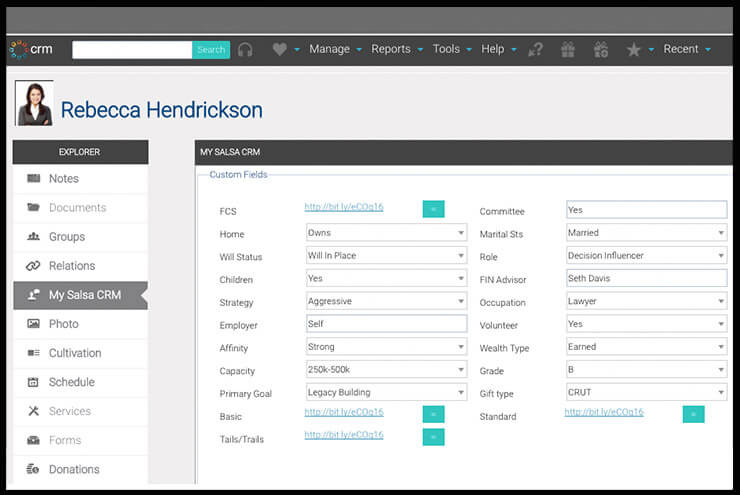 How can it help you raise more?
Salsa provides your organization with a powerful and scalable fundraising software solution that allows you to automatically collect and store donor information. As a result, you won't have to worry about transferring any information to a different software.
Additionally, Salsa's nonprofit software includes robust donor profiles that can be customized with notes, documents and organization-unique fields – meaning that you'll be able to create a holistic picture of each and every one of your donors to better engage with them.
How much does this nonprofit software cost?
Salsa's fundraising software comes in two different packages, one starting at $179 per month and the other starting at $249 per month.

2. Double the Donation
What does this nonprofit software do?
Double the Donation's software allows you to add a matching gift search tool to your donation forms and web pages so that donors can easily search for their companies.
When donors are easily able to see whether or not their employers offer to match gifts, they are more likely to take advantage of the program – meaning your organization is more likely to gain more funds.
Even better, introducing matching gift tools can often lead into full-blown partnerships with companies that are especially active in matching donations to your nonprofit. Such partnerships can come in handy for feasibility studies and capital campaigns.
Double the Donation is a good service to start with for small to medium nonprofits. They provide all the tools you need to make matching gifts easier for your supporters.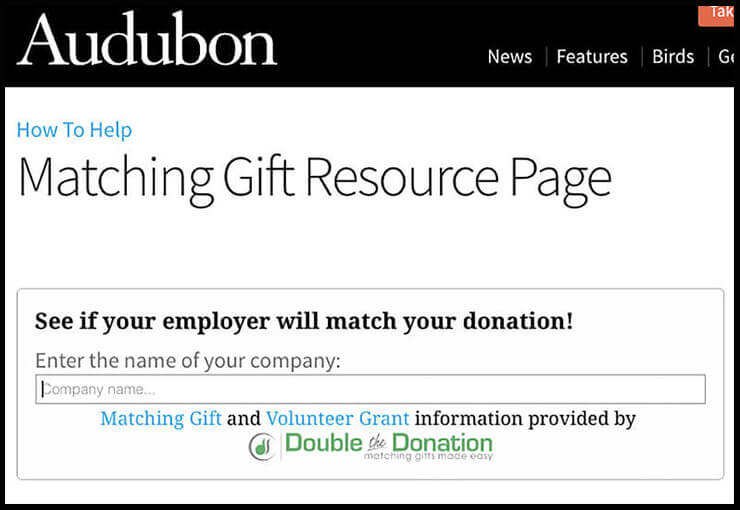 How can it help you raise more?
Double the Donation's matching gift features are easily customized to or embedded in your nonprofit's website.
Of particular note about this software is its ease of use, the ability to create your own customized matching gift page and its seamless integration with your existing donation and web pages.
All of these features allow your organization to better connect with your donors – and, consequently, give you the opportunity to raise more money!
How much does this nonprofit software cost?
Double the Donation offers a few different pricing plans that differ based on the features included. The basic plan starts at $299 per year, while the most advanced option starts at $3,000 per year.

3. Qgiv
What does this nonprofit software do?
Qgiv offers a variety of useful features for all your organization's fundraising needs. At the core of their software is the online donation and event registration tool.
Qgiv's online donations come with features like:
Recurring gifts
Donation amount buttons
Fundraising thermometers
The donation pages are fully customizable, and the best part is nonprofits don't need to be tech-savvy to use their tools. Qgiv has a simple user interface. You can simply drag and drop the features you want onto your form and modify the elements to meet your specific needs.
Moreover, Qgiv is a top software provider because they offer much more than online donations. Their software also comes with a peer-to-peer and crowdfunding platform, text-to-give services and Facebook donation forms.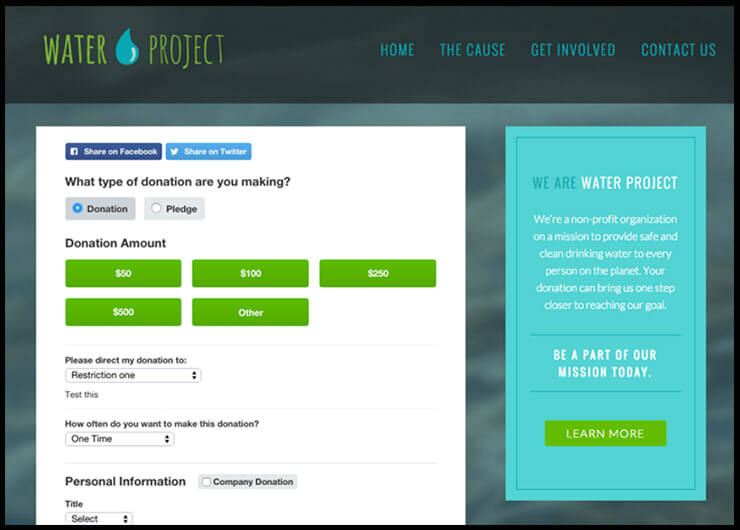 How can it help you raise more?
Qgiv offers plenty of ways for organizations to diversify their giving methods and provide every donor with a convenient way to give.
Another way Qgiv helps organizations make the most out of their fundraising is through a feature called GiftAssist. Donors will have the option to offset payment processing fees by adding a little more to their initial donation.
Plus, you can expect superb in-house expertise and useful resources to help guide you through Qgiv's online donation tools.
How much does this nonprofit software cost?
Creating unlimited online donation forms is absolutely free and doesn't require a monthly fee. You'll just pay a processing fee of 3.95% plus $0.30 per transaction.
If you're looking for more customized donation pages or text-to-give integrations, the price will start at $49 a month.

4. @Pay
What does this nonprofit software do?
@Pay strives to make the online donation process easy for donors. They provide faith-based organizations and nonprofits with a process that can help reduce your donor abandonment rates.
With @Pay, you'll be able to create simple, user-friendly donation forms that will enhance the donation process. When it's this easy, your donors won't have an excuse not to give!
@Pay also offers a variety of other features, including text-to-give tools and donor information storage.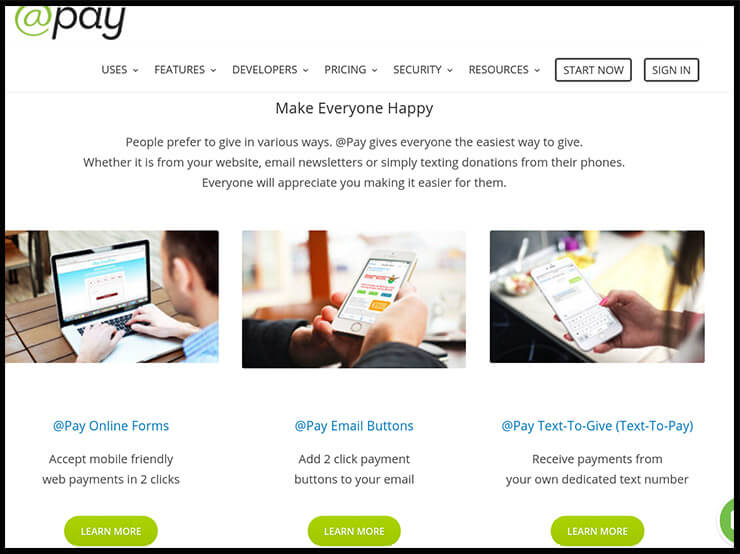 How can it help you raise more?
Since @Pay is focused on simplifying the donation process and giving donors multiple different ways to give – specifically with their mobile fundraising software options – implementing their software solution will help you optimize the donor experience, resulting in more successful donations.
After all, who wouldn't want to give when the process takes just two clicks?
How much does this nonprofit software cost?
You can start using @Pay's service for free with a transaction fee of 2.2.% +$0.30 per transaction.
Their basic plan gives you access to mobile giving pages, but if you want any additional features, the price starts at $299 a year with the same transaction fees.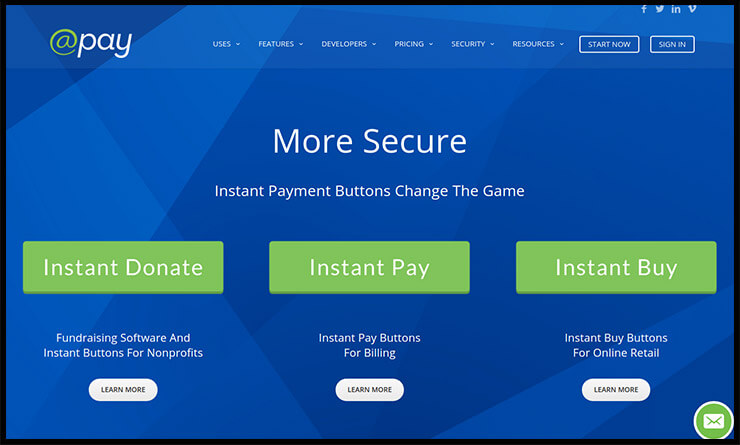 5. BidPal
What does this nonprofit software do?
BidPal offers a strong, reliable event fundraising software that is especially powerful during charity auctions.
With BidPal, nonprofits have the ability to handle the following aspects of an event – all from one handy platform:
Mobile bidding
Event registration
Check-in and checkout
Wider event management
Additionally, you'll be able to capture guest information, track registrations and accept payments from guests all on a single platform.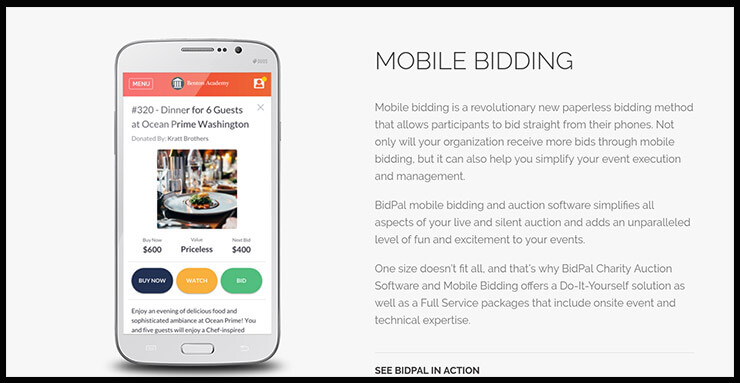 How can it help you raise more?
BidPal's robust charity auction software centralizes event management functions into one package. Nonprofits can choose between a full-service package that includes on-site and technical support, and a simpler, do-it-yourself option.
Streamlining all of a charity auction's moving parts into one central fundraising software platform will help you stay more organized – meaning you can spend more time talking with donors!
BidPal's software can be tailored to a more austere auction geared towards your major donors, or a more accessible auction open to your full constituent base. Because of this, BidPal is a great choice if you're looking for software to assist in your capital campaigns.
How much does this nonprofit software cost?
BidPal has a number of different charity auction software packages that you can choose from. Contact them directly for a quote.

6. Bloomerang
What does this nonprofit software do?
Bloomerang is a simple donor database and fundraising software solution that aims to help nonprofits cultivate better donor retention.
Bloomerang's software platform offers a wide view of each individual donor – including past and present charitable activity – enabling organizations to monitor engagement and schedule outreach.
Bloomerang's intuitive software solution is a great option for small and growing nonprofits.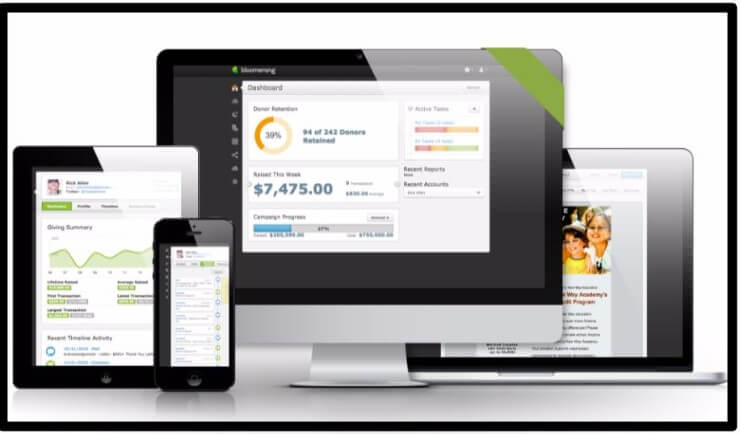 How can it help you raise more?
Since Bloomerang's major focus is on donor retention, the software it provides is similarly geared towards giving you an in-depth look into your constituents so that you are better able to manage relationships with them.
Some of our favorite features of Bloomerang's software include:
Social media engagement tools
Full mobile optimization
A comprehensive donor management system
A cloud-based platform that can be accessed anywhere, anytime
A close partnership with Aly Sterling Philanthropy!
These features can help foster better donor engagement, which is critical to ensuring long-term fundraising, and as such is a vital consideration for strategic planning.
How much does this nonprofit software cost?
Bloomerang's pricing operates on a sliding scale that is dependent on how many donor records you're looking to manage. Additionally, Bloomerang offers some great low-price packages for budding nonprofits to take advantage of – they're all under $250 per year!

7. Abila
What does this nonprofit software do?
Abila offers an in-depth fund accounting solution that comes with a variety of useful features.
Abila's functionality is truly comprehensive and includes fund accounting, procurement, budgeting, payroll, human resources, timekeeping, grant management and much more.
Additionally, Abila also offers other powerful solutions, including fundraising and CRM software as well as association management software.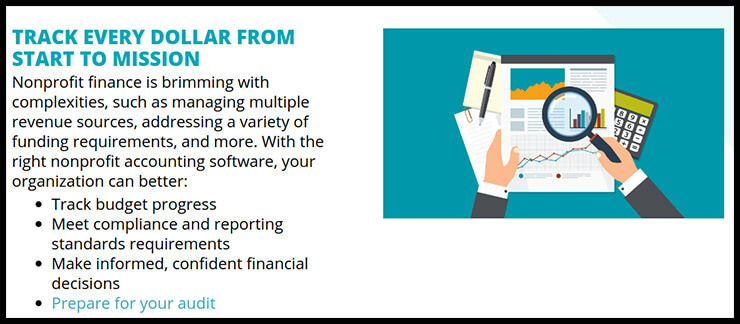 How can it help you raise more?
Abila's robust fund accounting software is tailored to your organization to account for and manage each and every dollar raised.
Plus, Abila is specifically designed to flex and grow as your organization does, meaning that you'll always have a scaled solution for managing your funds.
As a result, you'll have more insight into exactly where your funds are coming from and what they are going towards – information that is vital to successful fundraising efforts.
After all, the better you can budget, the better you can afford a fundraising consultant who's the right fit for your organization!
How much does this nonprofit software cost?
Abila's software solutions come in a variety of sizes and feature options that can be tailored to fit your organization's needs. Single-user plans start at $99 per month, while plans accommodating up to 5 users start at $599 per month.
There you have it! Each of these nonprofit software platforms is proven effective and has partnerships with some of the leading experts in the industry.
No matter which one you choose, you'll be getting top-notch support to help your nonprofit reach new heights!
[capital-campaign-consultant-mobile]