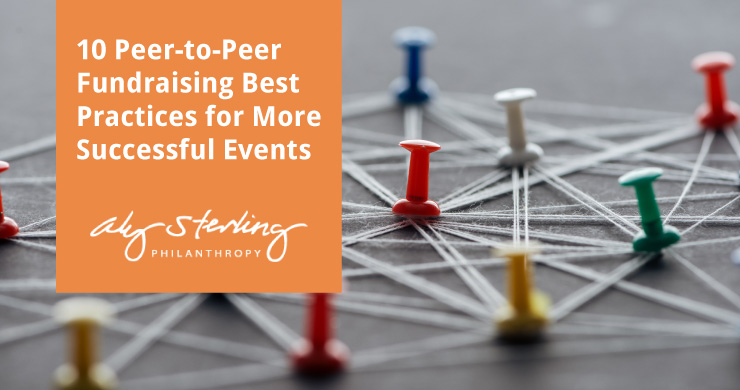 Peer-to-peer fundraisers empower your supporters to raise money on behalf of your organization, and they have been a staple in the nonprofit community for years. Now, they're becoming even more popular among donors, with a whopping 39% of Americans saying they've donated to a charity after a request from a friend or family member. Even the amount of donations is going up, with the mean donation amount increasing almost 20% in 2020. 
While peer-to-peer events are great for raising money to support your mission, they are also a great way to engage your community and spread awareness about your nonprofit organization. Whether your organization is planning your 20th fundraiser or your 1st, we hope these peer-to-peer fundraising best practices will help you bring your community together with your most successful fundraiser yet!
Use donor data to set fundraising goals
If you've held peer-to-peer fundraisers in the past, the most important thing you can do is use the data from your last event to plan your new event. 
For example, if half of your donors met their fundraising goal, and half didn't, can you pinpoint the reason for the different results? Were you motivating your fundraisers on social media only to find out that half of your fundraisers don't even use that channel? Did your successful fundraisers set a more reasonable goal to avoid feeling burnt out?
Reviewing your data will tell you what's working for you and what's not so that you can create an event that is perfectly tailored to your nonprofit and its supporters. Just make sure you're setting SMART goals to help you achieve them.
Use a branded website to engage supporters
From the main page of your website to the pages created by individual participants, using a branded website and peer-to-peer pages can have a huge impact on your fundraising. How huge? Well, donations made on a branded form average 38% larger than those made on a generic page. And donors are almost 70% more likely to make a second donation if the first one was made through a branded form.
At the very least, you'll want to make sure your main fundraiser website has your nonprofit's logo, a header designed for your event (complete with your text-to-donate information!), and a coordinated color scheme, all of which are easy to customize with Qgiv's peer-to-peer platform. 
There's no need to stop there though! 
Have graphics ready to share with team captains and solo participants so they can customize their individual pages. You can also encourage them to include a personal statement explaining why they're choosing to fundraise on behalf of your organization. Bonus points if they make it a video!
Last but not least, don't forget to use a fundraising hub to keep your peer-to-peer fundraisers up to date on where they stand and encourage a little healthy competition!
Train your peer-to-peer participants
When you're hosting a peer-to-peer fundraiser, you want to make sure your participants are successful, right? Of course you do! Make it easy for them by giving them lots of resources that they can use to talk to others about your organization. 
Give them templates they can use to reach out to their friends and family via email or text and don't forget to give them lots of resources like images, fliers, videos and even talking points that they can use in person and on social media. You can also give them a copy of this handy peer-to-peer fundraising tip sheet to get them started!
And if you really want your participants to feel confident and organized, give them one person they can reach out to with questions or for support. If your participants have to jump through hoops to get their questions answered, they'll likely get discouraged and may even stop fundraising!
Have a donor retention plan before your event starts
Peer-to-peer fundraising is great for helping nonprofits expand their reach throughout their local communities (and beyond!). But what happens if you don't have a donor retention plan in place before your event starts? You're likely to lose over half of any first-time donors you've gained!
One of the easiest ways to make sure you keep those donors engaged is to add recurring donation prompts to your donation forms. After all, monthly donors give 42% more in a year than one-time donors, and regularly updating your donation receipts gives you a great chance to keep them engaged by showing them the continued impact their donation is having on your nonprofit's mission.
In fact, updating your event page and social media to show the impact of the funds raised is a great way to keep participants engaged. You can also send out a thank you email or text campaign to thank your supporters and let them know just how vital their participation was.
Already using all these tactics? Check out these 5 new donor retention strategies and increase those retention rates!
Gamify your fundraising event
Fundraising gamification is the process of adding gaming elements to a non-game situation, whether that's elements from video games or live sports. Adding these elements increases engagement by rewarding your fundraisers with small bursts of dopamine (the reward chemical in our brains) the same way playing games does.
You can start by offering your guests a walkthrough of the platform, just as you would provide players the rules for a new game. Qgiv offers a free peer-to-peer tip sheet that you can give to your fundraisers to get them started!
From there, offer digital rewards in the form of badges that fundraisers can display on their personal pages. These badges accomplish two goals: they reward active fundraisers and keep them excited about raising money and they encourage other participants to want to reach the same milestones. For example, nonprofit Holton's Heroes created super fun badges for their #BeaHeroChallenge to encourage donors to "Pose Like a Hero" in support of children who have suffered a life-altering brain injury after birth. 
You can also offer tangible rewards in conjunction with digital awards to really get that excitement going. You can tie the reward to the size of the achievement to encourage people to aim for bigger and bigger rewards. Getting your first donation might get you a shout-out on social media but raising 100% of your fundraising goal might get you a gift card. 
Here are some other forms of tangible rewards you can offer:
Public recognition during your closing event or at a follow-up event

Ribbons or medals

Event merchandise, like a souvenir t-shirt

Raffle tickets

Gift cards

Gift baskets

Goods and services from local businesses

One-on-one tours of your facilities

Special volunteer opportunities
Finally, don't forget the power of a good old-fashioned leaderboard! Not only will your fundraisers want to compete for the top spots, but their donors just might be encouraged to give a bit more if the fundraiser they're supporting only needs $20 to make the top spot.
Be ready to motivate your fundraisers
Many people sign up to be peer-to-peer fundraisers in good faith; they support your mission and want to help! However, not everyone is a natural fundraiser. Some of your fundraisers may need encouragement to get started, while others may get discouraged if they don't raise as much money as they want as quickly as possible.
Being prepared to address these concerns is the best way to keep your fundraisers going! Call out their successes (even small ones) on social media and don't forget to show your fundraisers the impact their efforts will have on your mission.
Texting and emails are other great ways to motivate your participants. What's better is that you can schedule check-in emails and texts to go only to your fundraisers (instead of your entire list) at key points throughout your fundraiser. For instance, you may send a welcome email after people sign up to be a fundraiser but you can send a follow up to that email the day before fundraising starts with some tips and templates to help them start their fundraising off with a bang.
Keep those tips and encouragement going throughout your fundraising and it will be no surprise when you meet (or even surpass) your fundraising goals!
Prompt donors for recurring donations
A big struggle after a peer-to-peer fundraising event is retaining all the new donors you've gained. However, one quick addition to your forms can make a big difference—a recurring donation prompt!
Monthly donors tend to give more than one-time donors (42% more a year, in fact). Their commitment to a regular donation amount also helps you plan your budget better. Plus, you'll get the opportunity to update your email receipts every month with all the impact your recurring donors have on your mission.
Such a simple change is probably already included in your fundraising platform. You just have to turn it on and use it. How often can you make that big of a difference in your fundraising efforts for less than five minutes of work?
Market your fundraiser
Last—but most certainly not least—you'll need to market your fundraiser. Whether you're looking for more fundraisers or more donors (or both), you'll want to get the word out about your event to achieve your fundraising goals.
First, you'll want to figure out where your existing fundraisers are and begin there. Did your fundraisers mostly congregate on Facebook last year? Then start there! You might even think about creating a Facebook group for this year's event and invite past peer-to-peer fundraisers to share their tips and tricks with newer fundraisers. 
Or, if your fundraisers preferred to keep their fundraising info organized in their email, you might focus on an email campaign that starts with inviting last year's fundraisers to sign up for the new event.
From there, you can further segment your lists to find both new supporters and new donors. The reality is that the number of ways to market your event is as limitless as your imagination. If you need some ideas to get you started, check out this peer-to-peer marketing guide for fundraisers!
Final thoughts
Peer-to-peer fundraising can be extremely rewarding for you and your fundraisers alike. Whether it's busy schedules or social distancing guidelines, supporters haven't had that many hands-on ways to support their favorite nonprofits this past year. Try a peer-to-peer fundraiser to give your supporters a fun and engaging way to support your mission and learn more about it!
If you need additional resources, we hope you'll find these articles quite helpful:
Author: Candace Kassman is the Digital Marketing Manager at Qgiv, a company that's dedicated to building powerful fundraising tools that empower nonprofits to achieve their mission. She's been involved in nonprofit marketing for over a decade, and helping nonprofits achieve their fundraising goals is one of her passions.

Latest posts by Aly Sterling Philanthropy
(see all)