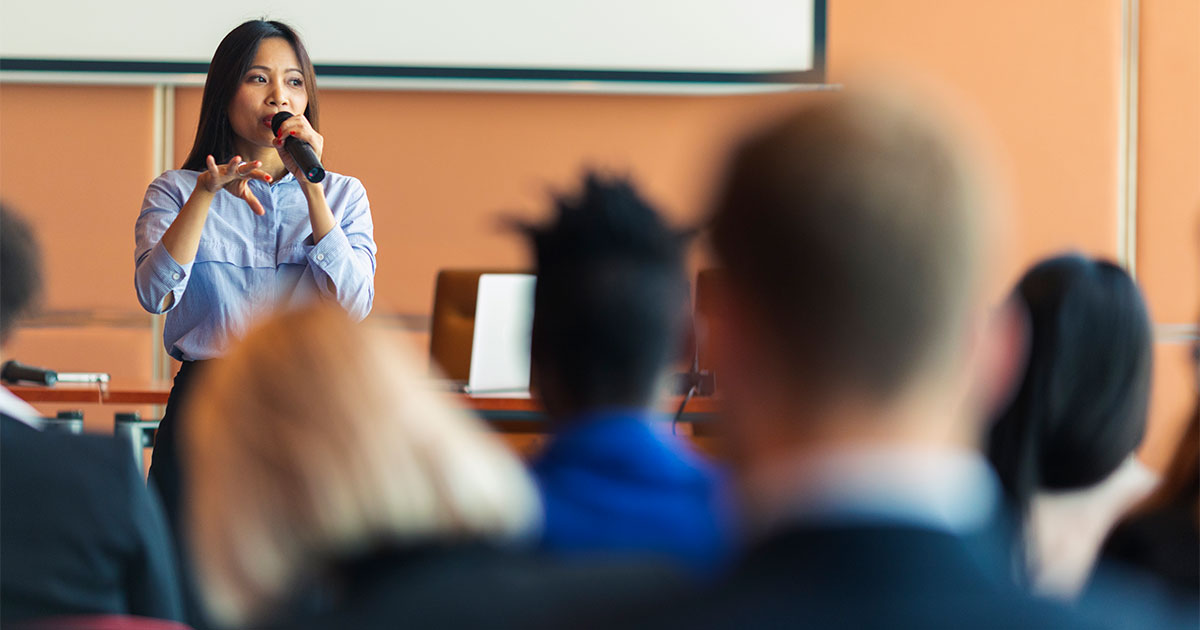 "According to most studies, people's number one fear is public speaking. Number two is death. Death is number two. Does that sound right? This means to the average person, if you go to a funeral, you're better off in the casket than doing the eulogy." 

—Jerry Seinfeld
If you identify with this quote, you're not alone.
According to the National Institute of Mental Health, public speaking anxiety (glossophobia) affects about 40% of the population. The underlying fear is judgment or negative evaluation by others.
So, now that we can name it, what can we do about it?
Enter Emily Croak's ten transformational tips for helping YOU shine in front of a group.
1. You Are Not a Robot
News flash: you're a human being! So, act like one! Your audience connects with YOU before they connect with your content/presentation.
For that reason:
How you introduce yourself is important.
Play to your strengths – bring your true self to the presentation and don't try to be someone you're not. This includes cracking all the Dad jokes… if that's not your forte, maybe just don't? 😊
2. 

Say It with Me… Body Language!
According to psychologist and communications expert Dr. Albert Mehrabian, the three core elements of effective face-to-face communication are nonverbal behaviors (body language), tone of voice and spoken word. As a matter of fact, Mehrabian says that body language accounts for 58% of communication, followed by tone of voice (38%) and spoken word (7%) – what he calls the 7-38-55 rule.
When speaking, consider how you're using the following:
Eye-contact
Stance/movement
Hand control
Voice
3. Establish Ground Rules
Take a few minutes at the beginning of your presentation to establish ground rules (your audience will appreciate the parameters!), such as:
Where is the bathroom? Will you provide a break?

Can phones/laptops be out, or should they be put away?

Will you send out the PPT after-the-fact or should participants take notes?

How long will you speak?

Will you allow time for questions after the presentation, or can the audience ask questions during the presentation?
4. The

Perfect PowerPoint
Your presentation document should serve as a guide for telling your story. It should not contain the ENTIRE STORY.
A few tips:
Know your audience – what level of information do they want or need?
Keep your presentation clean with simple bullets (and large enough to read!). NO paragraphs. Don't let the slides tell the story for
Provide an agenda at the beginning of the presentation so your audience knows what to expect. Use that agenda to highlight key tips, steps or takeaways.
Don't try to cover too much, you can quickly overwhelm an audience. If they have questions that dive deeper, they can ask!
Circle back on important concepts throughout the presentation. Don't cover them once and expect the audience to retain everything. If your audience leaves remembering 1-2 key points, that's a win!
Use media to make your point – digital, videos, cartoons, photos, etc. – but…
Don't overpower your message with branding and media. Keep it simple and consistent.
5. Engage Your Audience
It's not solely on you to pull off a great presentation. The audience needs to work with you.
Use the following tools to engage your participants.
Discussion questions (partners, small group, large group)

Small groups

Mentimeter

Live polls (word clouds, etc.)

Q&A
Some presenters are nervous to engage their audience, for fear they may be asked a question they can't answer on the spot. That's ok! Just let your audience know you'll find out and get back with them.
6. Head + Heart = WIN
When people see the world a bit differently after your presentation, you know you've been successful. The best presentations combine the heart (stories, motivation, etc.) with the head (data, research, etc.) to help the audience grasp a topic's importance.
Consider the following:
Use your own stories/examples or borrow them from someone else!
Don't go data-crazy unless it's required!
The most important parts of your presentation are the first five minutes and the last five minutes.
How are you going to immediately engage your audience?
How will you establish yourself as a subject-matter expert?
What do you want them to leave with at the end?
7. Go With the Flow
Making it look easy takes practice and a relaxed vibe. Consider the following: an intentional connection with your audience.
Practice to the point where you can deliver the presentation without needing to read the slides.

Use the slides to guide the flow of the "conversation" with your audience.

But don't memorize every word of your presentation!

If you're too prescribed or formulaic, you lose the opportunity to interact with your audience.

For presentations that include complex ideas, take pauses throughout to do a gut-check. Ask the audience if they're following and if they have any questions. Don't wait until the end!
Practice in front of your friends and family and ask for candid/critical feedback.
8. Find Your Friends
Find 2-3 friendly faces spread throughout the room. You know, those people who smile and nod right back at ya!
During your presentation, have a "conversation" with them – you're talking to friends! Making eye contact with them will help with your energy and cadence, and let you discern whether you're speaking too quickly or slowly, too loud or soft, etc.
9. Um…Avoid Filler Words
While you rehearse your presentation, pay attention to how/if you fill natural pauses with awkward filler words. You know the ones… um, like, right… 😊
Along those lines, silence is ok.  We promise! It gives your audience a chance to process the information.
Also, avoid "corporate jargon" or buzzwords unless they are absolutely critical to understanding the topic.
10. Breathe!
It's normal to be nervous – your audience expects it. Use deep breaths and even pause to take a drink of water. It's ok for your audience to see the human behind the brilliance of your presentation.
Finally, it's important to remember that even seasoned public speakers and performers get nervous. They have moments of doubt and stage fright, and sweat through their shirts, just like the rest of us.
The difference between them and us, however, is practice and preparation. By using Emily's ten transformational tips for public speaking, you can learn to how to shine in front of a group – or maybe just dread it less.