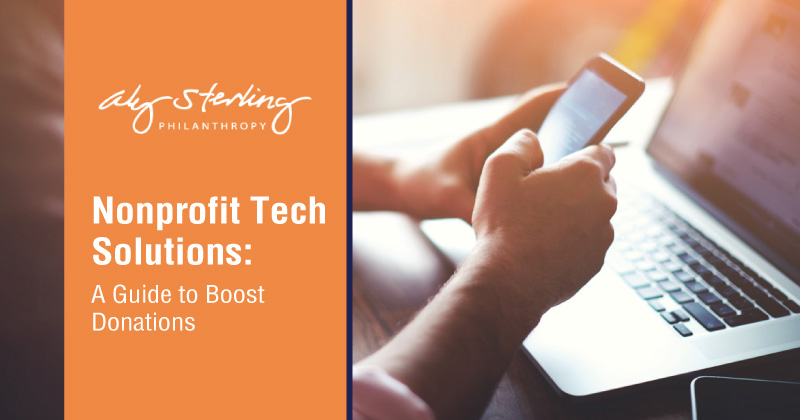 Your nonprofit relies on donations for everything you do. From the smallest operational cost to the largest capital campaign project, using donations to fund your organization's mission is key to nonprofit success. So why wouldn't you want to boost donations to your nonprofit as much as possible? To start boosting donations, start with a solid fundraising strategy.
Whether this means boosting your existing strategy, or forming one from scratch, you should have an effective strategy for any campaign your organization decides to launch. Consider hiring a fundraising consultant to help you finalize your strategy after you've done some initial research, such as reading a tech guide to boosting donations!
Software is designed to help you, but buying fundraising software can seem like a tricky business. There are so many options out there and different types to choose from. You may decide you need a better tech solution to effectively store donor data, new online donation collection software, or maybe research software to find major gifts. No matter what, here are some tech best practices to keep in mind while formulating your fundraising strategy:
Maintain an organized donor database.

Use effective online fundraising promotion techniques.

Look for available integrations.

Set up multiple online giving platforms.

Finalize a strategic calendar.
Technology is designed to help, not hinder. Make sure you are getting the most from your software solutions to maximize your fundraising efforts. Let's dive in!

1. Maintain an organized donor database.
One of the best tech tools at your disposal as a nonprofit is your donor database. Effective storage for all of the donor data you collect is essential for the donor outreach and retention portions of your fundraising strategy. Reaching out to new donors can be a risky business. Only some of them will get back to you, and those who do are probably only loosely invested in your cause. Their first donation may be considered an "interest" donation.
But the more contact they have with your organization, the more invested they'll become, and the more they're likely to give. Building donor relationships is, therefore, incredibly important to increasing donation amounts. And you can start building relationships with effective donor database measurements. You should have access to donor database software with accessible organization methods that will help you stay on top of all of your donor information. For example, make sure to look for:
Historical donor timelines.

Instead of searching through cluttered giving and engagement lists within your database, a timeline accurately and effectively organizes the engagement of individual donors by their most recent communications. This allows you to reach out to those who haven't engaged in a while.

An interactive dashboard.

Comprehensive dashboards enable your organization to get a good overlook of your current fundraising campaigns and donor retention. With this overview, you can quickly see what elements of your campaigns could be strengthened.

A powerful reporting engine.

Being able to quickly and easily generate segmented lists of constituents based on various factors is critical to targeted and personalized outreach. Spending too much time trying to generate reports takes away valuable fundraising time, so be sure you have a software solution that makes this process as simple as possible!
When you have access to the right organization opportunities within your donor database, it's that much easier to maintain your stored data with minimal upkeep. Once you've built a relationship with your donors using the neatly organized information in your database, you can reach out to them for mid-tier to major gifts for your larger campaigns. If your database doesn't offer these types of features to ease the use of your data, you may want to consider looking for a new solution. Start your research with re:Charity's list of the top CRM software for nonprofits.

2. Use effective promotion techniques.
Just as important as reaching out to the best people for donations is reaching out with the best promotion techniques. Perfecting your campaign promotion can dramatically boost your fundraising efforts. There are several ways to reach out to your donor prospects for your next fundraising campaign including direct mail, email, phone calls, etc. The first step to effective fundraising promotion is making sure you have the best method of outreach for the prospect.
Look at the prospect's past methods of communication to see what channel they will likely prefer to use for your outreach strategy. If they have given through direct mail in the past, they'll likely prefer you to reach out using this method too. If they have a high average open rate and click-through rate for your email newsletters, they may prefer you use this channel instead. Once you've decided how to reach out to your donors and promote your campaign, you can start employing some best practices for formatting your marketing material:
Use compelling visuals.

Effective images related to your fundraising campaign or project will evoke sympathy in your donors. You can also use video for online outreach if it's available to you.
Tell an emotional story.

Who doesn't love stories? Storytelling techniques help your nonprofit supporters feel motivated to donate to your organization. Use plenty of imagery and pathos to evoke sympathy in your donors.
In addition to your direct outreach to promote your campaign and ask for donations, you can use fundraising to promote more fundraising. How? Leverage existing supporters to administer peer-to-peer fundraising and crowdfunding that reaches new supporters in the time leading up to your fundraising event. For long-term campaigns, short-term smaller campaigns leading up to it will help your organization get a boost in small donations and reach out to new interested donors for the future. Host an event, then use peer-to-peer fundraising and crowdfunding to fuel your social media and reach more people through the networks of existing supporters.

3. Look for available integrations.
Software integrations make it easy to flow information from one platform to another with minimal effort on your part. This helps your organization to more easily track and promote fundraising efforts. For example, if your donor database integrates with a prospect research platform like DonorSearch, prospect research becomes that much easier. In a single software system, you can look for indicators that a supporter will be interested in contributing a major gift to your organization.
Check to see if your current fundraising software has integrations available with other software in the field. Specifically, check to see if your donor database integrates with other software solutions. Because this is where you store information anyway, it's incredibly helpful to have data flow directly into the database from your research software or online donation tools. If you are looking for new software solutions, make a list of the features you want the software to have. Then, look for these features in the software as well as in the provider's integration partners.

4. Set up multiple online platforms.
Online donation platforms are no longer an optional addition to your software arsenal in order to establish an effective fundraising strategy. But even so, there are quite a few platforms on which your donors can give to your organization. Make sure you have multiple channels of giving available to your supporters. Different supporters will have different channels of giving they are more apt to give to. Therefore, it's important to make sure you have options to choose from in order to appeal to the greatest number of donors. Some of the online fundraising platforms your organization can set to set up include:
An online donation page.

A peer-to-peer fundraising page.

A crowdfunding campaign.

Mobile giving.
Each online fundraising platform serves a different purpose and audience depending on how it may reach that person. For example, an online donation page is reached through your organization's website. Meanwhile, people are likely to run across a crowdfunding campaign on their social media feed.
Therefore, social media visitors are more likely to donate to crowdfunding campaigns than non-social media users. When you design the online giving platform, keep in mind the audience you're appealing to. Then, you can craft the appeal using best practices for that targeted audience. Once you've opened up a new channel for giving, keep track of your donations that come in from that platform. After a year, check the proceeds your organization earned through that platform against the cost of the software itself. This reassessment of your software should be completed each and every year, but especially after you obtain a new software solution.

5. Finalize a strategic calendar.
After you have all of the best software solutions to prepare for fundraising success, make sure you make the best use of this software throughout the year for your various campaigns. Your annual calendar is key to successful campaigns. For instance, if you host an annual fundraising event, you probably wouldn't want to host another event a week later.
You need time to recuperate and plan just as much as your donors need a cooling off period to process the amount of fun they had at your annual event. Not only this, but there are certain times of the year during which donors feel particularly more generous. The end of the year is one of these times. Between #GivingTuesday, the season of giving, and upcoming tax returns, people tend to give more towards the year's end. Take advantage of this with a push for donations during this time! Of course, your calendar will include more than simply your year-end plans, but planning around holidays and the school year is an important aspect of your calendar.
Some other helpful tips and tricks to keep in mind include:
Avoid fundraising overlap.

Provide your staff with the calendar.

Keep to your hard deadlines.

Use data to support campaign timelines.
Walk through your calendar with a fundraising consultant. Share this calendar online with the rest of your staff, whether that is through email or another software platform. The more eyes you have on your calendar from your staff members, the more likely you are to find any missing elements from it. A great year of fundraising stems from great planning ahead of time.
So be sure to keep to your calendar and fundraising strategy the best you can! Tech solutions are designed to help nonprofits, not to hurt them. When you sign a contract with a provider, don't be afraid to ask them questions about the software itself and how you can use it to its fullest potential. With this beginner's guide, you have a great head start incorporating tech into your fundraising strategy, but keep diving into more research to make this strategy the best it can be!
Author Bio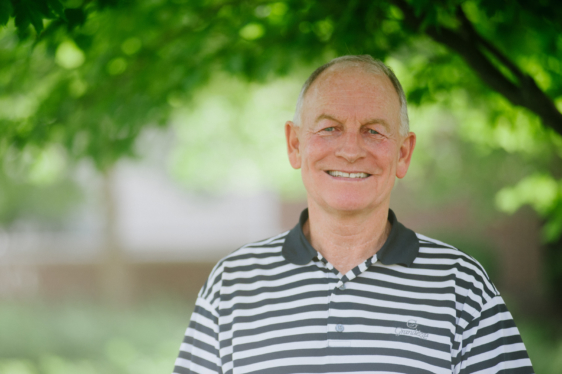 Jay B. Love is a Co-Founder and current Chief Relationship Officer at Bloomerang. He has served this sector for 33 years and is considered the most well-known senior statesman whose advice is sought constantly. He is a graduate of Butler University with a B.S. in Business Administration. Over the years, he has given more than 2,500 speeches around the world for the charity sector and is often the voice of new technology for fundraisers.