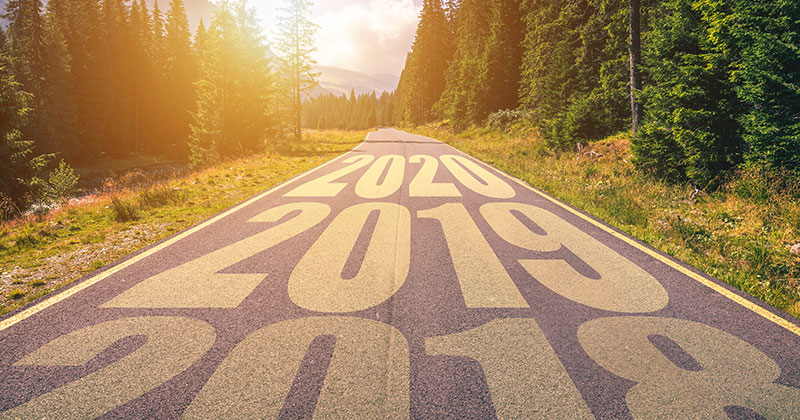 By Jen Pendleton, guest author
Great nonprofit leaders, whether board or staff members, know when to pull out their crystal balls and anticipate what might be around the corner.
However, if you've been pressed for time during this busy season, take a shortcut and borrow our predictions. In order to aid your planning and strategic discussions, here are Aly Sterling Philanthropy's top 5 predictions for biggest philanthropy trends for 2019 and beyond.

Generational differences in giving stand to impact your mission immediately and directly.
This is the first time ever that we're seeing four distinct groups of donors giving and it means fundraising success will rely on our ability to develop targeted strategies for all. This is a challenge and an opportunity for nonprofits.
The deepest pockets are mature donors who give more per capita than any other generation.
With the exception of Baby Boomers, since 2013 each generation has seen a decline in the percentage of cohort members who say they give to charity.
Baby Boomers give 41 percent of all donations given and control 57 percent of wealth in the U.S.
GenX and millennials will be "the most significant philanthropists in history" because of the estimated $59 trillion in wealth that is currently being transferred to them.
Only 9 percent of modern donors said material sent by the charity, such as direct-mail and email solicitations, triggered their gift.
So, what do I do?

Tip: How well do you know your donors? Can you estimate the percentages of generations that give to your organization, even if it's an educated guess? Have an internal discussion about where the biggest opportunities for your organization might be generationally and develop new strategies surrounding these opportunities.

Those who cultivate the overlooked "donor next door" will reap short and long-term rewards.
The "donor next door" is the middle-donor segment that is often overlooked as nonprofits focus on giving at opposite ends of the spectrum through annual fund/events and major gifts.
However, middle donors can be the life-blood of your organization if you create an engagement process for your organization. GenX is the primary focus right now for this "middle-donor" group.
Programs that target middle donors are important fundraising engines today and key to developing pipelines for major gifts tomorrow.
This may be because retention rates are significantly better for people who make midsized gifts than for smaller dollar donors, whose numbers continue to decline. In a recent study, the Association of Fundraising Professionals recently reported a retention rate of close to 47 percent for first-time donors giving $250 or more, compared to 18 percent for those giving under $100.
So, what do I do?

Tip: Run a database report of your "middle donors" and analyze the findings. How many give consecutively? Call them and ask to meet for coffee to learn more about their loyalty, why they give and their potential interest in being more engaged with your organization.

Donor-advised funds (DAFs) are enormous and growing sources of funding for nonprofits with all types of missions.
High net-worth individuals are changing how they interact with nonprofits. They're putting their money in DAFs, looking for responsible ways to invest, and looking for the ROI.
Fidelity Charitable collected $8.5 billion last year and saw new donors grow by 83 percent.
At least six U.S. foundations are directing almost all of their grant dollars to one or more national donor-advised funds (DAFs).

During FY2014 to FY2016, the five largest DAF holding organizations received more than $737 million in foundation distributions, while 557 foundations made at least one grant to a DAF.
So, what do I do?

Tip: Do you have a relationship with your local community foundation and investment banks?If not, get to know them. These entities hold DAFs and you'll want to make sure your organization is on their radars for charitable gifts.

Newly wealthy donors are seeking social change and investment in non-traditional forms.
High net-worth donors are not just giving to nonprofits for social change, they're looking to start-ups, think tanks and collaborative efforts to make a difference.
Newly wealthy donors are eager to experiment and won't reflexively support nonprofits if other methods seem more promising. Consider the Chan Zuckerberg Initiative, which is not a 501c3 but rather an LLC that's donating company shares to nonprofits as well as social-minded businesses and political entities in an effort to support the partnerships that are truly needed for large-scale change.
In order to get noticed, nonprofits need to communicate their results and key partners, and focus on how financial support of their work can change lives and improve communities.
So, what do I do?

Tip: Are you measuring the impact of your work? If not, it's not difficult to start. Pick a few key areas to benchmark and begin tracking. If you do measure, make sure you are communicating results and action-orientated examples with all audiences (and generations) via print and digital channels.

Digital media and online giving platforms are growing in influence and here to stay.
This requires more than a donate button. Nonprofits need to engage with potential donors via social media and digital channels where impacts and storytelling reign supreme. Digital media and giving platforms are and will remain the primary venues for engaging with (soliciting donation from) generations X, Y, and Z.
In 2017, Giving Tuesday – which is conducted largely online – saw a 55 percent increase from 2016.
GoFundMe received one billion visits from 491 million users during 2017.
Donors on GoFundMe skew younger, more mobile-conscious and of modest economic means.
Giving via PayPal increased 19.4 percent from 2016 and more than 1 in 5 donations was made on a mobile device in 2017.
So, what I do I do?

Tip: Ask friends/colleagues of a few different age groups – with limited understanding of your mission – to explore and critique your website from their computers and their phones. Ask for feedback about the clarity of your message as well as the easy of using your technology. Take their feedback to heart and make some changes.
If this seems like too much to take in at once, never fear. These are long-standing trends that will be around for some time. Have a strategic discussion about which should be YOUR focus for 2019.