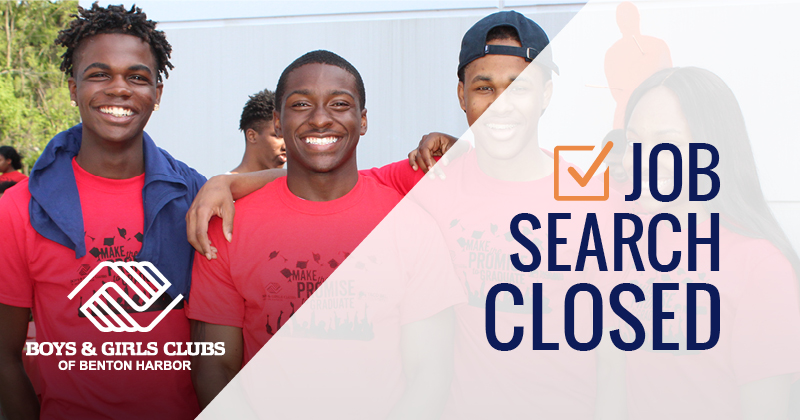 Boys & Girls Clubs of Benton Harbor Seeks Resource Development Director
About the position
The Resource Development Director will work to continuously improve and drive a comprehensive, sustainable resource development process that achieves the strategic goals for the Boys & Girls Clubs of Benton Harbor. The successful candidate will work with the Chief Executive Officer, Club leadership team, and Board of Directors to plan and direct resource development initiatives with the objective of increasing and diversifying sources of funding consistent with the growth strategy of the Club, through implementation of the Benevon fundraising model.
The position has supervisory responsibilities for the Benevon Core Team and is primarily responsible for cultivating and soliciting gifts and grants from individuals, corporations, foundations, government agencies, the United Way, and other funding sources.
About BGC of Benton Harbor
For 20 years, the Boys & Girls Clubs of Benton Harbor has been helping kids aged 6-18 create great futures. In addition to recreational and extracurricular activities, the Boys & Girls Clubs of Benton Harbor provides after-school tutoring to put kids on a path for academic success, mentoring to guide members to create good character and leadership, and proven programming for youth to engage in healthy lifestyles.
About the Benevon Fundraising Model
benevon.com
The Benevon Model was selected by Boys & Girls Clubs of Benton Harbor as the best strategic option to increase and diversify sources of operating funding. We are participating in the second year of a five-year commitment with Benevon. This commitment will drive all aspects of our resource development process since Benevon is designed to build long-term relations that continuously enlarges and develops a base of donors who are engaged, knowledgeable, and supportive of the organization's mission. Discipline to follow the tightly-crafted process of donor engagement is critical to creating a high performance culture of philanthropy to sustainably fund future operations.
Reports to: Chief Executive Officer
Location: Benton Harbor
Hours: Exempt, full-time
Compensation: Based on experience, generous benefits plan available
To Apply:
Please submit a cover letter, resume and three professional references in one document to:
Stacy Anderson
Senior Advisor
Aly Sterling Philanthropy
stacey@alysterling.com
Only applications submitted via email will be considered.
Key Responsibilities
Leadership
Provides functional leadership to the Chief Executive Officer to manage and grow the strategic goals of the organization through the Benevon Sustainable Funding Model and accomplish all resource development and marketing activities.
Acts as liaison to provide administrative and functional support to the External Affairs Committee of the Board of Directors. Creates relationships with board members while seeking policies and opportunities to engage the board in the overall fundraising strategy.
Develops and maintains a detailed donor database (Donor Perfect) and process
to appropriately acknowledge and steward all cash and in-kind donations.
Develops long term, healthy and productive relationships with all internal stakeholders and departments. Is responsible, along with leadership, to advance and grow the existing internal culture and commitment to philanthropy.
Creates effective systems for sharing information, case successes, and financial/outcome data.
Participates in the overall leadership succession planning process with opportunity for advancement potential within 2-3 years, upon retirement of the current CEO.
Overall resource development
Fully embraces and implements the Benevon Sustainable Funding Model over the next three to five years.
Creates, cultivates, and maintains new resource development opportunities
and strategy to drive a rapid and sustainable increase in funding from individuals, corporations and foundations.
Manage the cultivation and stewardship of all prospect, cultivation, solicitation,
and stewardship priority lists and strategy for the organization.
Marketing and communication
Develops and manages the Clubs' public image to effectively communicate mission, objectives, and accomplishments to members and their parents, instructional staff, donors, volunteers, the general public, and other key stakeholders.
Leads (in partnership with local advertising agency) the development of a comprehensive marketing and communication program, including development
of print and web-based material that encourages donor investment and engagement.
Creates specific communications targeted to a variety of internal and external stakeholders.
Manages process to continuously research and analyze opportunities to elevate the Club's accomplishments and objectives within the community and nationally. May include awards, conference presentations, and publishing.
Position Requirements:
Bachelor's degree in sales/marketing, business or related field.

Minimum of 5 years of experience in fundraising, marketing, sales, communication, or transferrable employment skills (philanthropy-based experience preferred).

Advanced computer literacy, social media expertise, and data analysis ability required; knowledge of DonorPerfect software preferred.

Experience with Benevon Fundraising Model preferred.

Supervisory and leadership skills; ability to work as a member of  the leadership team to help define and align resource development objectives with overall strategic and organizational goals.

Excellent verbal and interpersonal skills, including public speaking.

Track record of building and maintaining strong and long-term relationships.

Must demonstrate attention to detail, strong time management and organizational skills.

Must possess a "self-starter" mentality.
The information presented in this document indicates the general nature and level of work expected of employees in this position. It is not designed to contain, or be interpreted as, a comprehensive inventory of all duties, responsibilities, qualifications, and objectives required of employees in this position.

Latest posts by Aly Sterling Philanthropy
(see all)