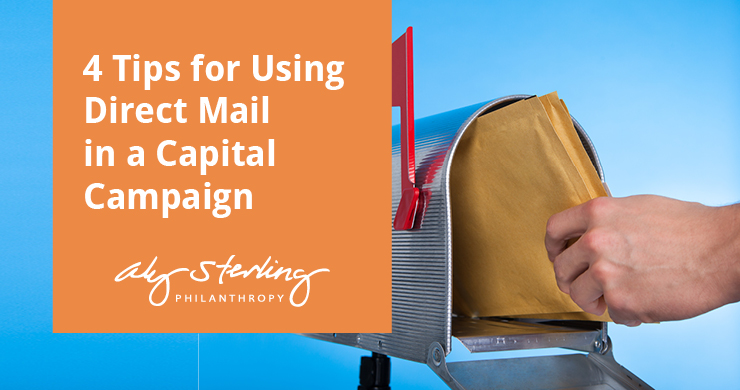 Even in a digital age, direct mail still forms the backbone of nonprofit fundraising. There's nothing quite like putting a tangible item in a potential donor's hands, reminding them of your organization and the importance of your cause. 
Plus, not only is direct mail a fantastic way to solicit donations, but it also is effective in raising awareness for your organization—making it perfect for a capital campaign.
Capital campaigns are intense fundraising initiatives that seek to raise a specific dollar amount within a defined period of time. They often fund the development of tangible projects like new buildings and renovations, or even increasing endowment. 
Because of the scale of a capital campaign's goals, they typically require large donations and can require multiple years of planning and execution to achieve. This is where direct mail strategies become important. Direct mail has one of the highest ROI compared to other fundraising channels, so one thing is clear: If you want to take on a capital campaign, using direct mail to reach out to and target your donor base will maximize your success.
There's a lot of effort that goes into creating a successful capital campaign, but don't stress—the team at GivingMail is here to help. Keep reading to get some key tips regarding direct mail strategies in your capital campaign. Here's what we'll cover:
Are you ready to learn how to incorporate direct mail into your future capital campaigns? Let's dive in. 

1. Create a detailed plan ahead of time
A detailed fundraising plan can help your team identify your goals and determine how to achieve them. There are many aspects of a good fundraising plan, but the components all stem from your initial goals. These can be organized in a goal chart that lays out objectives as well as potential challenges associated with these goals. 
Your detailed plan should also address budget and timeline, ensuring that you ask for donations at the right time and stay on track to reach your goals by the conclusion of your campaign. A calendar matrix can identify team members and their corresponding roles, which will help break down your capital campaign into more manageable small tasks. 
Your plan should also incorporate a case for support that gives potential donors every reason to support your capital campaign. Plan to demonstrate appreciation for your donors and emphasize the value they have to all that your organization can achieve. 
However, one of the most important aspects of your plan will need to address how to ask for donations. You should keep these three questions in mind:
How are you asking for donations?

What are you saying?

Who are you asking?
Your goals and challenges—above all else—should be oriented around your donor base and their giving behavior. That way, you can identify the people who are most reachable by your campaign. 
With the donor in mind, you'll be able to establish a well-organized fundraising plan that guides your team toward tackling your objectives with ease. Then, you'll be ready to send your direct mail appeals in no time!

2. Seek guidance from a fundraising consultant
Especially if this is your first capital campaign, a fundraising consultant can be a helpful asset that offers unparalleled advice and guidance for your initiative. Consultants can help you through each and every step of your planning process, reducing stress and allowing you to direct your focus toward your goals. 
As you already know, capital campaigns require a lot of planning and continuous effort. Consultants can help conduct key steps of your work, such as a feasibility study. They bring an outsider's perspective with an eye for detail that can spot any weaknesses in your planning and help close up these gaps. 
If you do plan to enlist the help of a capital campaign consultant, though, make sure to introduce the consultant to your team and your organization in advance. The more they understand your goals and the values of your organization, the better they can guide you and your campaign to success. 

3. Leverage your donor management software
Direct mail and other capital campaign strategies can be used effectively in tandem with nonprofit database software. This tool is also commonly known as donor management software, and it contains data about your donors and the way they interact with and engage with your organization. 
Donor management software is a helpful tool that functions to track your donor relationships, store important information, and guide you with insights that help you better understand your long-term supporters. You can use data about specific donors such as their average gift size or frequency of donations to create hyper-customized appeals and maximize your return. Donor management software will also allow you to identify your top donors, allowing you to cultivate strong relationships with these individuals. 
Especially because capital campaigns operate on a large scale, you won't be able to conduct day-to-day operations manually. Thus, donor management systems can help by automating donor segmentation to craft targeted appeals with greater chances of a response. However, even with this automation, you won't lose the personal touch that fosters close relationships with your supporters. Donor management software can actually provide helpful insights and boost each interaction with donors, such as sending automated, yet personalized "thank you" messages immediately after a gift is given. 
Most importantly, a long-term capital campaign offers the opportunity to track potential improvement in real time—and you don't want to miss out on that. Donor management software can provide analytics that help you to continuously improve your fundraising efforts as your capital campaign is in progress. 
When choosing a nonprofit database, invest in options best suited for the work you are trying to do. If you're looking to conduct a capital campaign heavily supported by direct mail strategies, for instance, then select software that incorporates direct mail fundraising in your strategy like GivingMail CRM. 

4. Work with a direct mail platform
It's no secret that nonprofits have limited time, resources, and money. The more time you can devote to thinking about your cause and your organization's goals, the better set up you will be for success with your capital campaign. To maximize this, you'll want to consider working with a direct mail platform.
Direct mail platforms can help ease the responsibilities associated with a capital campaign. They'll take care of tasks like printing, packing, and mailing your appeals, allowing you and your team to shift all of your attention toward your cause. 
With this saved time, effort, and money, you can reinvest more into your mission. Direct mail platforms ensure that every choice you make is best for your cause—and they have the years of experience and expertise that can foster your success. All you have to do, then, is relax and focus on the wider scope of your plan and goals. 
A capital campaign can be daunting at first, but hopefully, this guide helped you understand the smaller tasks required to jumpstart your fundraising initiative. Remember, while all of these tips can be helpful individually, they are most effective when considered simultaneously. Your fundraising consultant, donor management software, and direct mail platforms will operate smoothly when used together, and they should all be coordinated with your overall fundraising plan.
Every organization's mission is different, and the plan of action for your capital campaign will differ from those of other organizations. The benefit of using direct mail and its associated strategies is that it is infinitely flexible—you can easily adjust your approach to fit your objectives. Investing in these aforementioned tools can lead you to success with your capital campaign and future enterprises that use direct mail. All that's left to do is for you and your team to get started using direct mail to bring your capital campaign to life. Good luck!
Grant Cobb
Grant Cobb is a fundraising specialist with over 6 years of experience in the nonprofit space. Currently the head of marketing and analytics at GivingMail, he is a huge proponent of data-driven decision making and the push to bring high-level analytics and fundraising to all.

Latest posts by Aly Sterling Philanthropy
(see all)