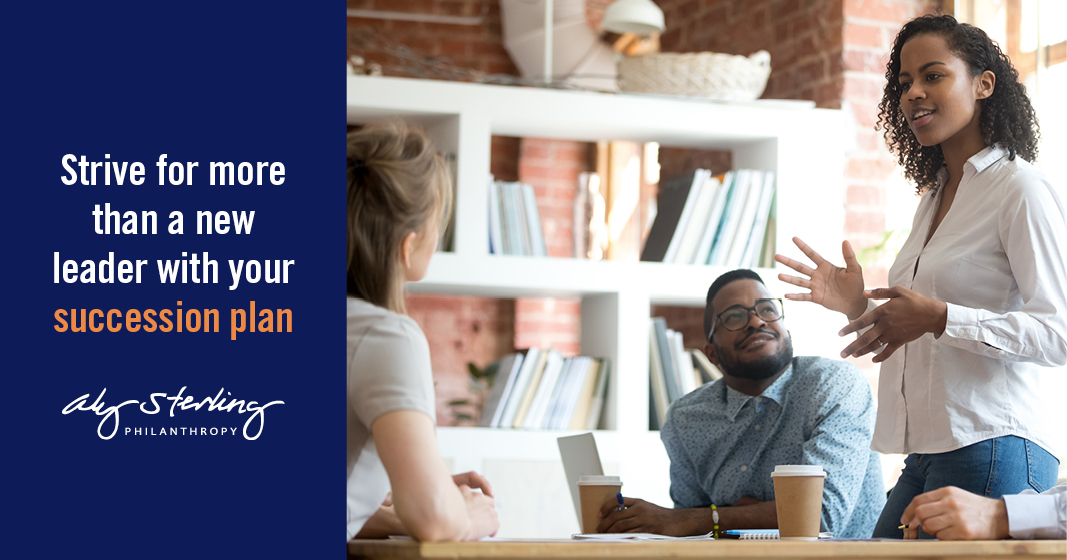 By Jen Pendleton, guest author
At a recent session of our popular board development workshop, The Board Series, one of the hot conversation topics for nonprofit leaders was succession planning.
That's right. They wanted to talk about how to best groom the next generation of leaders for their organizations.
The timing is certainly right for this discussion. Most of us have noticed the generational shift in our donor bases – but are we paying attention to the same transition in our staff and board? And if so, are we preparing for it in a proactive way that benefits our missions?
First it takes identifying potential next leaders. This means looking for people who can lead your organization with its new challenges and opportunities into the future. This includes its new technologies and needs. Succession planning is not just about filling a position but setting a future course.
Nonprofits are well-advised to include the entire leadership team in their succession plans – not just the executive director. While the ED is a key position, it should be designed to share duties and information with other leaders so that keys to vital functions and institutional knowledge are not vested in one person. Now is the time to build a leadership team and repository of information to carry the mission through any changes in staff. Even the loss of a beloved founder or executive director.
At Aly Sterling Philanthropy, we define succession planning as the process of creating a proactive and clearly defined strategy to prepare for and carry out the inevitable changes in leadership faced by every organization.
When working on a succession plan, our goals are 1) to ensure your organization continues to operate through the transition and 2) to position your organization to thrive under new leadership by gaining needed perspectives and skill sets.
Succession planning should address the following:
Coverage of key essential duties during the emergency or planned departure of an executive director/CEO and other key staff members. This is especially critical in smaller organizations.
Often passwords for key accounts and vital business operations are in the hands of one person. If that person is inaccessible for any amount of time, it can cripple an organization.
Staff transition due to the emergency or planned departure of an executive director/CEO and other key staff members.
Volunteer leadership transition due to the emergency or planned departure of the board chair and other essential officers of the board.
The best way to prepare for board turnover is with a strong board recruitment process and pipeline. However, recruiting a board chair can quickly seem like a game of "not it." Consider soliciting the recommendations of members and don't over complicate it. Who do your board members respect and who can get things done? Who is passionate about your organization?
Change is difficult and the thought of losing a beloved (or at least competent) executive director or board chair can send nonprofit leaders into a panic. But if you have a plan, there's nothing to fear!
Help ensure your organization will thrive – not just survive – during a leadership transition. Check out our guide to succession planning for more information and helpful resources.