The Philanthropy BlueprintSM
The Philanthropy Blueprint is part process, part product, designed to elevate your ability to cultivate donors and raise money.
With a Philanthropy Blueprint in place, organizations are well-positioned to successfully grow and sustain their development programs – allowing for a greater emphasis on major and legacy gifts, in addition to diversifying and increasing your event and annual fund donors through strategic stewardship and communications.
The ASP Philanthropy Blueprint Process
STEP 1: Conduct stakeholder interviews
Our engagement begins with stakeholder interviews to solicit the valuable input and perspectives of those closest to your organization – donors, funders, board members, constituents and community partners.
Step 2: Assess culture, infrastructure and results
At the same time, we'll work with you to gather information about your current and past fundraising practices and outcomes and your organizational culture. From your marketing material and case for support to fundraising history and budgets, we'll audit your development program to feed our recommendations for how you move forward.
As part of this process, we'll bring your board and staff together for The Fundraising 360° – a dynamic and engaging workshop where together we explore past initiatives and current programs while providing an overview of the evolution and principles of fundraising as well as new statistics and trends.
Steps 3 & 4: Propose recommendations and create key performance indicators (KPI's)
Finally, we share and synthesize everything learned through the assessment into a comprehensive fundraising plan that provides strategy and actionable steps tailored to your organization's needs and potential, including:
Donor engagement and cultivation system (our signature Donor Engagement Calendar)
Financial target revenue recommendations
Staffing resource allocation and priority initiatives
Sample key performance indicators (KPI's)
Step 5: Educate and implement
Once we've shared your Philanthropy Blueprint and accompanying tools with you, you'll be positioned to start implementing and executing your plan.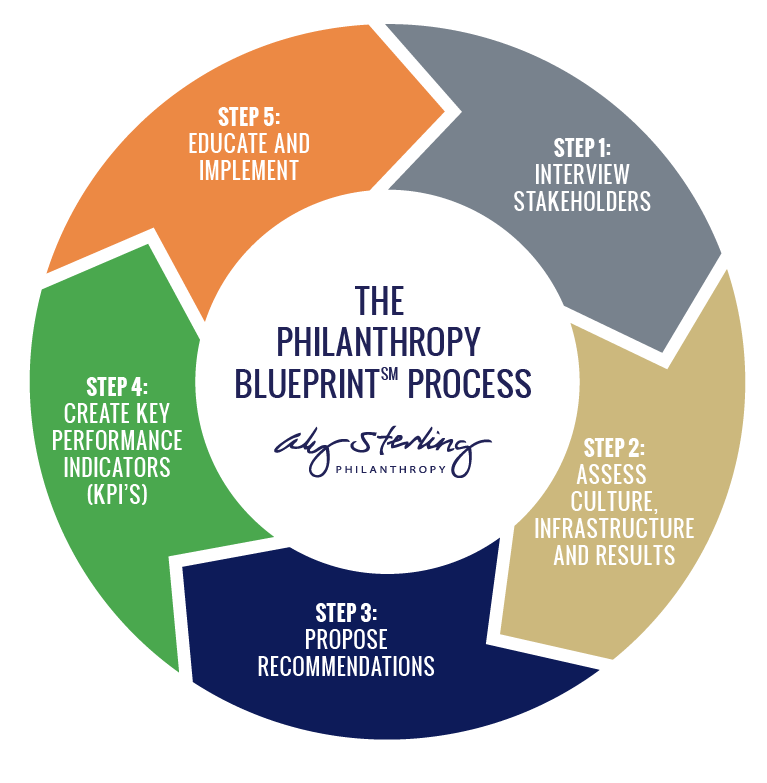 Step 6: Implementation partnership (optional)
Designed to provide just the right amount of expert support for organizations implementing strategic fundraising plans, developing and training new staff and or instituting an accountability system.
Our implementation partnership includes time every week for "what do you think" conversations as well as staff training, executive briefing, board presentations and outcome measurement.
You've made a commitment to high-impact philanthropy. Ensure you stay the course and realize your goals with an implementation partnership with ASP.

"Consultants come and go, but if you're looking for a true partner, an extension of your team, a group of individuals who care deeply about your mission and dive in and roll up their sleeves, then Aly Sterling Philanthropy is the firm."
Benjamin S.M. Nicol, CFRE
Chief Executive Officer | Phi Kappa Psi Foundation


Contact us to find out how to create a Philanthropy Blueprint for your organization.
NEWS & RESOURCES
Sign up for our email newsletter and receive FREE resources, exclusive tips, news and offers!
HAVE A QUESTION?
Contact us for more information about our services and how we can help your mission.