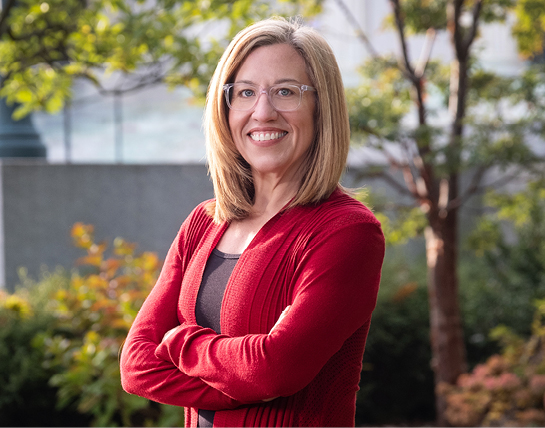 Connect with Jen Pendleton

Jen Pendleton, CFRE
Vice President – Indiana
Jennifer "Jen" Pendleton is a self-described board governance "nerd" who believes sound leadership and strong organizational culture are keys to nonprofit success.
She's also driven to help these leaders identify their nonprofits' unique qualities and roles in the community, with the goal of making nonprofit magic happen and bringing vibrant visions to life.
While Jen is based in Indiana, she works with nonprofits around the country, focusing on the importance of board development and the unique challenges of community foundations.
Before coming to ASP, Jen served as president and CEO of the Community Foundation of Boone County (Indiana), where she led a campaign to raise $1 million in matching funds from the Lilly Endowment for the county's Community Impact Fund.
Prior to Boone County, Jen served as executive director of Kappa Alpha Theta Foundation, a $30 million national education foundation in Indianapolis. There she worked with board and staff to successfully launch the organization's first major campaign in decades. She spent 10 years at Riley Children's Foundation, also in Indianapolis, in a variety of roles including major gift officer and director of the hospital's telethon and events department.
Jen is an avid volunteer who shares her time and expertise freely with a variety of nonprofits. She currently serves as a board member for Exodus Refugee Immigration and is a past-president of the Foundation for Fraternal Excellence, both based in Indianapolis.
Jen holds a bachelor's degree in communications from Ball State University.

"As a community volunteer and donor, I've appreciated Aly's ability to strategically organize and facilitate our fundraising efforts, all while keeping a great sense of enthusiasm and spirit in all that she does."
Richard P. Anderson
Chairman of the Board | The Andersons, Inc., Maumee, OH

Contact us, we want to hear more about you!
* = required
NEWS & RESOURCES
Sign up for our email newsletter and receive FREE resources, exclusive tips, news and offers!
HAVE A QUESTION?
Contact us for more information about our services and how we can help your mission.