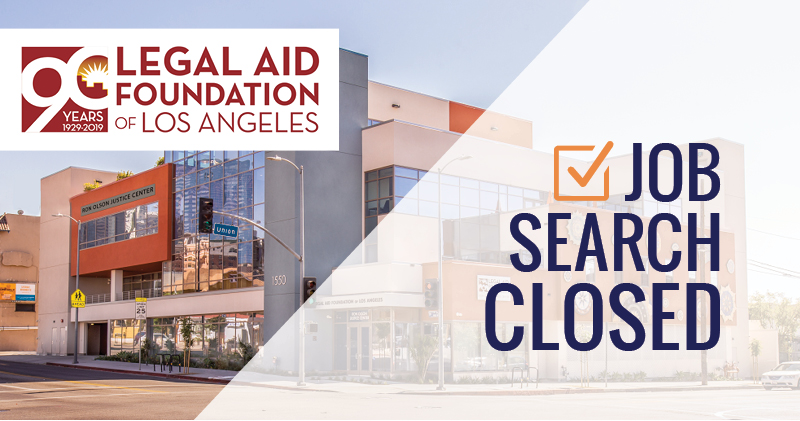 LAFLA Seeks Chief Development and Marketing Director
Legal Aid Foundation of Los Angeles (LAFLA) seeks to hire a Chief Development and Marketing Director who will work in collaboration with the Executive Director and the Board of Directors to design and execute an overall fund development and marketing strategy to provide for the organization's current and future needs.
This position has a strong outward-facing element, with responsibility for stewarding donors and implementing the Access to Justice Dinner, the largest fundraising event for LAFLA with an attendance of over 500 set for September 16, 2020. Internally, the position serves on the senior management leadership team, provides strategy around organizational direction and has supervisory duties.
Mission
LAFLA seeks to achieve equal justice for people living in poverty across Greater Los Angeles. We change lives through direct representation, systems change, and community education.
About Legal Aid Foundation of Los Angeles
LAFLA is a nonprofit law firm that protects and advances the rights of the most underserved — leveling the playing field and ensuring that everyone can have access to the justice system. Every year, LAFLA provides free, high-quality legal services to more than 100,000 people living in poverty across Greater Los Angeles. Our unique combination of neighborhood offices, self-help centers at courthouses, and domestic violence clinics puts LAFLA on the frontlines in vulnerable communities, and at the forefront of change.
Reports to: Executive Director
Location: Los Angeles
Hours: Full-time, salaried with benefits
Rate of Pay: Commensurate with experience
To Apply:
Please respond by submitting a cover letter with salary requirements and resume in one document by end of day Friday, December 13, 2019, to:
Stacy Anderson
Senior Advisor
Aly Sterling Philanthropy
stacey@alysterling.com
Only applications submitted via email will be considered.
Core Responsibilities
Designs and executes overall development strategy including the following core initiatives: Events, Annual Fund, Major/Capital Gifts, and Legacy/Endowment Gifts for LAFLA.
Accountable for coordinating ongoing annual giving strategy and meeting annual fund development financial goals including general accountability targets associated with these goals.
Manages all donor cultivation, solicitation and recognition, including creation of key prospect lists, submission of detailed monthly activity reports, and specific moves management strategies and progress updates.
Manages a portfolio of major key donors and coordinating visits, meetings and events with the executive director, board members and potential gift donors.
Develops and implements a legacy giving program.
Expands and diversifies revenue sources for LAFLA as outlined in the 2019-2024 strategic plan which includes increasing general operation support for LAFLA through grants, individual giving, law firms, Cy Pres funds and potential future campaigns.
Serves as lead staff liaison to board committees on resource development and marketing to implement strategies connected to LAFLA's strategic plan.
Supervises and works closely with a staff of four – grants manager, communications manager, development/pro bono coordinator and grants data associate.
Position Requirements:
Bachelor's degree required; J.D. preferred.
5-7 years of demonstrated fund development and marketing/communications experience is preferred; supervisory and leadership skills a must.
Excellent written, verbal and interpersonal skills.
Highly organized, creative and a self-starter.
Computer literate; knowledgeable of DonorPerfect (or equivalent donor software system) and Microsoft Office products such as Outlook, Word, Excel, PowerPoint.
Must possess skills necessary to efficiently plan and implement activities within policies and procedures; maintain positive working relationship; respect rights of others; demonstrate initiative and accept accountability; effectively manage time and communicate and respond to inquiries in a timely manner.
Should be accessible for meetings before and after normal work hours as necessary.
The above list of duties is intended to describe the general nature and level of work performed and is not an exhaustive list of duties to be performed by the incumbent.

Latest posts by Aly Sterling Philanthropy
(see all)