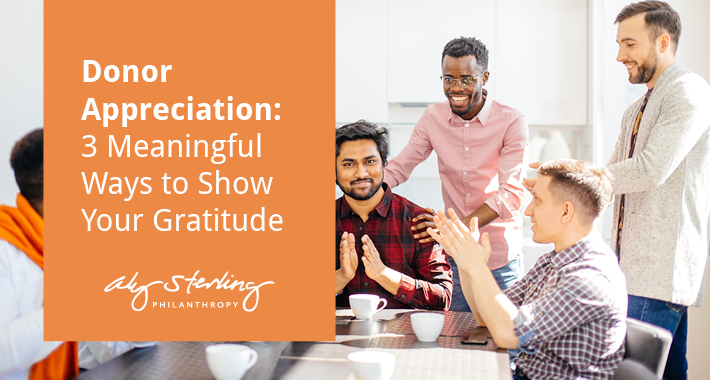 Thanking donors shows them that you received and took notice of their gift, whether they helped you reach your giving day goal or participated in a text-to-give campaign. There are many different ways you can reach out to donors to let them know that you appreciate their support.
How you thank them depends on factors like their giving level, communication preferences, and demographic data. Sending a short thank-you note is perfect for a donor who contributed a few dollars to your recent campaign, for example, but your major donors likely (and rightfully) expect something more.
In this guide, we'll walk through the other reasons why thanking donors is important and the best ways to show your gratitude.
Let's get started.
Why is thanking donors important?
While many organizations push to reach new audiences and attract new donors, it's just as important to maintain strong relationships with existing donors through stewardship. One of the core components of successful donor stewardship is regularly reaching out to say thank you.
By thanking them, you can make your donors feel:
Acknowledged.

 

Your donors want to know that you value their support. Promptly after they donate, send thank you messages that address them by name and acknowledge the specific gift they gave. Make sure to craft different messages for thanking volunteers for giving their time.
Accomplished.

 

Donors give to help you further your mission and make a positive impact on your beneficiaries. The next time you send a thank you message, let them know specifically what their donation helped your nonprofit accomplish. For instance, maybe their gift allowed your animal shelter to purchase enough food for a new litter of kittens.
Connected.

 

While your donors aren't technically a part of your organization's staff, they are instrumental in helping your organization reach its goals. Make your donors feel connected to your organization by using friendly, personable language in thank-you messages.
To effectively show your gratitude, your organization will need to dedicate a significant amount of time to crafting personal, authentic thank-you messages that reach donors through their preferred communication channels. Be sure to note the time and resources you'll need to dedicate to thanking donors in your nonprofit's strategic plan.
What are some ways nonprofits can thank donors?
Depending on the size of your nonprofit, thanking each donor can seem like a complicated, overwhelming task. But, using a robust donor management platform can help make the process run more smoothly. Look for a solution that allows you to quickly reference robust and customizable contact profiles, create groups, use smart filters, combine duplicate contacts, and more.
1. Send emails.
Emails are a great way to quickly deliver short, custom acknowledgments to donors. Speed is especially important for first-time donors. In fact, it's best to thank them for their donation within 24 hours. Keep in mind that thank-you emails can just be the first step you take to thank donors—you can send a more personal, detailed thank-you later on.
When sending thank-you emails, consider these tips:
Write a clear subject line.

 

The subject line for thank-you emails should be straightforward and concise, coming in at around 60 characters. Start with the most important information first so readers will understand what the email is about at a glance. For example, a subject line that says "thank you for your gift!" is concise and effectively conveys what the message will contain.
Use a robust constituent relationship management program.

 

Look for a CRM with a mail merge program that allows you to automate the process of sending thank-you emails to donors. Rather than manually entering information and sending emails to supporters, your software can take care of these tasks for you. This makes thanking donors based on donor information much easier and more convenient for your staff.
Say thank you more than once.

 

Instead of just saying thank you at the beginning or end of the email, take as many opportunities to show your appreciation as you can. After all, donors will rarely get tired of hearing a thank you. Start by including it in the subject line, thanking them for helping you achieve your purpose by contributing to specific programs, and signing off with a final "thank you."
Get creative. 55% of U.S. donors prefer to be thanked for their donations via email. However, this doesn't mean you have to limit yourself when it comes to creating memorable, personalized thank-you messages to supporters. Just as companies design employee recognition eCards to acknowledge high performers, your nonprofit can produce visually appealing, branded eCards to surprise donors in their inboxes.
Make sure these messages reach donors by sending them through the appropriate media channel. To learn more about your donors' communication preferences, reference data from your marketing software to determine which donors respond to email promotions most often.
2. Highlight impactful donors.
Another way to show donors that you appreciate all that they do is to publicly recognize their support. Not only does highlighting a donor's support make them feel recognized and more likely to make additional donations, but it also encourages others to donate. When they see other supporters being recognized for helping to further your mission, they'll see that taking the time and resources to make a large impact on your organization is valued and may be more likely to upgrade in the future.
There are many different ways to highlight major donors, such as:
Creating a donor appreciation wall at your facility that features the names of your most dedicated donors from that month
Highlighting donors online by writing a blog about why they care about your cause
Filming a short interview with them to post on social media
You don't have to stop at donors when you have the opportunity to highlight individuals who are helping further your purpose. Volunteers help you successfully conduct your programs by giving their skills and time to your organization. With a volunteer management tool, you can quickly identify your most dedicated volunteers to thank and show appreciation to.
3. Send welcome packages.
Your nonprofit spends a lot of time, effort, and funding on attracting new donors. So, when a new supporter makes a gift for the first time, it's important to make them feel appreciated to encourage continued support for your organization.
While you might gain new donors at any time, specific initiatives or occasions might attract many new supporters at once. Let's say a large local business decides to launch a new corporate philanthropy program and encourages its employees to donate and volunteer with your nonprofit. This could lead to an influx of new supporters—and it's important to be prepared to make them feel welcome.
Sending welcome packages is not only a great way to make new donors feel appreciated, but it can also help them learn more about your nonprofit's purpose, its programs, and other ways to get involved. Consider including the following items in your welcome package:
A handwritten letter or thank you card
Your latest newsletter
A brochure that outlines your nonprofit's programs
Information about your next fundraising campaign, upcoming volunteer opportunities, and other ways to get involved
Contact information for a specific staff member
Your nonprofit's branded merchandise
Going the extra mile to make new donors feel welcomed and educated about your nonprofit can empower them to give again, attend your next fundraising event, or seize a volunteer opportunity.
Thanking donors is one of the main ways your nonprofit can connect with the people who are helping you make your nonprofit's vision a reality, and as fundraising evolves it will only grow more important. As your nonprofit launches more online fundraisers, a robust "thanking strategy" is key to establishing touchpoints with remote donors that your organization may never meet face-to-face. To keep building new networks of supporters and deepening existing donor relationships, make sure to take the time to send authentic, meaningful messages of gratitude.